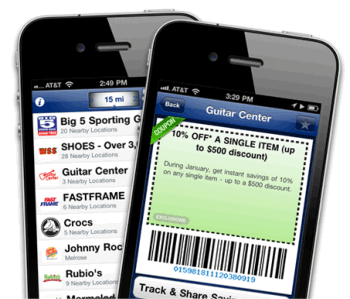 Just found a new mobile coupon app that you've got to try – Yowza!!  This is the best one I've seen as far as true mobile coupons go.
Once you download the app to your phone, you're asked your gender, age, permission to find your location and get "push" alerts for new offers (I turn those off…who needs another alert!).  Magically, a bunch of stores offering coupons appeared on my screen.
You can use menu items to sort by type – like if you're only looking for clothing coupons – select the mileage radius (this "wheel" was a little buggy/would get stuck), mark coupons as favorites and, if you want to enter the amount, tally up your savings for all the coupons you've used.
Since it's on the iPhone, there's an option to send the coupon to Passport.  But that's not even necessary.  You can just show the coupon from your phone.
The app also lists online offers and any Yowza!! promotions.  Right now, they've got a $500 sweepstakes going on.
Melissa Joan Hart (of Melissa and Joey, Sabrina the Teenage Witch and Clarissa Explains it All fame) is one of the co-owners of Yowza!!  As a frugal mother of 3, she really liked the idea of putting savings in hers – and yours – pocket.  Heroes stars Greg Grunberg and Wayne Brady are also part owners.  They're all using their star power to sign up retailers and currently have over 70 thousand!
It's also simple for retailers to get their coupons on Yowza!!  There's a free account where the merchant can add one coupon each month and very reasonable paid programs if they want to offer more.  The low cost and ease of adding a coupon means local retailers aren't shut out.
So get Yowza!! on your iPhone or Android.  I really think this one is going to be a keeper.