All About Kindle Rewards – Is It Worth It?
Important Note: When you buy through our links, we may earn a commission. As an Amazon Associate we earn from qualifying purchases. Content, pricing, offers and availability are subject to change at any time - more info.
So, you're interested in Kindle Rewards, Amazon's new rewards program for book lovers? Well, put that book down and buckle up, because I'm about to give you the skinny on this exciting new way to earn rewards to get free or discounted books!
---
Advertisement
---
What is Kindle Rewards?
Kindle Rewards is a limited access beta program from Amazon that rewards customers for purchasing Kindle ebooks and print books.
Currently, this program is only available to a select group of Amazon customers in the US and it is invite-only as of January 30th 2023.
How do you start earning rewards?
You must find an eligible Kindle or print book and buy it to earn rewards. It will look like the below example if it is an eligible book and you are part of the Kindle Rewards program:
With Kindle Rewards, you can earn points on all eligible Kindle and print books you purchase on Amazon.com or your Kindle. This excludes magazines, audiobooks, textbooks, and other things like that. You'll earn 5 points per dollar spent on Kindle books and 2 points per dollar spent on print books, and bonus offers can help you earn even more. The goal is to get to 300 points which is equal to a $3 Kindle book credit. It can take up to 24 hours for points to show up after your purchase to your account, so be patient if it doesn't show up right away. You can see how many points you've earned on the Kindle Rewards page.
How can you redeem those rewards?
You have to do so on the Kindle Rewards page by hitting "Redeem" after reaching 300 points ($3 equivalent). See the example below.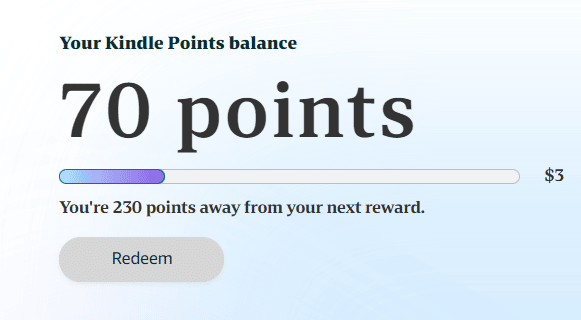 Once you've racked up 300 Kindle Points, you can redeem them for a $3 credit. Great, but there are a few things to be aware of. You don't wait too long to cash in, because you've only got six months to use 'em. Once you redeem a $3 credit, that credit will expire 30 days after it has been added to your account. You can redeem credits at 300 points at a time, for example if you have 600 points, you have to redeem twice to deplete your balance to 0 points. Lastly, you cannot use it for any ol' book, it must be an eligible book which excludes audiobooks, newspapers, magazines and textbooks.
Notable terms to know
Kindle Rewards is a rewards program that has some restrictions like they all do, so don't go thinking you can just waltz right in. Here are a few notable terms that weren't covered above to be aware of:
There is a maximum of 200 points per book purchased
If you return a book, any points you earned will be removed from your points balance
Pre-orders count towards points, but only after they ship/charge your payment method
Since it is currently in beta and end at any time, all points are at risk of being removed if the beta ends early
Is Kindle Rewards worth it?
Well, Kindle reward points last for 6 months and once you redeem the points for a $3 credit, that credit only lasts 30 days. If you spend a lot of money on books, yes it is worth it. If not, your points will likely expire pretty fast and you may miss out on those sweet sweet credits. Since the points expire fast like other Amazon point programs, it could be frustrating to see them expire without being used. That being said, it is worth it regardless because before you wouldn't be earning any additional discounts without this fine offering from Amazon.
So, there you have it! That's everything you need to know about Kindle Rewards. If you're a member of the beta test group and would like to give Amazon feedback on the program, you can do so at the Kindle Rewards page. And, if you're not a member yet, be sure to check back when Kindle Rewards becomes more widely available! Lastly, if you aren't aware, you can spend those rewards with our list of Kindle discounted books here.