Important Note: When you buy through our links, we may earn a commission. As an Amazon Associate we earn from qualifying purchases. Content, pricing, offers and availability are subject to change at any time - more info.
If you're lucky enough to have a dog, chances are good that you treat your pup as if he were one of the family. Those of you who are looking for yet another way to spoil your best four-legged friend need to know about BarkBox.
---
Advertisement
---
First, it might be helpful to have an introduction to subscription boxes. If you haven't subscribed to this kind of service before, all you need to know is that a membership entitles you to receive a box full of fun stuff once a month. There are subscription boxes for just about everything: skin care, perfume, beer, jewelry and more. BarkBox is another subscription box, but it's not for you. Instead, it's for your dog.
Plenty of people love the idea of getting their favorite pup a box of surprises every month. BarkBox makes this easy, and in addition to being fun for your dog, this subscription can make life easier for you. Thanks to its contents, you might be able to skip a few trips to the pet supply store every month.
Read on if you're excited to learn more about what BarkBox is and how it works. We think BarkBox is a winner, and your pup is certain to adore it.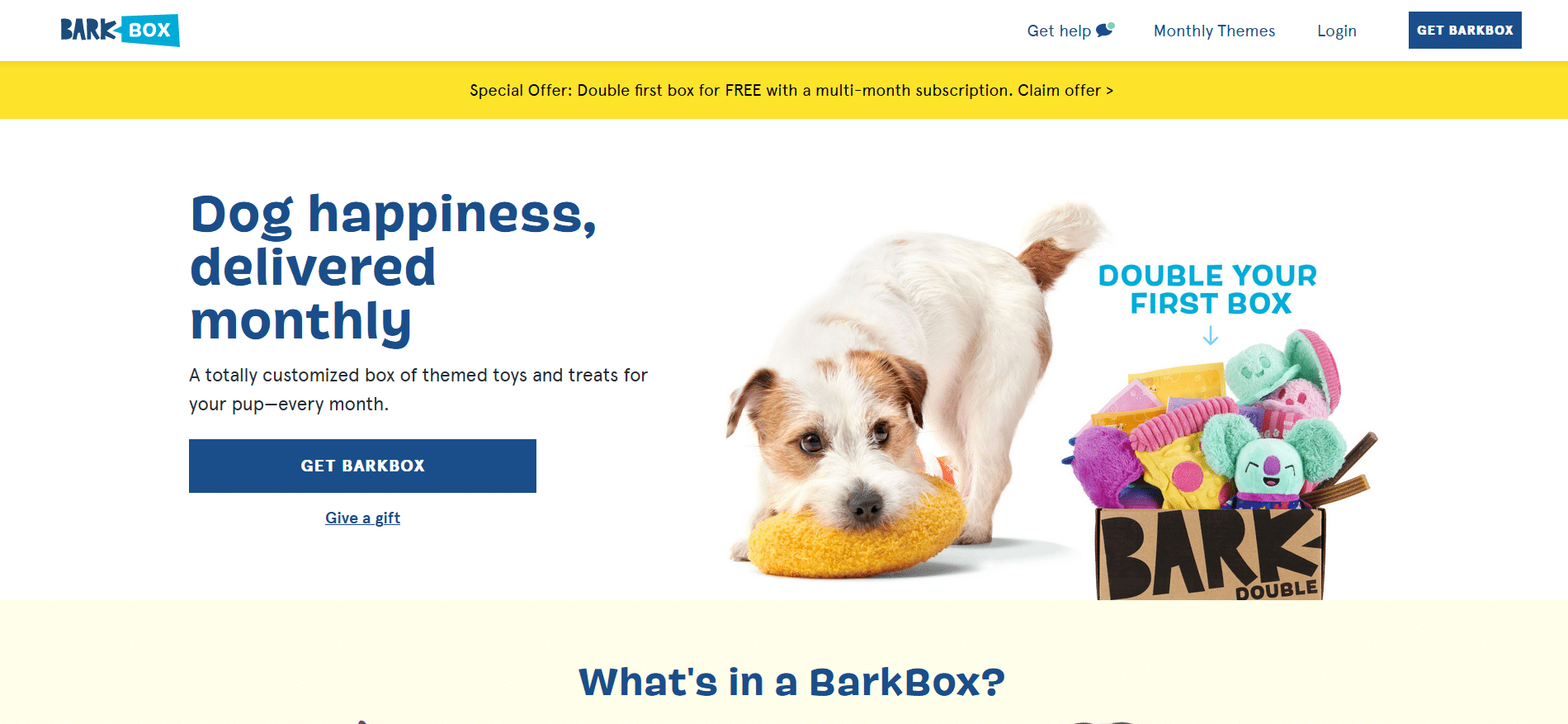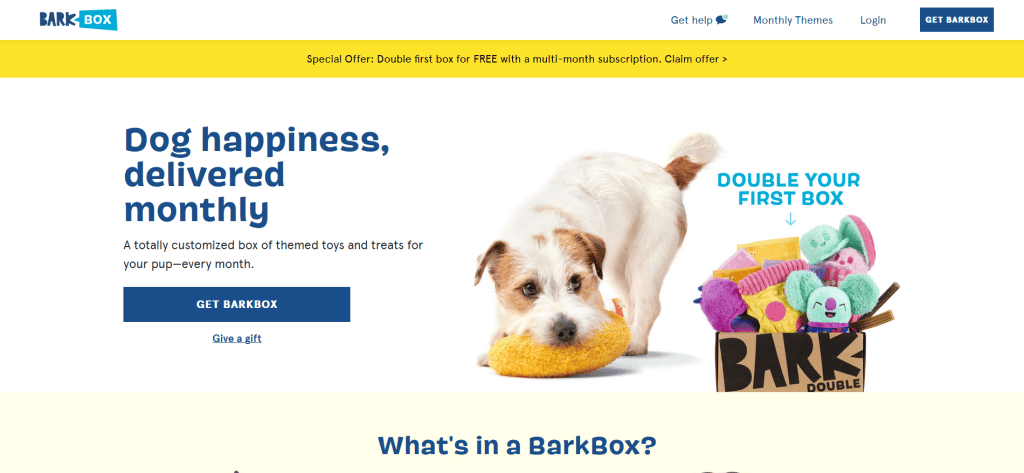 This subscription service is extremely popular with dog parents across the U.S. The process for signing up is a simple one. Once you've signed up, your dog will start receiving a monthly box of goodies. These always include two toys, a pair of all-natural dog treats and a chew. Each month, the items stick to a new theme.
Most first boxes ship immediately, which means that they can arrive within five days of signing up for a subscription. Open the cardboard box with your pup, and get ready for some serious excitement. Zoomies are virtually guaranteed upon the opening of each BarkBox.
Signing up for BarkBox
If you want to try a subscription, just visit the BarkBox.com website. The main page has all sorts of buttons that read "Get BarkBox."
Click on any of these buttons to be taken to a page where you can begin setting up your subscription. The first information that is requested is your dog's name and gender.
Next, BarkBox needs to know how big your dog is. The website is careful to disclose that all of the boxes cost the same regardless of your dog's size. Your choices are a small dog that weighs between one and 20 pounds, a medium dog that weighs between 20 and 50 pounds and a large dog that weighs more than 50 pounds.
The website then will ask for your dog's breed. It also is possible to skip this step if you don't know your dog's breed or do not want to share it. Note that the not all dog breeds will pop up in the box when you begin typing. For instance, there aren't many options for mixed breed dogs. If you try to enter in a breed that the system does not recognize, it will return an error. You can select "Don't see my dog's breed" as an alternative.
Your dog's birthday is the subject of the next screen. You can use your pup's adoption date if you don't know his precise birth date. BarkBox includes special birthday surprises during that month. Alternatively, you can skip this step.
BarkBox further is interested in knowing if your dog has any allergies. They disclose that all of the treats that they send with their subscription boxes do not contain soy, wheat or corn. Moreover, the treats all are made in the USA or Canada. BarkBox additionally gives you the option of not receiving any products that include turkey, beef or chicken. You can check mark the boxes for any of these that you would prefer that your pup not receive. BarkBox provides an opportunity after checkout for customers to make any other special dietary considerations known.
The website then requests your email, and after you click on the "Continue" button, you'll be able to choose the subscription length that you prefer.
How Much Does BarkBox Cost?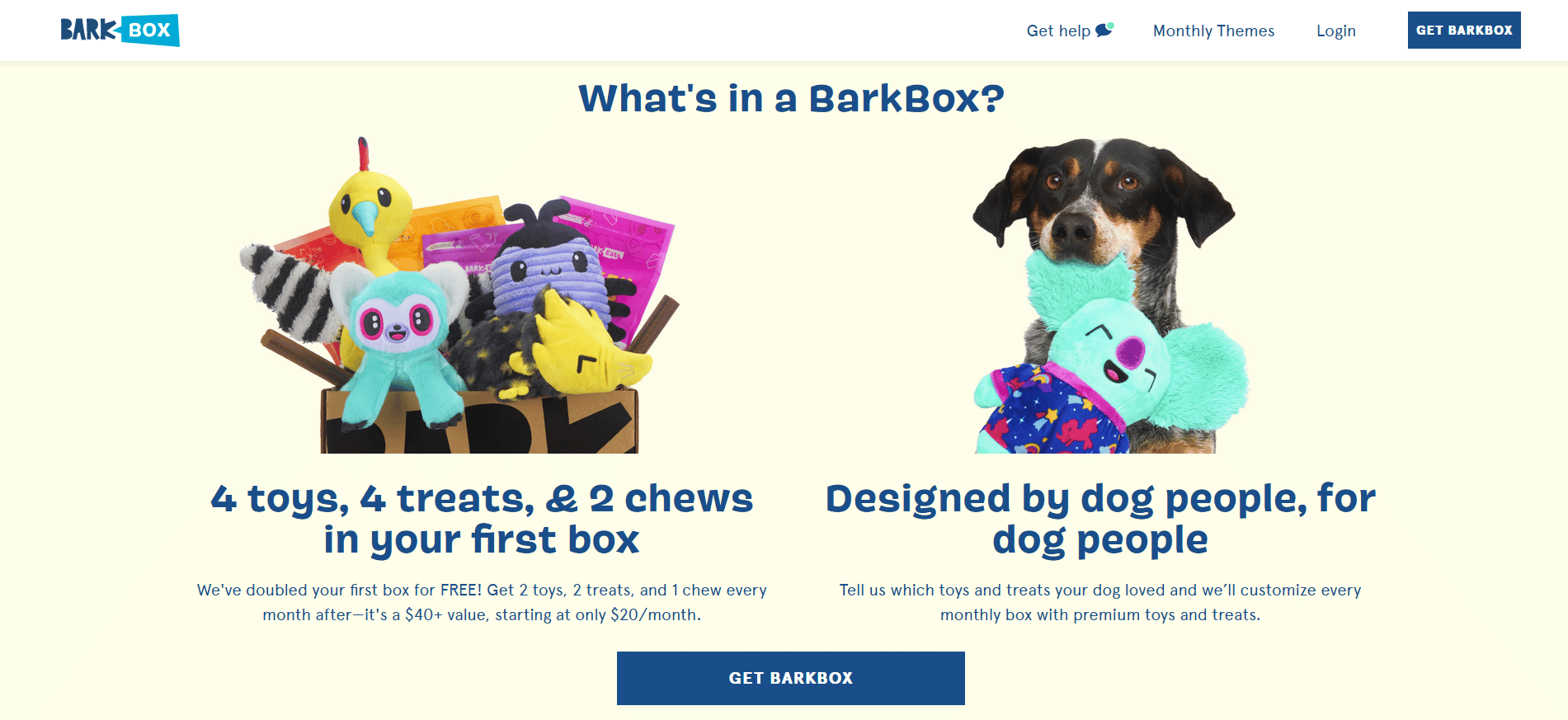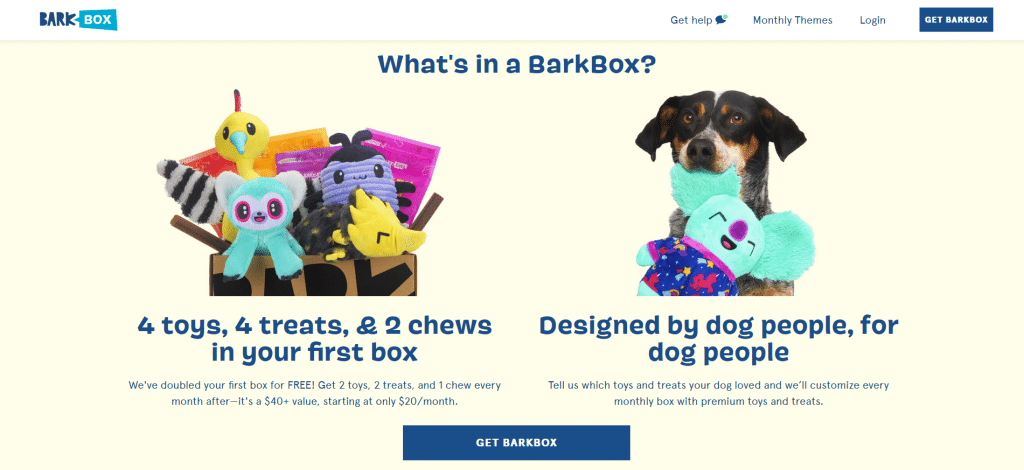 If you do not want to be locked into a subscription, you can choose to get boxes on a month-to-month basis. This costs you $35 for each box.
You can save some money be committing to a six-month subscription. This means that you will pay $26 per box, saving you 26-percent over the month-to-month option.
The best value is the 12-month subscription. This commitment brings the cost of each BarkBox down to $23, a savings of 34-percent over the month-to-month subscription.
Before you choose, it is crucial that you are aware that there's no going back on your commitment once you sign up. Customers who sign up for six-month or 12-month subscriptions are locked in for the time period. There is no opportunity to back out after a couple of months, and you'll still be on the hook for the cost of the remaining BarkBoxes.
The good news is that BarkBox really stands behind their products. They provide a 100-percent Happy Guarantee. If you ever receive an item that your dog doesn't love, it can be replaced.
It also is worth knowing that BarkBox lets you add on to your subscription. For instance, you can get free shipping on all of your packages when you add an extra onto your basic membership.
One of the most popular extra subscriptions is the "Mutts Have Bundle." In addition to your usual BarkBox subscription, this extra will give you an additional toy, an extra bag of treats and a beef food topper every month. This costs $19 per month over and above the cost of the regular subscription.
Alternatively, you could sign up for your dog to receive one additional toy each month. Priced at nine dollars, this isn't a bad price considering that it will save you yet another trip to the store.
If you don't mind paying for shipping, then you can skip the step for adding an extra subscription.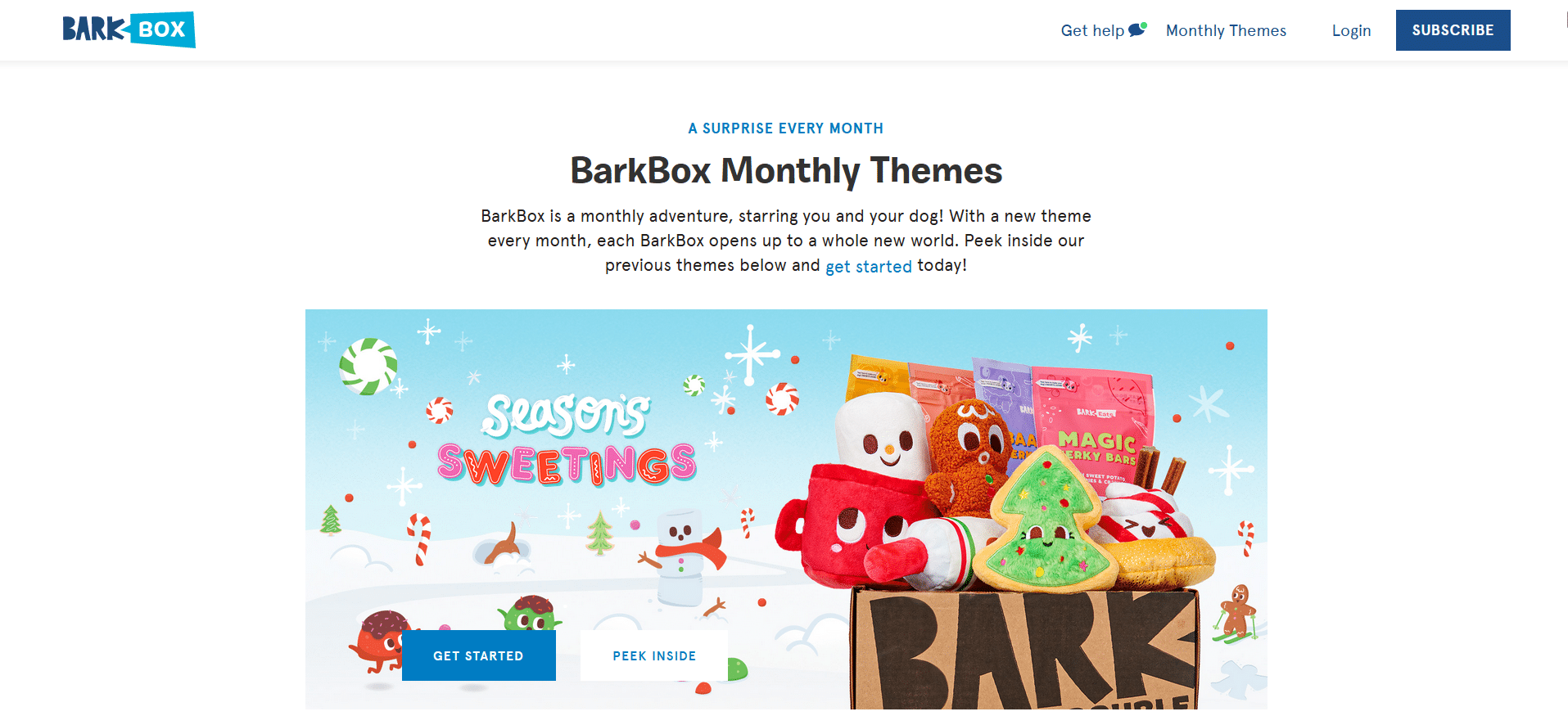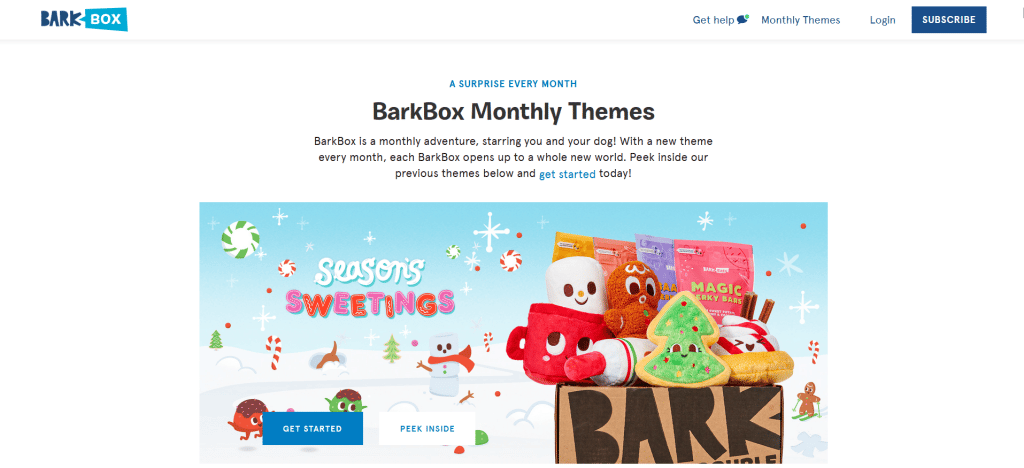 Each month, your dog will receive a BarkBox that's chock-full of goodies. The collection always centers around a different theme. As an example, the December choices include a collection called "Season's Sweetings" that features holiday-themed toys that are shaped like cookies and other holiday treats. As an alternative, you could choose the BarkBox X Peanuts theme, which includes Snoopy, Woodstock and your other favorites, all with a little holiday flair.
It also is possible to choose to be surprised. Each month after the first month, when you get to choose which theme you prefer, your pup will be surprised with a new theme.
Many of the themes rely on the seasons for their inspiration, like the Howl-O-Ween Party box for October and the Bark to School box for September. Other themes have included Stranger Things, National Parks, Star Wars, NBA, Jurassic World, Pool Party, Frenchies in Paris and many others.
You are likely to be just as excited and feel almost as much anticipation as your pup each month before your BarkBox arrives. This is one of the places in which this company truly excels. Their themes are always fun, inventive and unexpected. It's a delight to discover the unique toys that they send your way each month.
What If My Dog Likes to Destroy Toys?
BarkBox has you covered if your pup has a habit of quickly destroying each new toy that enters your house. Thanks to the Bark Super Chewer subscription, your toughest dog can still enjoy the fun of a BarkBox subscription.
Made up of extremely durable toys and treats, each box contains two tough toys designed by BarkBox to be almost indestructible. Also in the box are two bags of treats and two meaty chews.
Super Chewer subscriptions cost a little bit more than BarkBox subscriptions. You'll pay $40 per month for a month-to-month membership, but the cost can be brought down to $30 per month with a six-month subscription. A 12-month subscription will get you each box for just $25.
Just as with the regular BarkBox subscription, you can order additional subscriptions that will give you free shipping. Otherwise, it typically costs $4.99 to ship each box.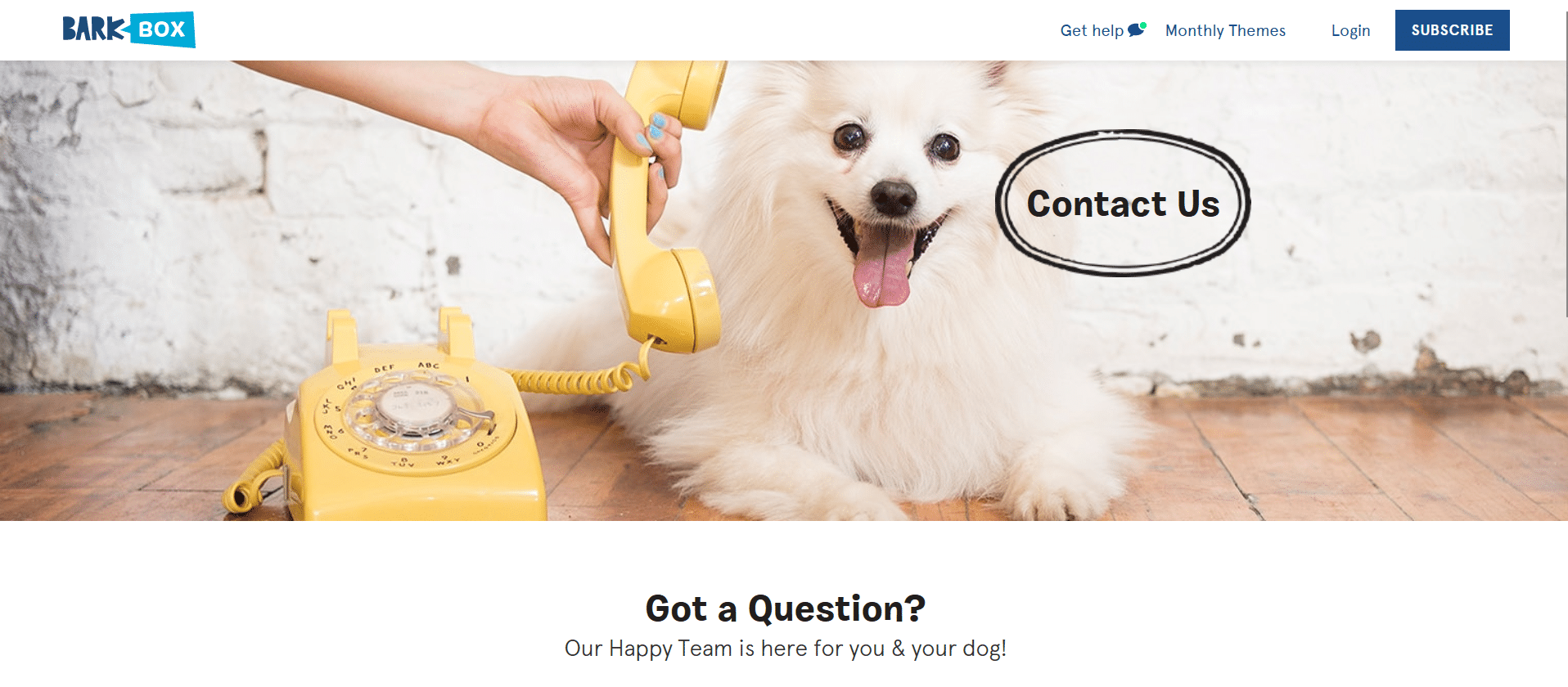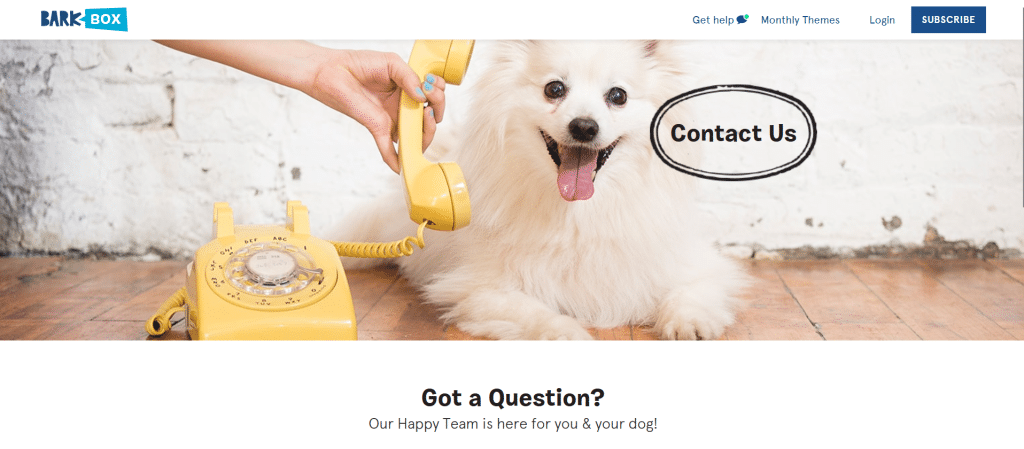 You'll be glad to hear that customer service representatives tend to be really friendly and helpful. When you contact them, you can't help but feel that you're speaking with a fellow dog person. Feel free to reach out to them at happy@barkbox.com whenever you have questions, concerns or want to make a request.
An email request can be very helpful if you want to more fully customize your pup's BarkBox. For instance, if you feel like you're getting too many toys in the house, contact customer service and ask to switch out the toys for an extra bag of treats and an extra chew. BarkBox seems to be happy to make these accommodations.
The Pros and Cons of BarkBox
Perhaps the biggest pro to having a BarkBox subscription is the unalloyed joy that your dog will experience each month when the box arrives. In fact, your dog may start to get really excited with the arrival of every cardboard box, but that's pretty easy to live with. That alone can make a BarkBox subscription absolutely worth it.
However, it also is a definite plus that BarkBox puts such an emphasis on quality. Their toys are unique and designed just for them, so you won't find them anywhere else. On top of this, each toy is really creative and cute. It's almost guaranteed that you will be nearly as delighted with them as your pup is. You'll certainly get a chuckle or two each month when you open the box and discover the theme.
The high-quality doesn't stop with the toys. The treats are honest-to-goodness good for your dog. Without fillers, soy, wheat and corn, you can genuinely feel good about providing these treats. With so many dog treats and foods being packed with non-nutritional fillers and a list of ingredients that might make you gasp, it's refreshing to see such reliable and healthy ingredients in these treats.
One of the biggest pros for dog owners is the fact that a BarkBox subscription is virtually guaranteed to keep you out of the pet store or at least to prevent you from going there so often. It is incredibly convenient to have new toys, treats and chews delivered right to your doorstep every month.
BarkBox also is really predictable. You'll be charged around the third of each month, and your dog's subscription box will arrive right around the 15th. This helps you plan financially as well as strategically when you'll need to go to the pet supply store.
If there is a downside to BarkBox, it is that the service is a bit inflexible. People who sign up for six-month or 12-month subscriptions are locked in with few options for getting out of their obligation. It may be possible to contact customer service to try to wriggle out of your contract, but don't count on it.
If you are at all unsure about whether BarkBox is right for your dog, then it makes sense to try it out on a month-to-month basis. It's worth paying a little extra for one or two months to find out that your dog just isn't enjoying the service.
Is BarkBox Worth It?


If you have an active pup that loves toys, that is enough incentive to get a BarkBox subscription. However, this also is an ideal choice if you're picky about what you feed your dog. The all-natural treats are healthy, and BarkBox takes your dog's allergies into consideration before sending any treats.
BarkBox is totally worth it, especially from your dog's viewpoint. Most pups who have had a subscription for a month or two have already learned that a cardboard box equals plenty of fun and tasty treats. Dog parents also regard BarkBox as indispensable. It saves them trips to the pet store, and it just might offer a few laughs for good measure.
FAQs
When can I expect the next BarkBox?
The company strives to send out all subscription boxes within the first two weeks of the month. Accordingly, most subscribers will receive their package on or around the 15th of the month. Check your Account Dashboard at the BarkBox.com website to see the current status of your box.
How much does shipping cost?
The standard cost for shipping a BarkBox in the contiguous 48 states is $4.99. Shipments going to Hawaii, Alaska and Canada likely will cost more. It is possible to get free shipping by choosing a premium add-on to your subscription. Add-ons consist of extra toys, treats, food toppers and other goodies that you can select for an additional cost.
What comes in each BarkBox?
BarkBox automatically sends what it refers to as its "Classic Assortment." That is two toys, two bags of treats and one chew. After you receive your box for the first month, you have the option of customizing these selections. This means that you do not have to keep receiving new toys each month if your dog already has too many.
How can I change what my dog receives in each BarkBox?
If you want your dog to receive more treats or more toys each month, BarkBox makes it possible to "Tailor" your choices. In your online account at BarkBox, click on "Box Assortment." This allows you to view your current selection and gives you the opportunity to make changes. Make certain that any desired alterations are made well in advance of the 15th of the month so that they can take effect on your dog's very next BarkBox.
Is BarkBox right for puppies?
BarkBox actually can grow with your dog. If you currently have a puppy, just select the "Small Dog" size when you are signing up for a subscription. As your dog grows, you can move up to a "Medium Dog" or a "Large Dog" to accommodate your pup's needs. If you are not certain which dog size is appropriate, then just start a chat with the customer service team. They can answer all of your questions.
What if I want to cancel my BarkBox subscription?
This is one of the most frequently expressed complaints about BarkBox. That is, it is virtually impossible to cancel a membership once you have signed up for a multi-month subscription. Accordingly, it is wise to be absolutely certain that BarkBox is right for your dog before you make a commitment. Consider buying a month-to-month box for a month or two before signing up for a longer term. It's worth the slightly higher per month cost to determine whether or not your family is ready to take the plunge. Once you are signed up, it is almost impossible to back out of your subscription, and you don't want to end up frustrated.