How Long Does Shein Take To Ship?
Important Note: When you buy through our links, we may earn a commission. As an Amazon Associate we earn from qualifying purchases. Content, pricing, offers and availability are subject to change at any time - more info.
Perhaps you've heard of Shein. It's a website that sells fast fashion.
---
Advertisement
---
Because Shein is headquartered in China, many prospective customers wonder how long it takes to receive orders.
The answer is complicated since Shein has warehouses in several locations. This means that you could get your package in a few days, but it also could take a few weeks.
Most people are so excited by the styles that they find on Shein that they don't mind having a longer time to wait. Still, if you're ordering for a special occasion, then you may need more information about when your Shein package will arrive.
Keep reading to learn all that you need to know about Shein and how long it takes to receive your order.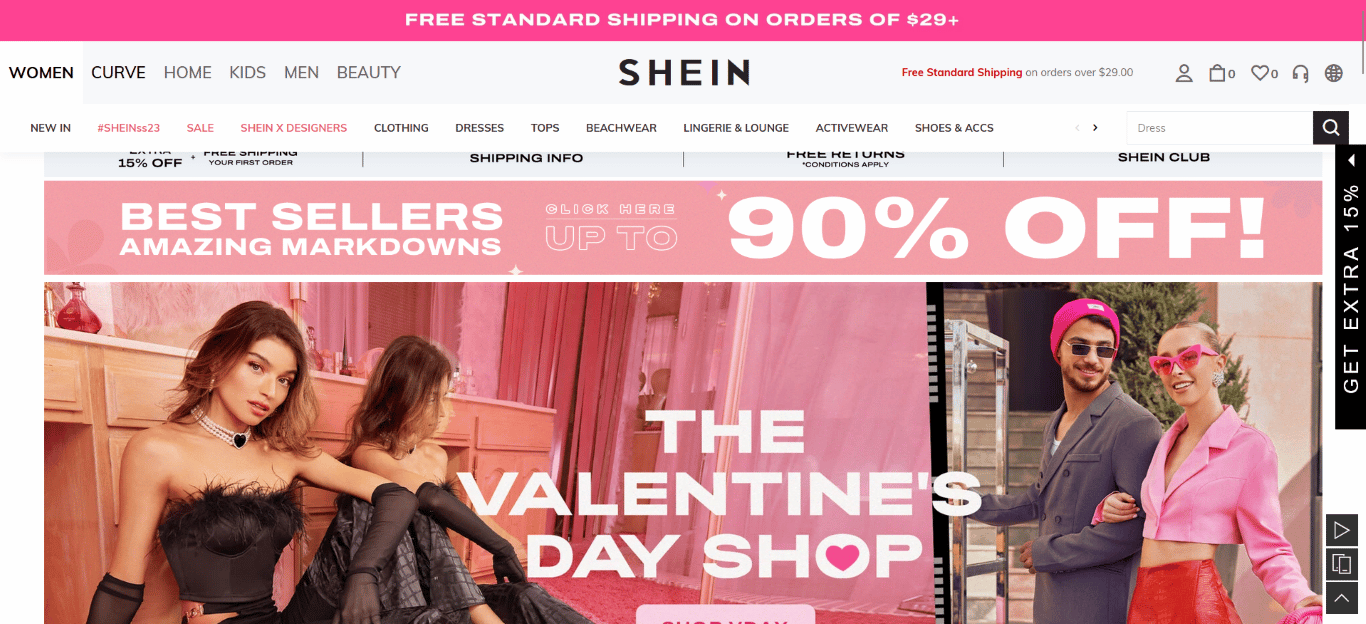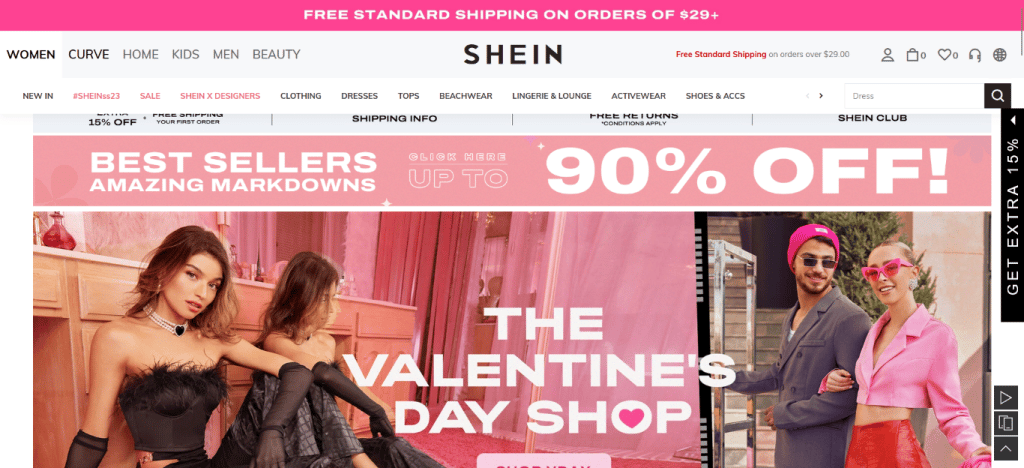 Shein was established in 2008 as SheInside. Headquartered in Nanjung, China, the brand was dedicated to bringing on-trend fashion to everyone at affordable prices.
Chris Xu, the owner of a wedding dress business and graduate of Washington University, purchased the SheInside.com domain in 2012. By 2015, he had rebranded the website to the name "Shein." His goal was to make the company an international one.
Xu seems to have met his goal as the Shein website is available in several countries. Websites that are geared to the Middle East, Spain, Russia, Australia, Italy, Germany, France and the United States are available. It seems likely that more are on the horizon if Shein continues to be this popular.
That means that if you're in the U.S., you'll see a different website and products than you would if you were in France. Regardless of where you live, Shein is committed to providing fashionable items at shockingly affordable prices.
One thing to bear in mind as you shop is that the quality of items on Shein can vary significantly. Pay close attention to the user reviews on each item that you're considering to determine whether or not you want to order it.
Where Is Shein's International Warehouse?
Shein's headquarters are in China. This location includes an international warehouse and factories at which all of Shein's products are made.
This warehouse used to be the only one, which meant that it took much longer for people in other countries to receive their packages. Today, Shein has warehouses located in countries across the globe. This includes Europe, the Middle East, the United States and in locations across Asia.
When your order contains items from a warehouse that's close to your shipping address, you'll receive your items more quickly.
How Long Does Shein Take to Ship?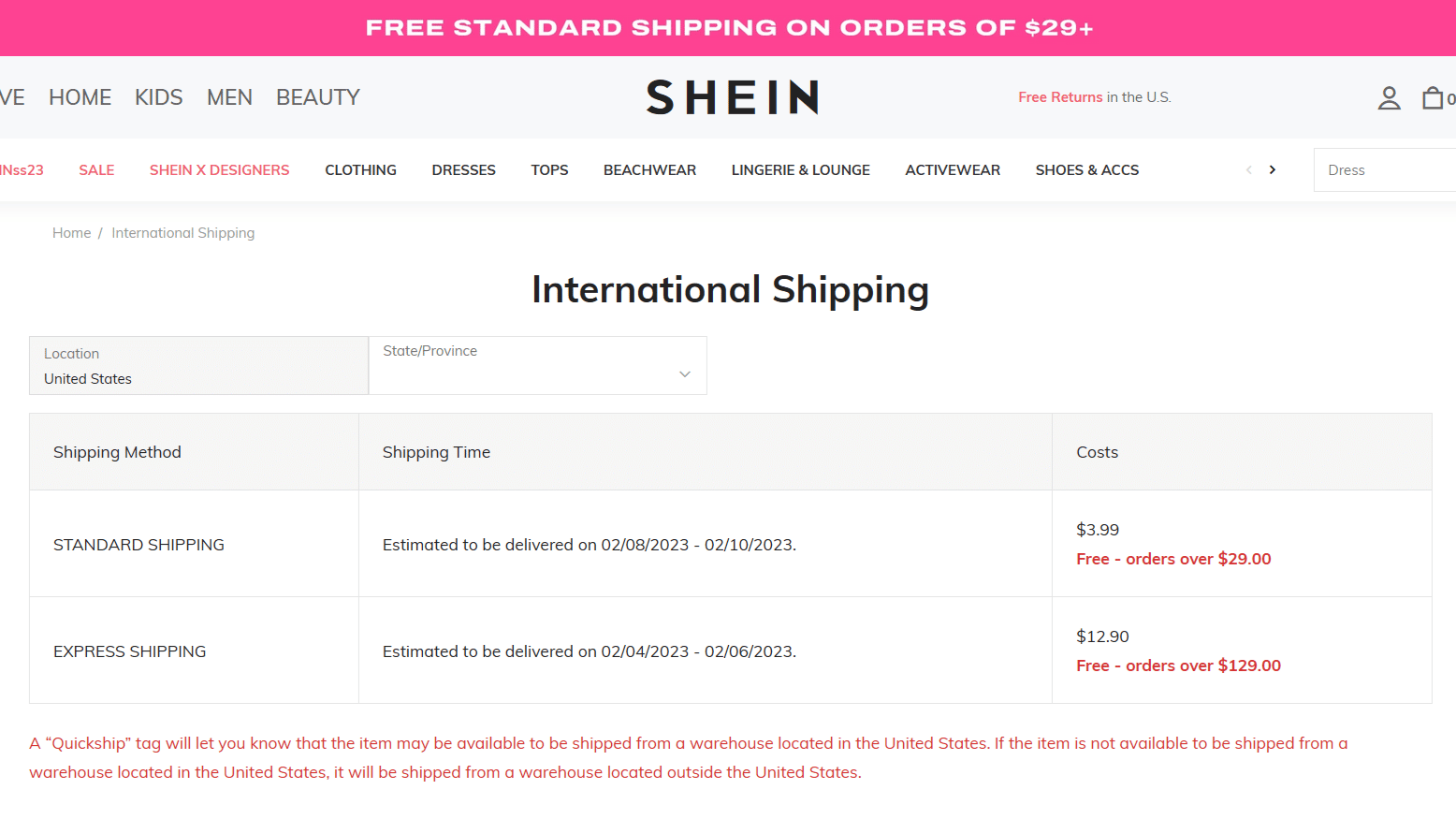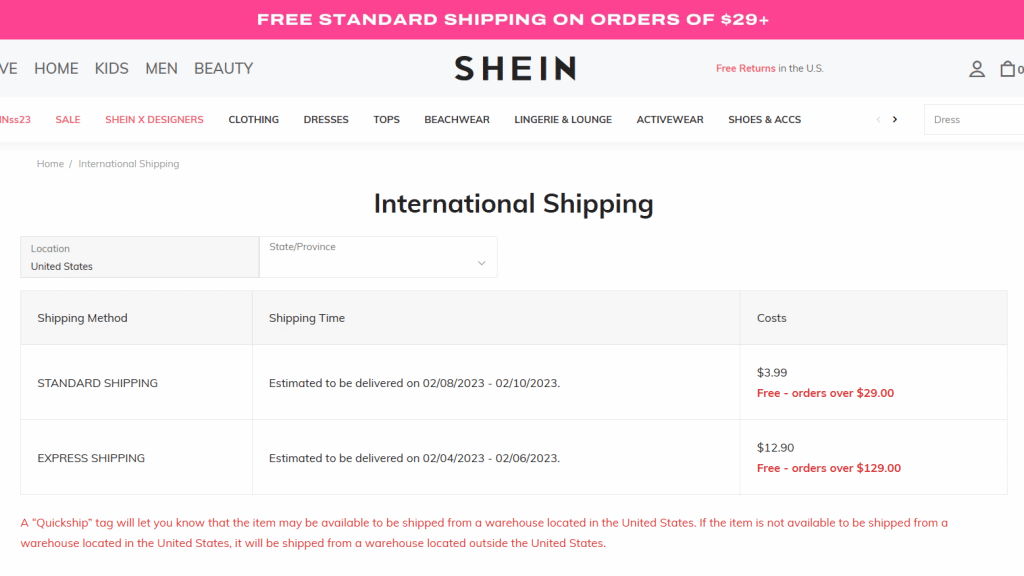 Shipping times on Shein may vary depending upon several factors. If you opt for standard shipping, you may wait approximately six to seven working days for your order to be processed.
It is possible to request express shipping, in which case only two to three working days are needed. Orders from the Shein online marketplace have the potential to be even quicker. Between one and three business days are needed to process these orders.
The good news is that if the products you want are already in the warehouse, then the processing time can be reduced. This means less waiting for you.
Keep in mind that some factors could affect the speed with which your order is processed. Double-checking to ensure that your address is correct definitely ensures that things move faster. However, there's a possibility that your package will run into problems with clearing customs. In these situations, Shein cannot do anything to expedite your order, and you have to let the customs office do its thing.
How Long Does Shein Take to Deliver?
Shein always requires a few days to process an order once it is received. That is, time is required to gather together the various items from your order so that they can be shipped in as few packages as possible.
Once your order is assembled, it will be shipped. This means that when calculating how quickly your package from Shein will arrive, you must allow for processing time and shipping time. By adding these together, you can estimate how long it will take for your package to be delivered.
Shein has embarked on a program to help ensure faster delivery to its customers. Beginning in 2022, the brand was pledging to use only one to three days to ship orders, with shipping requiring an additional one to four days.
Of course, there are all sorts of exceptions to this. Factors that may affect when you receive your items include the location of the warehouse in which the items are being stored and your delivery address. Simply put, it just takes time to get clothing from China to Akron, Ohio.
Where Does Shein Ship From?
This is one of those factors that can drastically reduce or increase the time you spend waiting for your order. Shein has active warehouses in several countries around the world. If you happen to order things that are stored in a warehouse that is close to your location, you can expect relatively quick delivery.
On the other hand, you may find yourself waiting for a week or two, perhaps even longer, if your home address and the warehouse are on different continents.
When it is important to you that you get your order as soon as possible, just look for the "Quickship" tag on the website. This designation indicates that a particular product may be available for shipment from a warehouse that is in your country. Items that do not have this tag likely will be shipped from a warehouse that is outside of your country.
Can I Get My Shein Order Faster?
Sometimes, you need a dress or a shirt by a certain date. In this case, your best bet is to order as early as you can to ensure that you get your product well in advance of when you need it.
You also can speed things up even more by selecting "Express Shipping" at checkout. It will probably cost you a bit extra, but the expense is worth it if you want to get your order in time.
How Much Does Shipping Cost on Shein?
Shein tries to keep things simple and straightforward. Accordingly, most orders are subject to flat rate shipping charges.
In the United States, you will pay $3.99 shipping on orders up to $29. If your order costs more than $29, then you get free shipping. Opting for express shipping will cost you $12.90. However, you can get free express shipping if you order at least $129 worth of products.
It is always a good idea to double check Shein's current shipping costs before you place your order. The fees sometimes go up or down, and it is possible that the threshold for receiving free shipping can shift as well. For instance, the brand used to offer free shipping in the U.S. on orders of $49 or more instead of $29 or more. Additionally, you couldn't get free express shipping unless you spent $199.
Of course, pricing and shipping times can vary in other countries. Customers in the United Kingdom may pay two pounds for shipping on orders of less than 35 pounds and 12 pounds for express shipping on orders worth under 100 pounds. Canadian customers pay $6.95 for regular shipping and $26 for express shipping.
The upshot is that shipping charges can be very different depending upon where you live. Be sure to check out the shipping prices and any special offers that are going on before you make your purchase.
Is Shein Trustworthy?
People frequently still have concerns about shopping from online brands. That's understandable, but there seems to be little to worry about where Shein is concerned. This is a major international brand that is used and enjoyed by consumers around the world. They truly are well intentioned about bringing fashion to the people at affordable prices.
Can You Track Your Shein Order?
Shein makes tracking super easy by providing a package tracking widget right on their website. It's also available on the app if you prefer using your smartphone or a tablet.
The tracking system is really robust as it allows you to start tracking the details of your order almost immediately after you submit it. Here's a rundown on how to track your Shein order:
Navigate to "Track my Order"
Click on "See my Shein order history"
Select the appropriate shipping option
How Can You Get Free Clothes from Shein?
Most people don't expect Shein or any other retailers to give clothes away for free. However, that's exactly what Shein does.
All you have to do is download the Shein app to your phone. The first time you open the app, you'll see an option for doing a daily check in. Each time you complete a daily check in, you earn Shein points. Be sure to enable the notification option, as this can enable you to earn even more Shein points.
Once you have accrued a certain amount of points, you can convert them into money that can be spent on the Shein website.
What Are Shein Points?
Shein points are your reward for being a loyal Shein shopper. You earn points by completing actions such as:
Confirming delivery of each of your orders
Writing reviews
Creating an account on the website
Taking part in free trials
Tuning in to broadcasts of Shein Live
Downloading the Shein app
Completing your daily check in
When Will I Get My Shein Order?
Shein has been going above and beyond to shorten its shipping times. Most customers get their orders in less than one week, but certain factors may extend this period. If you're ordering for a special event, make sure to order early, and look for the "Quickship" tag.