When Is the Best Time To Buy A TV?
Important Note: When you buy through our links, we may earn a commission. As an Amazon Associate we earn from qualifying purchases. Content, pricing, offers and availability are subject to change at any time - more info.
The best months to buy a TV, on average, when considering price per inch, appear to be February, June, July, and October.
---
Advertisement
---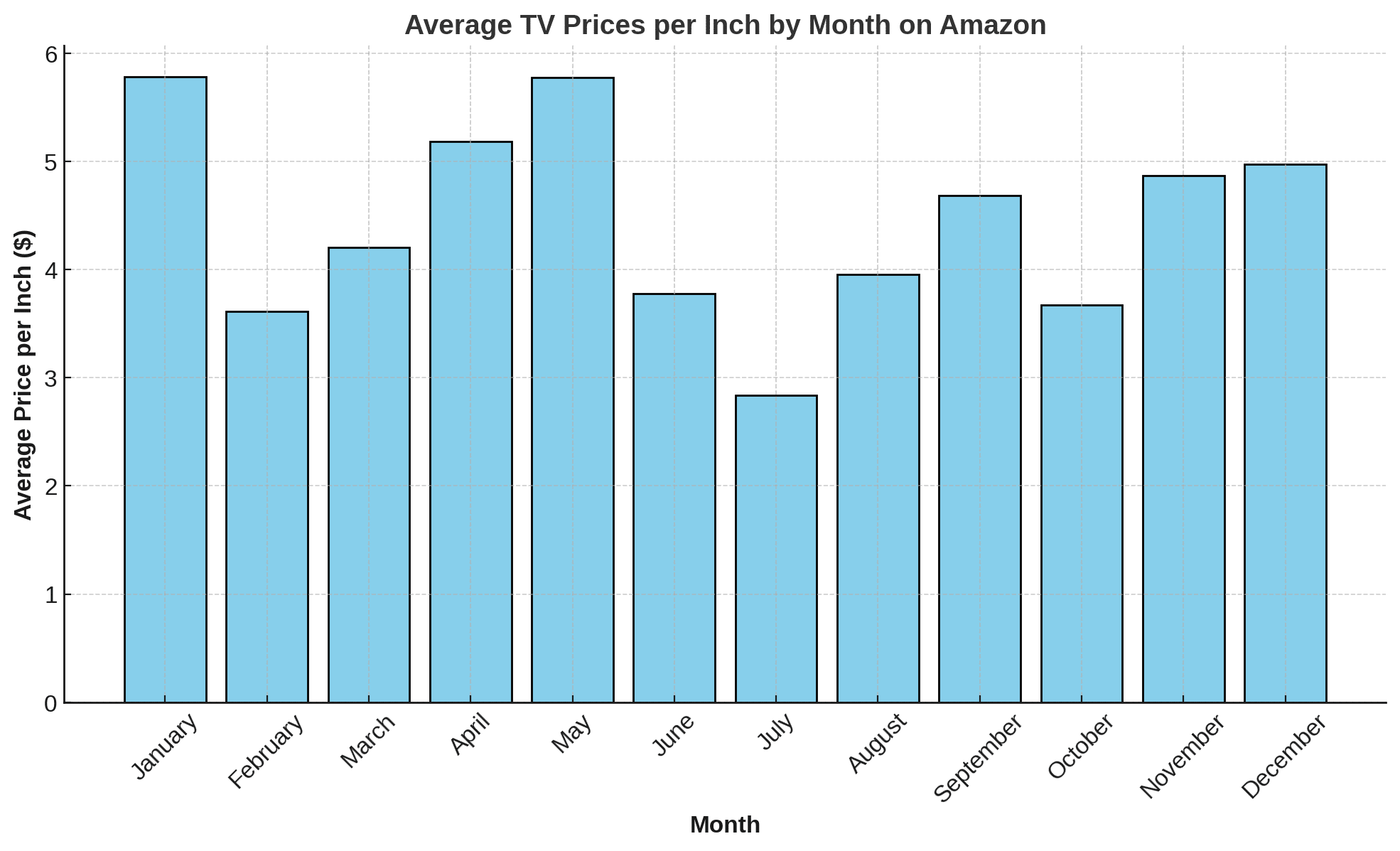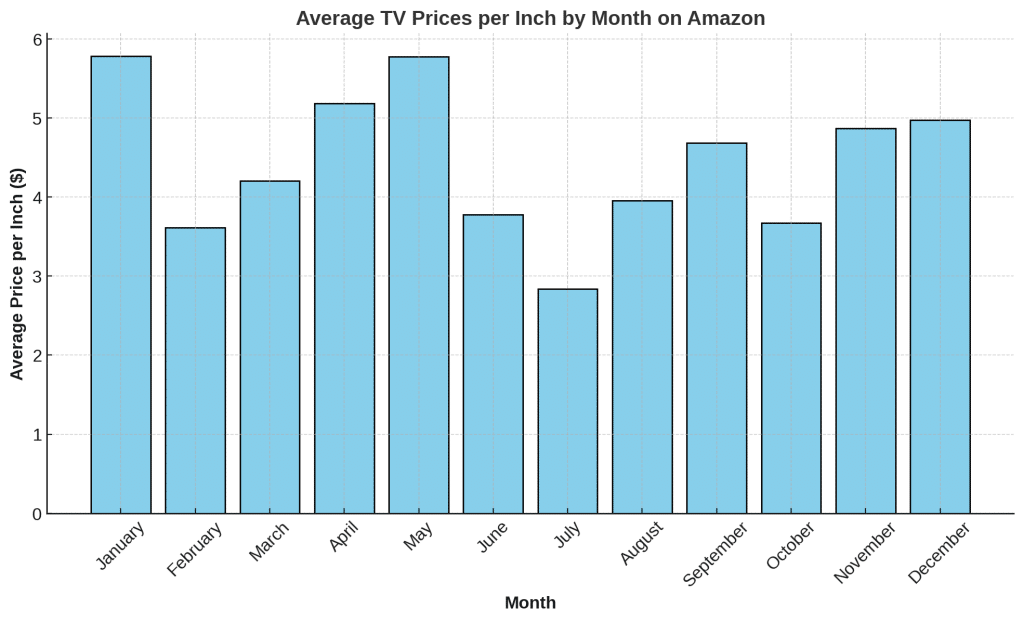 | Month | Average Price per Inch |
| --- | --- |
| January | $5.78 |
| February | $3.62 |
| March | $4.20 |
| April | $5.18 |
| May | $5.77 |
| June | $3.78 |
| July | $2.84 |
| August | $3.95 |
| September | $4.68 |
| October | $3.67 |
| November | $4.87 |
| December | $4.97 |
Note: Numbers based on analysis of Amazon and Best Buy TV deals over the past 2 years. Please note that this is based on average prices per inch and actual prices may vary.
Key Takeaways
The best times to buy a TV are usually Super Bowl season, spring, Amazon Prime Day and Black Friday
Because TVs don't have a huge markup, you're unlikely to find sets at really spectacular discounts, like half price
The best discounts typically are available on TVs from no-name brands or the least expensive models from recognizable brand names
When was the last time you bought a TV? If it's been a few years, then it may be time to invest in a new one.
Television technology has developed in leaps and bounds over the last couple of decades. This makes it possible to buy a TV with an incredible picture at a surprisingly affordable price.
Still, a television is a relatively expensive appliance, which means that you want to ensure that you get the best possible price.
Research reveals that there are certain times of the year in which you are most likely to get a deal on a new TV.
Why Buy a TV During Super Bowl Season?
Estimates suggest that more than 96 million people watch the Super Bowl every year. Retailers try to capitalize on this event by offering deep discounts on televisions.
Running between January and early February, retailers are likely to offer deals on exceptionally large screens that are ideal for watching the big game. Accordingly, if size is of paramount importance to you, this is the perfect season for TV buying. The sizes with the deepest discounts are likely to measure between 49 and 65 inches.
Additionally, February is kind of the end of the manufacturing year for televisions. Newer models soon will be introduced, so retailers are looking to clear out last year's models.
In fact, the annual tech trade show known as CES is held in January. This is the event at which TV manufacturers introduce the latest and greatest technology that will be featured on their newest models. Stores and online retailers need to make room for all of those new televisions, so you might find older models being sold for a couple of hundred dollars less.
Shop for an "Old" New TV in the Spring
Around March or April, all of those new television models that were introduced at CES in January start hitting store shelves. Consequently, the prices on last year's models are likely to plummet.
True, you won't be able to get the latest technology by going this route, but don't worry. This year's newest technology is next year's old news.
Keep in mind that although these televisions might be "old" in a technological sense they are still brand new, unused sets. If it's been a few years since you bought a TV, you'll probably be blown away by the picture quality.
If you're going to stores or shopping online, keep your eyes peeled for signs that say "closeout." Those are the signal that the retailer is getting rid of last year's televisions, probably at impressive discounts.
Join the Rush on Black Friday
The day after Thanksgiving ushers in the official holiday shopping season. Traditionally, it is a great time to buy fashion, kitchen appliances and furniture.
If you're in the market for a new television, this is your chance to score one at a great price. Don't worry if you can't make it to the stores on Black Friday. More and more retailers are offering their best deals online and in stores. To top it off, Cyber Monday sales just might lure you to get out your wallet.
Amazon has definitely jumped on this bandwagon, offering fantastic sales beginning on Black Friday and carrying over through Cyber Monday. If Amazon isn't your thing, no sweat. Almost any retailer that usually sells televisions, and a few that don't, will have TVs on super sales during this time.
If you are reviewing the Black Friday ads over your Thanksgiving dinner, be on the lookout for doorbusters. These may be your best opportunity to score a massive deal, but proceed with caution. Many doorbusters are available only in very limited quantities and cannot be purchased online. Be prepared to camp out at the store before they open to ensure that you actually get one.
Here's an interesting wrinkle to consider if you plan to go TV shopping on Black Friday. It's not uncommon for some television manufacturers to produce models that are only for this once-a-year shopping event. Called derivatives, some of these models look a lot like the more deluxe models that are offered by the manufacturer, but they may not have all of the same bells and whistles.
There's nothing particularly wrong with these televisions, and they may be perfectly suited to your needs. However, if you're a stickler for certain features, make certain to check twice before you buy.
How do you know if you're looking at a derivative? Try searching online for the model number that's shown in the Black Friday ad. If you can't find that TV sold anywhere else and if there aren't any reviews from consumers, then it's probably a derivative.
A Note About Television Pricing
If you spend a few months comparison shopping, you'll eventually discover that massive discounts are rare when it comes to televisions. This is mainly because retailers actually don't build much mark-up into TV prices. When they sell a $500 model, they aren't really getting much profit. Accordingly, they can't afford to discount that TV too much and still stay in business.
Of course, there's an exception to this rule whenever they need to clear out those old models. Otherwise, don't wait around for a huge price drop even if there's a sale. You can still score a good discount, especially at the times of year mentioned above, but you're not necessarily going to see signs for 50 and 75 percent off.
It's also worth being aware that most of the big TV manufacturers don't let retailers set their prices. This is known as unilateral pricing policy, or UPP. Basically, this is a system through which manufacturers can dictate the prices of their products. If you see a television you like on Amazon, chances are good that you'll find it for the same price at Best Buy and the local appliance store.
The good news is that this somewhat sketchy practice actually helps to make comparison shopping easier. The television that you're looking at in your local appliance store is probably the same price on the Internet. Of course, it doesn't hurt to check just in case. Keep in mind too that if that television goes on sale next week, it will probably be on sale everywhere it's sold.
Tips for Buying a TV
No matter when you buy a television, there are a few guidelines to remember to ensure that you're satisfied with your purchase.
1. Go to Brick-and-Mortar Stores
Even if you ultimately buy your new TV online, it's wise to visit brick-and-mortar stores so that you have an opportunity to view the television's display in person. This also is an opportunity to assess the model's size so you can see if it's really appropriate for the room in which you intend to use it.
2. Choose Retailers That Offer Price Match Guarantees
Some retailers happily refund the price difference if the model you buy goes on sale within a preset time period after you make a purchase. This means that you can buy today without worrying about the set you chose going on a massive sale tomorrow. Just hold on to your paperwork and be familiar with the store's price match policy so you can take advantage of it.
One word of warning about price match guarantees. Some of the biggest deals, like those offered on Black Friday and Cyber Monday, frequently are exempt from these policies.
3. Use Social Media
If you're in the market for a television, make certain that you are following your favorite retailers on various social media channels. Retailers like to make connections with consumers on social media by providing early notifications about deals and sales. If you're determined to get the best possible price, this can be a powerful tool.
4. Be Prepared to Do Some Research
What if your old TV suddenly goes out and you need to get a new one outside of these times of the year? You can still do pretty well. Any holiday weekend throughout the year is bound to offer some fairly decent sales. Plus, many retailers will have special sales, like Best Buy with its Deal of the Day, that can help you maximize your money at any time of year. Get familiar with websites and social media feeds from likely retailers before you need to buy a television.
5. Utilize Cashback
There are many stores like Walmart, Best Buy, New Egg and more that support cashback on your purchase. Cashback can come in the form of your credit card or commonly a service like Rakuten or TopCashback. Combining both the best credit card cashback, with a service is an ideal way to extra few extra percentage points on your purchase. Bonus points if the store itself offers a rewards program that act as a form of cashback.
What to Look for in a Television
Television technology has changed a lot, and this can make it really difficult to know what to look for. What do all of those numbers and acronyms mean, anyway?
The reality is that the march of progress as far as televisions are concerned is never-ending. The latest technology that's available today will soon be yesterday's news.
If you've just started shopping for a television and you feel like a fish out of water, this should be helpful.
Resolution is one of the most vital specs that you can select for your new TV. Currently, savvy consumers are opting most frequently for 4K televisions with HDR. Many brands refer to this feature as UHD or UltraHD. These models will cost you more upfront than an older 1080p, or full HD, television, but this is one area in which it doesn't pay to cut corners.
A 4K television screen has far more pixels than a full HD screen, which means that you'll get better contrast, color and brightness as well as sharper details. As an increasing number of content providers roll out movies and shows in the 4K format, your viewing will get better and better with time.
Another feature you might look for is a smart TV. This won't be hard to find because most televisions manufactured today are smart televisions. These models are all Wi-Fi-enabled, but from there the features can vary significantly. Each smart television has a unique interface, which means that you might find that some of the most popular streaming apps are already integrated into your set. On the other hand, you might get a smart television that doesn't have many integrated apps or that has a clunkier user interface that's not very user friendly.
Still, you can probably learn to live with a clunky user interface if a certain model has everything else that you need. You could even add an affordable streaming device like an Amazon Fire TV Stick, Roku or Apple TV if one of these has an interface that you prefer.
Another spec you'll want to check out before you buy is the TV's refresh rate. This is the number of time per second that the television displays a new image on the screen. Ideally, this spec should be a minimum of 120Hz so that you get the smoothest display and the sharpest images.
Common Questions
How can I get the best deal on a TV?
Research reveals that there are three prime opportunities for scoring deep discounts on televisions: Super Bowl season, early spring and Black Friday. If you need to buy a television outside of these times, then scour retailer's websites and social media feeds to find sales.
What if I buy a TV and then discover it's gone on sale the next week?
Make sure that you always buy from a retailer that offers a price match guarantee. Most stores and online retailers are upfront about these policies, but bear in mind that if you're shopping on big discount days, like Black Friday, your purchase may be exempt from the price match guarantee.
Should I buy a TV online or in person?
Either method is a perfectly acceptable way to get a great TV, and chances are good that you won't find a huge difference in the price of the same television model in store versus online. However, there's a lot to be said for being able to actually see a certain television perform in person before you buy. Even if you eventually decide to buy from a website, take the opportunity to watch that television in person before you whip out your credit card. You're likely to be much more satisfied with your purchase.
Is buying a refurbished TV a good idea?
You can save money buying a refurbished TV, however there are risks and buying a TV is one of the worst items to buy refurbished. One reason is that it is easily damaged in shipping which is a common return reason. Secondly, the warranty will likely be expired as TVs are known to have short warranties. If you do shop for a pre-owned TV, do so in person to make sure it works properly.