What Is Bounty: Is It Good To Make Money on Tiktok?
Important Note: When you buy through our links, we may earn a commission. As an Amazon Associate we earn from qualifying purchases. Content, pricing, offers and availability are subject to change at any time - more info.
Is it possible for micro and nano creators on TikTok to monetize their posts?
---
Advertisement
---
Thanks to Bounty, this is absolutely a reasonable expectation.
Even if you only have a few thousand, or several hundred, TikTok followers, Bounty allows you to make hundreds or even thousands of dollars on your videos.
Of course, there are certain rules and restrictions with which you have to comply to be eligible. In this article, we'll take a close look at what Bounty is, how it works and how virtually any TikTok creator can start earning money with their posts when they partner up with Bounty.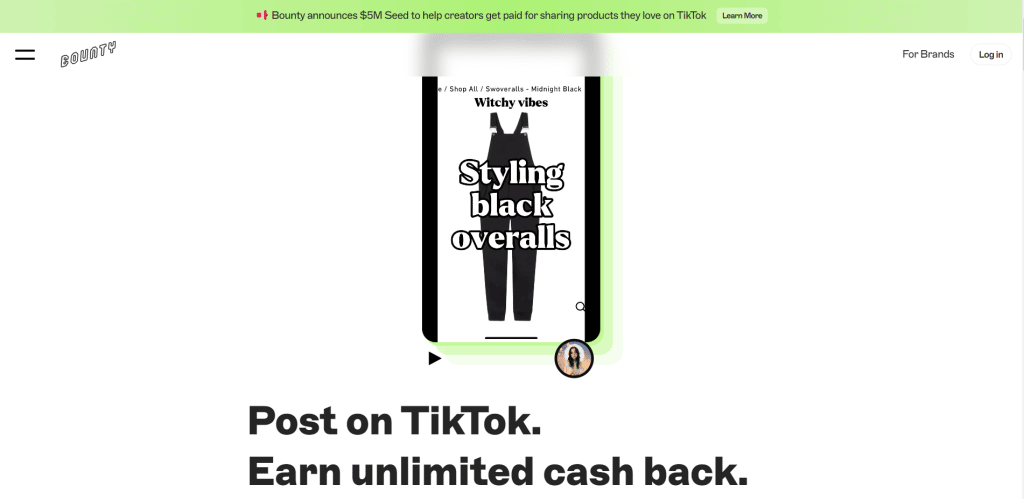 As a basic description, Bounty is an online service that enables TikTok creators to monetize their channel. This is a relatively new service, so it seems logical to presume that it will grow and begin offering additional services as time passes. For now, you might find that Bounty's service is just what you need to put a little extra money in your pocket each month.
If you would like to try the service, you can visit the Bounty website. Enter your phone number to receive a list of instructions. Before long, you could be earning as much as ten dollars for every 1,000 views of your eligible TikTok content.
The Basics of Bounty
Once you are signed up with Bounty, you can return to the website to check out the list of brands with which they work. These brands have chosen to partner with Bounty. The list only contains about 30 brands at this time, but Bounty appears to be working hard toward considerably expanding its list of partners.
The TikTok creator orders an item from one of the partner's brands. After it is delivered, the creator receives a unique link from Bounty. The link arrives via text and invites the creator to accept their "Bounty."
The creator can follow the link to kick things off. This is what enables them to get paid once their video goes live. After creating a video, the TikTok user uploads it, taking care to tag both the brand and Bounty. This guarantees that Bounty acknowledges the content. Bounty even contacts the creator to let them know that they are tracking the review.
It's also essential that each Bounty post carries the "sponsored" tag in accordance with FTC guidelines.
Potential Earnings with Bounty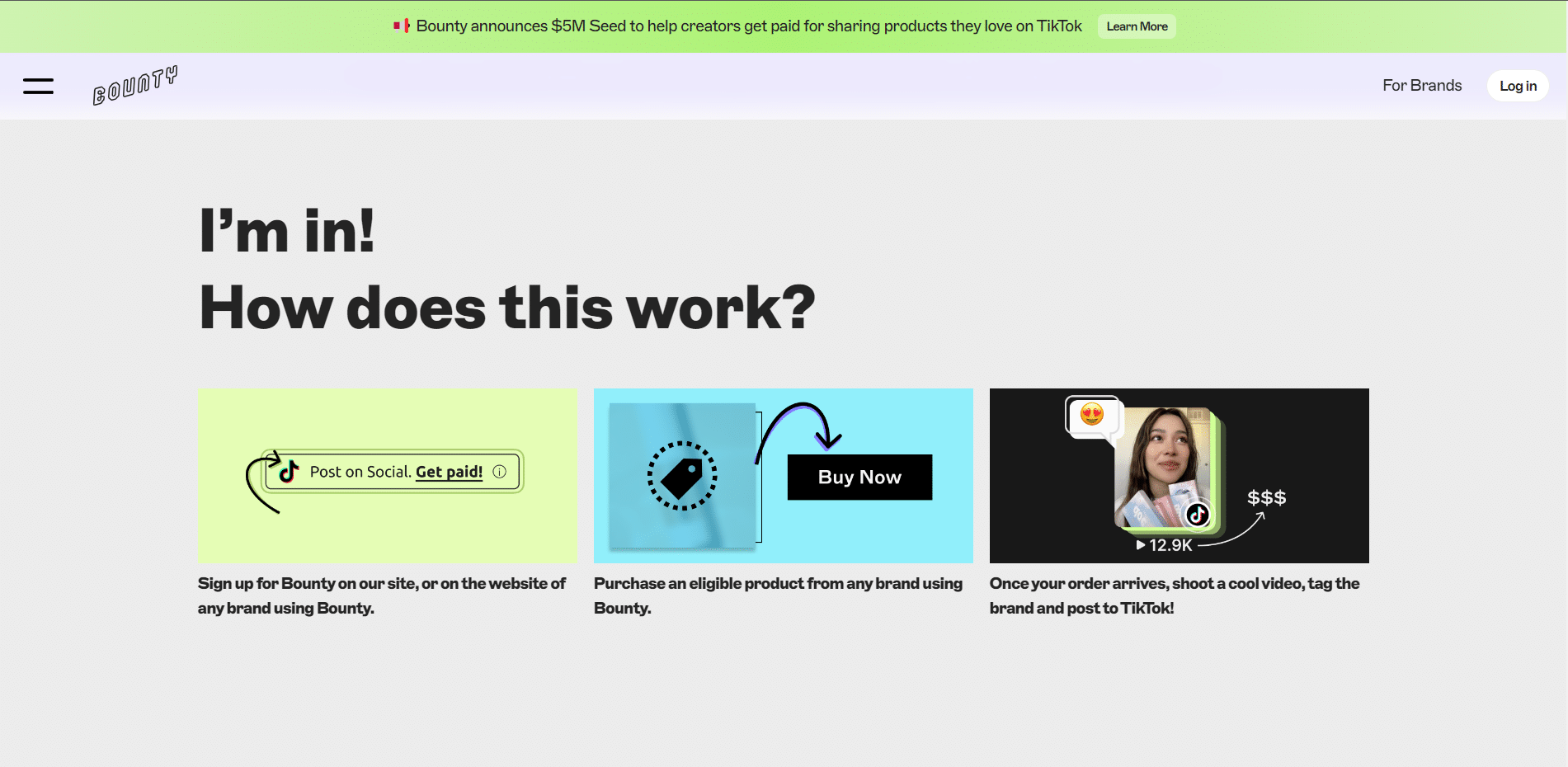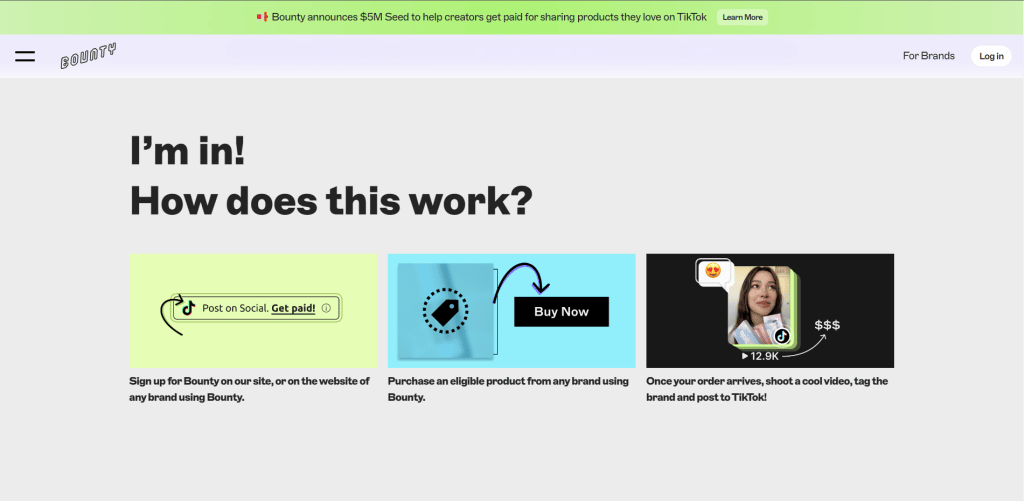 For every 1,000 views of their TikTok content, creators may earn as much as ten dollars. Every penny that they earn remains in their pocket.
Bounty's basic guidelines stipulate payment for all organic views that are generated within the first 48 hours after the content is posted. Gradually, the price for each viewing decreases, promising an equitable arrangement for both the creator and the brand with which they are working. This means that it is imperative that the content performs well in the first two days so that the creator earns as much money as possible.
Who Can Use Bounty?
Bounty is available to absolutely anyone who has a TikTok account and is at least 18 years old. The service really caters to and was created for TikTok users with smaller followings. Nonetheless, it is possible for mega-influencers to use the service as well.
Bounty estimates that it worked with in excess of 14,000 TikTok creators during beta testing. According to the company, its top earners took home approximately $3,000 each month. However, the disclosure did not specify any details with regard to how many videos these creators posted, nor has the company publicized how much the average user can expect to earn through the service.
Nonetheless, one user of TikTok and Bounty disclosed that she made $560 from a single video that she posted. With only 19,400 followers, this user's disclosure demonstrates that it is possible for creators with a modest audience to turn a profit using Bounty.
Brands May Reuse Your Content
Posting original content on TikTok that is partnered with Bounty is not the only way to earn money through the service. It further is possible that the brands may use the content you create, generating more income for you.
Brands are able to easily and conveniently access content on the Bounty website. If they like what they see, then they may license the content so that it can be used as a TikTok Spark Ad. This particular advertisement format enables brands to spend marketing money on content that is generated by users. As these ads increase the number of views on the content, the creator earns more money. The license also allows the brand to use the TikTok video in other advertising channels.
How does this work? When TikTok creators sign up with Bounty and order products from partnered brands, they are essentially granting a license to Bounty. The license enables Bounty to sublicense the generated content to the brand, while the creator still maintains a license as well. High-quality videos may be sublicensed by brands to be used in a variety of ways in numerous marketing campaigns. The opportunities for TikTok creators to be paid for these additional uses of their material are endless.
Is Bounty Trustworthy?
Consumers have definitely learned to proceed with caution where online ventures are concerned. Scams abound, but Bounty is not one of them.
Bounty's partners are real, honest-to-goodness brands with recognizable names such as Jones Road Beauty, Olipop, BlendJet and Doe Lashes. If you peruse the list of partners, you will probably see brands from which you would probably order anyway. Why not earn a few bucks in return?
These brands pay a per-month fee, which can be as low as $99 to participate, and with many TikTok users already having received compensation, it's clear that Bounty is definitely legitimate.
Moreover, Bounty recently secured considerable financing from some major backers. A well-known consumer tech venture capital firm known as M13, along with other players, provided nearly five million dollars in funding. Other participants include Interlace Ventures and Sugar Capital as well as executives from Stack Commerce, Fabletics and Rothy's.
Obtaining funding from such recognizable individuals and firms demonstrates that Bounty truly has a lot going for it. While it's true that venture capitalists don't mind taking risks, they aren't exactly what you'd call careless. This means that they have done their homework where Bounty is concerned, and they believe that it is going to take off.
Bounty has stated that much of the new capital will be used for new hires. Early personnel comes from organizations such as Google, Dharma and Sezzle.
Who Started Bounty?
With the desire to democratize the booming influencer economy, an individual named Abe Wolke founded Bounty in 2021. Headquartered in Miami, Wolke has stated his intention to give "paying customers the ability to be rewarded if their content is used by the brand and helps the brand grow."
Wolke established Bounty as a reaction to the common practice of agencies sending influencers free products with the hopes of getting a positive review. In this model, a brand hires a marketing or advertising agency to locate social media influencers who seem to fit the brand's niche. The brand must pay considerable money to the agency.
If the influencer accepts the products, they will produce a video or other content providing a review. However, Wolke sensed a problem with this approach because the content always ends up feeling like a commercial.
Wolke contrasted this content with content that is posted by genuine customers who purchased a product, tried it and truly love it. The result is less artificial content that seems to have a larger impact.
Wolke goes on to point out that "celebrities and big-name creators aren't our focus. We're focused on unlocking the long tail of creator marketing, serving the micro and nano creators – everyday customers and creators who don't have an agent or a large audience and otherwise may not get noticed by their favorite brands."
Bounty's founder certainly seems to have tapped into something that is meaningful to brands as well. Statistics have shown that the rewards of working with nano and micro creators can be immense for brands. Nano influencer spending, with a nano influencer being a TikTok creator who has between 1,000 and 5,000 followers, was projected to increase 220.5-percent in 2022 by Insider Intelligence. Contrast this incredible number with the eight-percent growth that was projected by the same publication for mega influencers who have one million or more followers.
Bounty Is Growing
According to disclosures from Bounty, they are now enjoying more than 1,000 creator sign ups every week. That is a sharp contrast with the 500 sign ups per week that were common just a few months earlier.
With so many people jumping on the Bounty bandwagon, it probably makes sense for other TikTok creators to follow suit. If you are already buying products and posting reviews of them to TikTok, then it's a good idea to get compensated for your hard work.
Perhaps only 30 or so brands are currently partnered with Bounty, but that number seems certain to grow. It's possible that you will soon see your favorite brands on Bounty, giving you an opportunity to earn money back for the shopping that you were going to do anyway.
However, it's necessary to keep in mind that you won't be compensated for any negative reviews.
FAQs
How does Bounty work?
New users with a TikTok account can sign up for Bounty using this link. Bounty will send you easy to follow instructions in the web app so that you can accept your Bounties. Make sure that you always use #bounty in your posts. Next, you just have to post reviews about the products that you've purchased from brands that are partnered with Bounty. The company automatically detects the public videos that you post and tracks the views. All you have to do at that point is collect your cash.
How much can I make using Bounty?
Always remember that your video needs to perform excessively well in the first 48 hours if you want to maximize the money you earn. It is possible to earn as much as $10 for every 1,000 views. You receive additional payments if the brand decides to use your content. As time passes and the content receives more views, the amount you receive per viewing decreases. Bounty reassures its customers that "virality isn't everything." It is possible for high-quality videos with fewer than 1,000 organic views to end up generating hundreds of dollars for creators when the brand decides to license the content.
How long does it take to get paid?
When you create and post a Bounty video on TikTok, the money begins accumulating almost immediately. These funds are held in a pending account for a period of 15 days. When the holding period expires, you can withdraw your money using Stripe. All you have to do is create a withdrawal request in your Bounty Account, and you will receive the money in about one to three business days.
What are some tips for posting content that will earn a Bounty?
Bounty encourages creators to carefully ensure the quality of their content. That means having clear audio and centered product focus as well as displaying plenty of positive energy. A one to three second hook is recommended to ensure that you have the audience's attention. Don't forget to tag the brand and ensure that your video remains public for a minimum of 15 days. This enables the brand to find your content and maybe pick it up for a Spark Ad.
What if I don't like a product that I ordered?
Bounty understands that you aren't necessarily going to fall in love with every item that you purchase. The company in no way wants to interfere with your efforts to post genuine product reviews. Feel free to post a negative review of the product you ordered, but do so with the understanding that your review will not be eligible for a Bounty. 
Are there things I shouldn't use in my Bounty TikTok content?
Bounty cautions users against swearing as well as using poor lighting and audio. Refrain from offering giveaways, promotions or referral codes in your Bounty videos too.