Media Rewards: Is It Legit?
Important Note: When you buy through our links, we may earn a commission. As an Amazon Associate we earn from qualifying purchases. Content, pricing, offers and availability are subject to change at any time - more info.
Have you seen people talking on social media lately about generating passive income? Maybe you aren't sure what this means but are still a little bit intrigued.
---
Advertisement
---
After all, who couldn't use a little more money to pay the bills or save for that vacation you've been dreaming about? If you don't have to work hard to get that money, then so much the better.
That's sort of what passive income is all about, and Media Rewards is a mobile app that could be a good introduction to generating passive income.
Although the earnings that you might get through the Media Rewards app are not guaranteed, rest assured that this is an absolutely legit offer. All you have to do is download the app and let it run in the background on your smartphone. The app really does most of the hard work for you.
Once you've leveled up enough, you'll be entitled to additional opportunities like sweepstakes entries and paid surveys. Taking the surveys isn't exactly passive, but it's a great way to get some gift cards for familiar stores and websites.
Let's take a closer look at this app and how it could help you pay your bills or build your savings.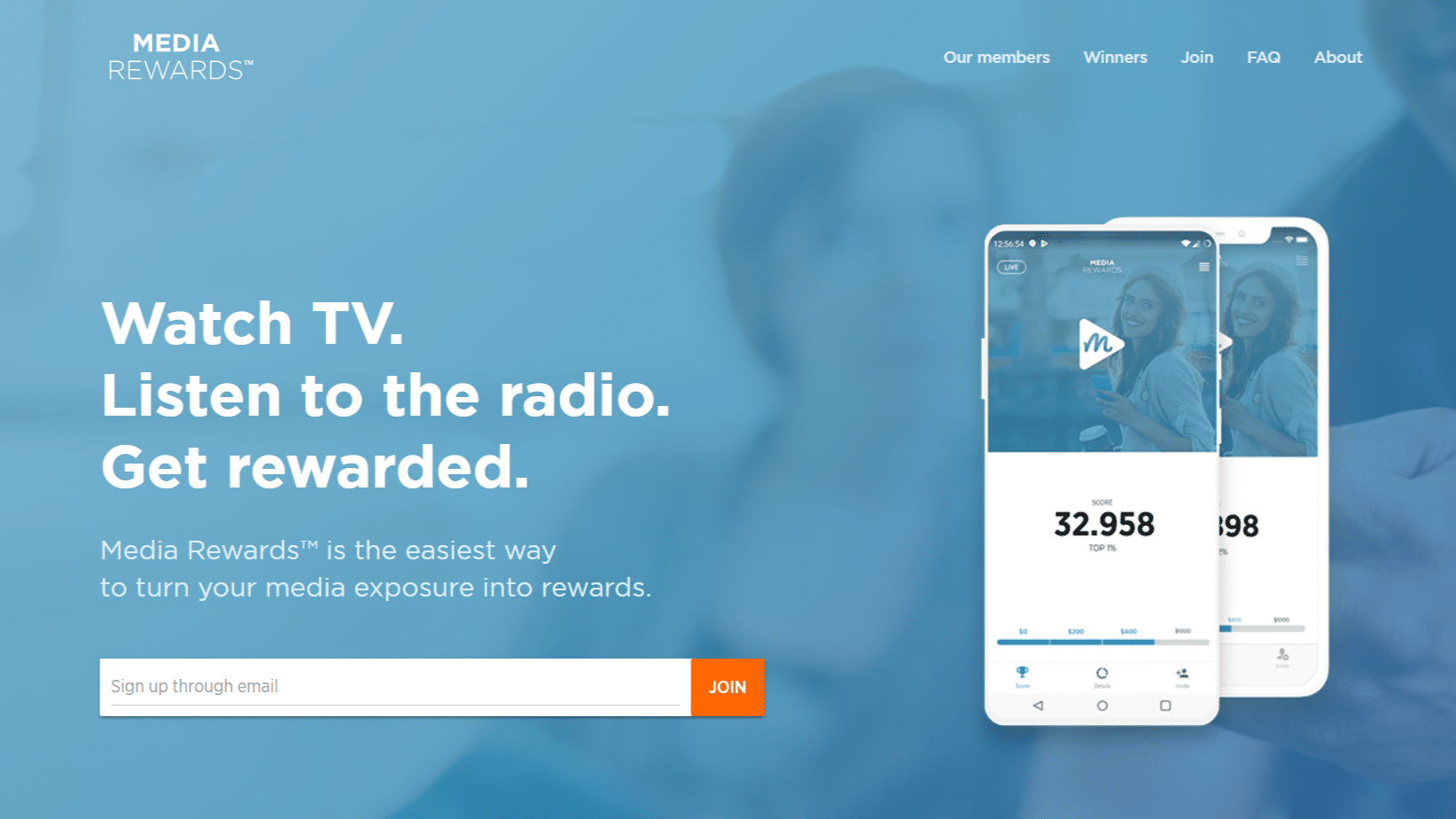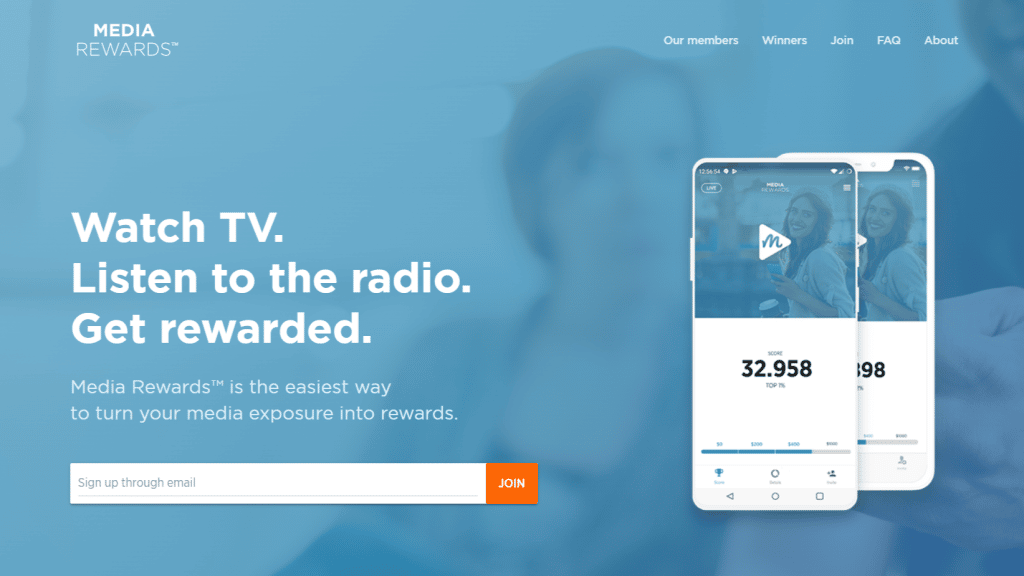 This software falls into the category of "get-paid-to" apps. Basically, you earn rewards through the app by sharing your data, getting entered into sweepstakes and taking surveys for which you could earn gift cards.
This app operates in the background of your smartphone. It "listens" to your habits for watching television and listening to the radio. Essentially, all you have to do is download the app and let it run. The app is supposed to monitor the audio frequencies that are within range of your device. It pays particular attention to any ads to which you are exposed as you watch TV or listen to the radio.
This means that it is not necessary to actively use the app in order to start becoming eligible for rewards. You initially set it up, and then you can just forget about it. Just be sure that you are allowing the app to run as much as possible. This is essential if you want to improve your score and be in the running for even more rewards.
The whole thing might sound a bit invasive. However, literature from the app's creators says that the technology is specially tuned to the frequencies of advertisements. They also promise that they are not collecting sensitive user information or storing audio data. Everything that is "overheard" is supposed to be 100-percent anonymous, which might be reassuring for users.
It's also worth knowing that the app consumes very little of your smartphone's battery life. A majority of users report that only one-percent of their device's battery is consumed during normal use of this app.
Getting Started with Media Rewards
This app is available on Android and Apple devices. Users must be at least 17 years old to participate, and the app is so far only available for use in the U.S., U.K., Canada, India, Australia and Mexico.
To get started, you have to visit the website. This is because this is an invitation-only service. Enter your email at the website, but don't expect to be asked to provide login details. When you enter your email address, you are basically providing the app with permission to send you an invitation.
Getting an invitation is not necessarily guaranteed. It really depends upon whether or not the powers-that-be at the app are looking for users in your demographic groups. If they are looking for users like you, you will receive an email with a link that lets you download the app.
The app seems to only accept a certain number of new users each month. Consequently, if you do not receive an email invitation link one month, be sure to try again in the early part of the next month.
When you download the app, be certain that you enable location and microphone access. This is what makes it possible for the app to monitor the media to which you are exposed. With these abilities enabled, the app can pay you points and send you appropriate surveys.
Earning Through Media Rewards
When you install the app, you give it certain permissions. It begins running in the background, and as it collects data, you begin earning points. It takes a few weeks, but once you earn sufficient points, you will reach the first sweepstakes tier. Each month, the app awards cash via PayPal to dozens of recipients at each sweepstakes tier.
The more you watch television, listen to the radio and generally expose yourself to media, the faster you will collect points. This will mean that you are eligible for more valuable sweepstakes, but there is no guarantee that you will actually be a winner in the monthly drawings.
Thanks to this sweepstakes feature, it is possible to earn actual money on the app without really doing anything at all. Some of the sweepstakes are worth $1,000, which obviously is quite lucrative. Of course, you cannot depend on winning any amount of money each month, so don't expect this to be a predictable income stream.
Ranking Up Your Account
The longer you have the app and the more you use it, the higher your account ranking gets. Your rank is what determines the sweepstakes entries for which you qualify. Additionally, your rank helps you become eligible to participate in paid surveys.
You'll probably have to let the app run for at least a few days or even weeks before you will qualify for the surveys. Payment for completed surveys typically consists of gift cards.
If you are really excited about the opportunity to get gift cards by taking surveys, there are ways that you can earn points faster. For instance, it's critical that you enable location traction and complete your profile. Your profile consists only of your gender, birthday and first name so it's easy to finish. Additionally, you can invite friends to join the app too.
Keep in mind that there also is a Point Accelerator Boost that you can enable to increase the number of points that you earn for a pre-determined time period. If you're about to turn on the radio or watch a movie on television, you have the perfect excuse for turning on the Point Accelerator Boost.
Complete Surveys for Rewards
Once your account ranks high enough, you'll start receiving invitations to complete surveys. You reward for responding to surveys is a five or ten dollar gift card to Best Buy, Amazon or another well-known retailer.
Users of the app report that it typically takes approximately eight weeks of use before survey invitations start appearing.
It's critical to keep in mind that there is no guarantee with regard to your earnings from surveys. Several factors will affect whether or not you even receive surveys. These may include your age, location, consumption of media and other metrics.
The good news is that unlike many other survey apps and websites, Media Rewards essentially pre-screens the user for their suitability for a particular survey. This means that you won't find yourself disqualified after answering the first few questions.
How Do You Get Paid?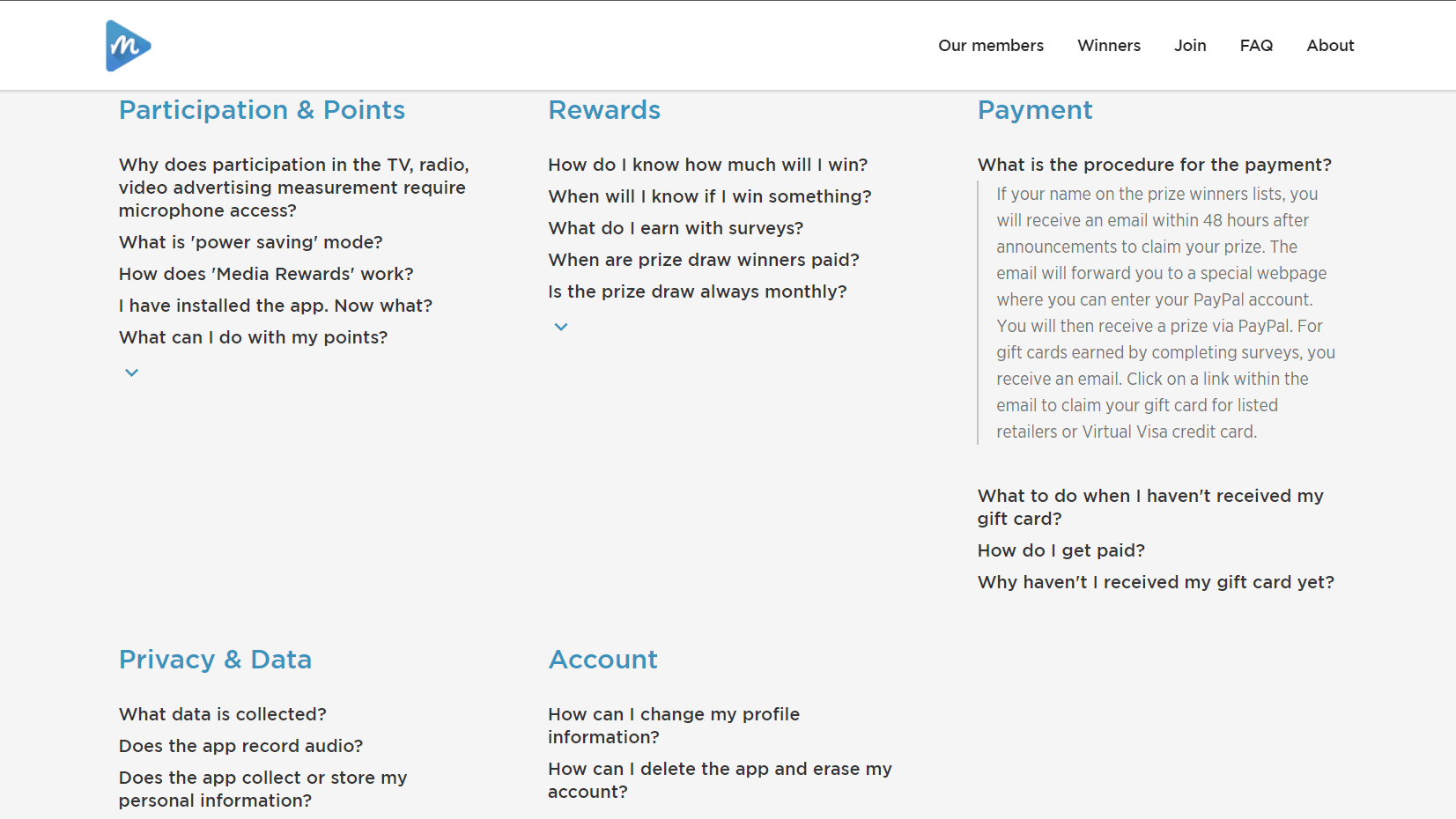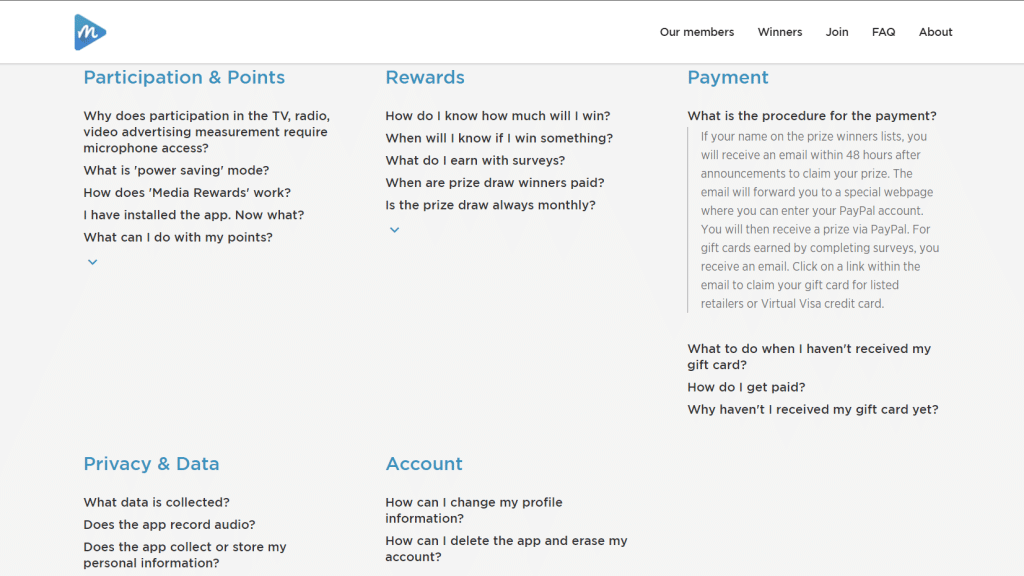 It's possible to get rewards through this app either by winning the monthly sweepstakes drawings or by getting gift cards for completing surveys.
If you win a sweepstakes, you will receive cash via PayPal, usually within about two weeks of the winners being announced.
When you complete a survey, you will receive an electronic gift card in your email from Macy's, Amazon or another store. Typically, the gift card arrives with a few days of completion of the survey.
If you are lucky and you keep the app running in the background all the time, it is possible to win several sweepstakes drawings each year. With potential winnings of up to $1,000 on a single drawing, this could be a significant, if unpredictable, source of income.
How Legit Is Media Rewards?
This is absolutely a legitimate app, and it is a potential source of passive income. That's because you don't have to actively "use" the app to start earning points and getting sweepstakes entries. Just let the app run in the background on your smartphone.
Eventually, you probably will start to get invitations to complete surveys. For each survey that you do, you'll receive an electronic gift card for a famous retailer.
Neither the sweepstakes nor the surveys will provide you with a steady, predictable extra income. However, many users report winning more than one sweepstakes in a given year, and it's possible to earn several small gift cards that can really add up over time.
As long as you are comfortable with letting an app "listen in" while you watch television or listen to the radio, Media Rewards could be a great earning opportunity.