Looking for more ways to stay in touch with Yo! Free Samples? See all the various options.
Alerts
Stay in touch with alerts for the hottest freebies and deals so you don't miss out.
Text GOODSTUFF to (808) 215-4238 for time-sensitive freebies and an occasional sweepstakes or deal.
Text AMAZON to (808) 215-4238 for Amazon deal updates.
Before you begin with Telegram: download, install and register for Telegram on desktop, web, Android or iOS. Then register for an account, you will need a valid phone number to create an account.
Browser Alerts:
Watch for this pop up (pictured below) when you visit this website. If you disabled it in the past, look for the "Site Settings" near the URL bar in most browser and re-enable notifications for this website. Safari not supported.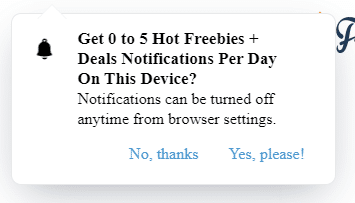 Social
Social media is always a fun place to have a conversation, let's talk freebies on the various social networks.
Newsletter
Get the daily newsletter, you can get daily freebies or daily Kindle deals. Just use the form here to sign up.