Important Note: When you buy through our links, we may earn a commission. As an Amazon Associate we earn from qualifying purchases. Content, pricing, offers and availability are subject to change at any time - more info.
No one really wants to cook the first day of work after a relaxing weekend. That's why we have put together this comprehensive Monday Food Deals list that brings you the best in food and drinks offers to suit every taste. These deals are a great way to save time and money every Monday.
---
Advertisement
---
Looking for free food? Try our free food samples guide here.
General Tips
Before we get to the list, here are a few more tips that can elevate your weekday savings on food and drinks at any restaurant:
Sign Up for Rewards
Rewards programs are probably the best ways to score food freebies. You will often get a free meal simply for getting a joint's app and signing up for their Rewards programs. Rewards members also typically enjoy free birthday offers, and may receive BOGO coupons and other discounts on a regular basis.
Check Social Media
Social media has become a great platform for promoting free deals and special offers. Be sure to follow your favorite food chains to stay up to date with their deals, be the first to know about limited time offers, and even sometimes score freebies when you engage by liking, commenting and sharing.
Phone Ahead
Phoning ahead is as easy as it gets when you would like to check in on your favorite establishment's offers for the day. It guarantees you will receive accurate information for your exact location, and you can book your seats, or place your order for your delivery or collection in a flash.
Note: For many of the offers below, you should phone ahead to make sure they are valid for your location to avoid wasting time:
Now, to the Monday Food deals!
99 Restaurants
New Englanders can stop by 99 Restaurants to enjoy a daily Happy Hour Monday through Friday from 2 to 5 pm and again from 8 pm to closing. Enjoy $6.99 full size appetizers and awesome drink specials to end your Monday the right way.
Applebee's
Just the two of you? Head to Applebee's where they have a 2 for $24 offer so you are practically both dining for the price of one! This includes an appetizer and two entrees namely burgers, ribs, salads, and shrimp (note that some options have an extra charge, and also note that prices definitely vary by location). Want more? Go here to stay updated on Applebee's specials.
Bahama Breeze
Head to Bahama Breeze for Happy Hour on food and drinks. On a Monday, hours are typically 4 to 6 pm on Mondays, though that may change by location. Happy Hour Deals may also vary but usually include half priced appetizers and drink specials such as $4 beers.
Bar Louie
Enjoy Happy Hour at Bar Louie that scores you special offers on select drinks and menu items from 4 to 7 pm Monday through Friday (varies by location). Adults ages 21+ only.
Beef 'O' Brady's
If custom burgers are your thing, head to Beef 'O' Brady's for Burger Mondays where you score a Build Your Own Burger for only $7.99 – fries included – at most locations. Sign up for Rewards here if you like what you see.
Bertucci's
Almost nothing is as comforting as a good old pasta dish. Start the week off on this note at Bertucci's where you can get $10 Unlimited Pasta on Mondays.
Big Whiskey's
It's 5 o'clock somewhere, even on Mondays! Head to Big Whiskey's to relax with discounted beers, wines and other alcoholic beverages. You can also pair that with select appetizers for only $5 during the Big Whiskey's Happy Hour. Just check ahead that your location participates in this Monday drinks and appetizers deal.
BJ's Restaurants
Pizza is always a good bet, especially after a long day. Mondays at BJ's Restaurants equal half off deep dish or tavern-cut pizzas. They also have Happy Hour weekdays from 3 to 7 pm.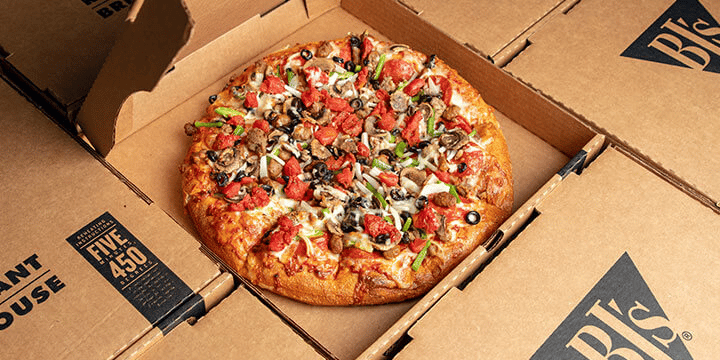 Bonefish Grill
Bonefish Grill offers a Happy Hour every day, which means that even on Mondays you can kick back with $6 martinis and cocktails, $1 off select beers, and $5 wines. Happy Hour starts at 4 pm daily and usually ends by 6:30 pm, and the Happy Hour offers are only available in the bar – but check your local Bonefish Grill's hours and terms.
Brann's Steakhouse
Need to wind down? Brann's Steakhouse has drink specials, with their every day happy hour – Mondays included – starting from only $3.99. This offer is from 3 to 6 pm and again at 9 pm to close every day of the week. And if you are one for pairing your drinks with some food, Brann's also offer a Comfort Food Plate that features crispy fried chicken and mouth watering BBQ sausage, or BBQ ribs, everyday and all day for just $12.99.
BRAVO! Cucina Italia + BRIO Italian Grille
BRAVO! Cucina Italia and their sister eatery BRIO Italian Grille both offer a delicious food Happy Hour every weekday from 3 to 7 pm. The Happy Hour brings you 6 items for only $7 each, including a Happy Hour Burger.
Cheesecake Factory
Enjoy Happy Hour at the Cheesecake Factory with appetizers and plates starting at about $6. The offer is available at most locations and is typically available from 4 to 6 pm Mondays through Fridays in the bar area only. Check your local Cheesecake factory for their exact menu and prices, and be sure to sign up for Rewards here.
Chevy's Fresh Mex
Chevy's Fresh Mex is a great place to enjoy an early Happy Hour deal as it starts from 3 pm, with food and drink deals starting from $4, and available in the bar area only.
Chili's
Hungry? Get a complete meal at Chili's with their 3-for-Me offers starting from only $10.99, with upgrades starting from $2.49 apiece. Choose between the Big Mouth Crispy Chicken Sandwich, Old-Timer with Cheese, and other delicious deals.
Chuy's
Have a Mexican-food Monday at Chuy's Mexican restaurant when you enjoy Happy Hours everyday, with varying times depending on your locations. Happy Hour deals include discounts on Margaritas, beer, and select bottles of wine.
Costco
Head to Costco for a nice deal with their Everyday Hot Dog Special including a quarter-pound Kirkland Beef Hot Dog and a fountain drink for only $1.50 (a price which has remained unchanged for decades), or enjoy a slice of pizza for only $1.99.
Cotton Patch
Why not spend Mondays at Cotton Patch Cafe, where you can munch down on Chicken Fried Steak or Chicken for only $9, with the offer starting from 5pm at most locations. They also have offers on entrees including Meatloaf, Chicken Fried Chicken, Chicken Alfredo Pasta and Chicken Fried Steak.
Cracker Barrel
If you are in the mood for some scrumptious Southern cuisine, head to Cracker Barrel daily for lunch starting at just $8.49, which is Chicken N' Dumplings on a Monday. You could also opt for a Southern-style dinner starting at around $12.
Dairy Queen
Check the Dairy Queen for their "Mobile Monday" offers. The Mobile Monday coupons will vary from week to week but may include BOGO offers, discount coupons and more. You can get the app and sign up for Rewards here.
Dave & Buster's
If you love food and drinks at Dave & Buster's, you will be glad to know they have a Happy Hour everyday Monday to Friday from 4 to 7 pm. Offers may differ sightly by location but may include discounts on cocktails, select wines, and beers.Stay on top of more of their offers by signing up for Rewards.
Famous Dave's BBQ
Enjoy Famous Dave's Famous Deals from Mondays to Thursdays. Monday's deal is a Build Your Own Burger starting from only $4.50, with toppings starting at $0.50 each when you also purchase a beverage (essential for the deal to apply). Please note that it does vary by location, and some Dave's will have a $5 Comeback Chicken Sandwich which you can opt for rather than the burger.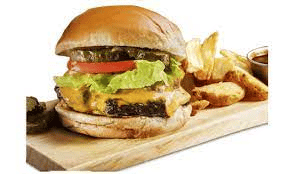 Firebirds Wood Fired Grill
What better way to unwind after a manic Monday than with some wine? Head to Firebirds Wood Fired Grill to enjoy 50% off select wines on Wine Down Mondays.
Firehouse Subs
Craving a sub? Firehouse Subs has a Daily Sub Special, usually for only $8.59 but depending on location. The Monday special is a Firehouse Meatball Sub. You could also score regular deals by signing up for Firehouse Subs Rewards.
Fresh Market
If you are feeling particularly hungry, head to Fresh Market to get a satisfying meal which includes a sandwich, chips and a beverage for only $9.99. This is a daily Lunch Value Meal, and you can choose from, Reuben, Italian panini, or Turkey and Swiss and throw in some chips and the beverage. You can also provide dinner for the whole family with Fresh Market's "Little Big Meal" for only $25 to feed four.
Frisch's Big Boy
Frisch's Big Boy has an offer for Kids to Eat Free on Mondays through Thursdays, though please note that the Facebook post states this is a limited time offer only. The offer is good for children 12 and under. For more Frisch's deals, sign up for Big Boy Rewards.
Fuddruckers
Fudduckers offer a delicious and convenient Kids Meal for a low $1.99 every Monday from 4 pm onwards. The Kids Meal includes a burger, hot dog, chicken tenders or grilled cheese plus a drink and side.
Glory Days Grill
Mondays are burger days at Glory Days Grill! Enjoy Burger Monday and most participating locations and get a Classic Burger all day for only $8.99. Join the Glory Days Grill Victory Club for more money saving specials.
Granite City Food and Brewery Specials
Granite City Has a Build Your Own Burger Mondays starting at only $6. Extra condiments like spicy mayo, bacon and more do add a little more to the cost.
Hickory Tavern
In the mood for a classic meal option? Head to Hickory Tavern on Mondays from 4 to 9 pm to score a BOGO Burger offer with the purchase of 2 drinks (for dine-in only).
Huddle House
Make time for family at Huddle House where Kids Meals are free every Monday, with the purchase of an adult entree of $6 or more!
IHOP Specials
Enjoy IHOP's IHOPPY Happy Hour from 3 to 10 pm every day – Monday's included – to chow down on $6 entrees and snacks and side dishes from only $4. Find other great IHOP specials by joining here.
IKEA Restaurant
Mondays at IKEA Restaurant feature a delicious vegetarian special on Mondays: the Veggie & Plant Ball plate for only $3! Enjoy more of the all-rounder benefits by becoming part of the IKEA Family.
Islands Restaurants
Enjoy snacks and drinks at Islands Restaurants during their happy hour every Monday through to Friday. Happy Hour starts at 3pm and varies in length by location, and is only available in the bar and on the patio. The special includes offers on select cocktails, beers, wines and more; as well as discounts on appetizers like Cheesy Fries, Nacho Sliders, and more.
K&W Cafeteria
K&W Cafeteria transforms your weekend and your start to the week with 2 complete meals for only $23.99! The offer is valid Mondays and Saturdays only, and comes with an entree, 2 sides of vegetables, bread, a drink, and a yummy dessert.
Kona Grill
Make it date-night at Kona Grill that has a special menu for two for $39 per person. The offer is valid Sunday through Wednesday nights, as is a nice way to lighten up a Monday. It includes a starter to share, separate entrees, and dessert for sharing.
Romano's Macaroni Grill
Head to Macaroni Grill to enjoy Mac Mondays on select Mondays which is usually a yummy BOGO offer on their Italian pasta dishes!
McCormick & Schmick's
Head to McCormick & Schmick's for daily Happy Hour specials, Mondays through Fridays from 3:30pm – 6:30pm. Enjoy special offers on drinks starting from $5 and Bar Bites starting from $4.
McDonald's
The World's number one fast food restaurant always has coupons, BOGO offers and freebies available. Check the McDonald's app daily for the best offers, including Monday food deals.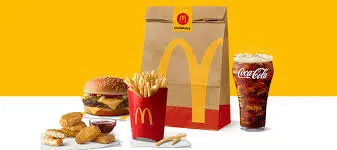 Miller's Ale House
Monday's can sap the energy right out of you. If that's the case, be sure to stop by Miller's Ale House to score a Full Rack of Baby Back Ribs for only $14.99.
Olive Garden
Olive Garden is the place to be for a Monday midday meal! Enjoy daily specials on lunch before 3 pm, starting at just $7.99. Sign up for Rewards here so you can enjoy more of your favorite Olive Garden dishes at great prices.
On the Border
Head to a participating On the Border location on Mondays to munch down on Endless Enchiladas served with rice and beans for only $10.99. Available for dine-in only.
Panera Bread Specials
Enjoy the comforting Value Duet special daily at Panera Bread, which includes a cup of soup and a half sandwich for only $6.99. You can make this offer extra good by joining the Panera's Unlimited Sip Club Drink Subscription which allows you to add tea, fountain drinks or coffee for free.
Quiznos
Head to Quiznos on Mondays to score an 8-inch Spicy Monterey sub for only $6.50! Varying sub specials are typically available every day of the week.
Red Lobster Specials
If you are in the mood for the best in seafood, look no further than Red Lobster's Endless Shrimp Mondays for only $21.99. This Monday special scores you all the shrimp you can dream of in a delicious variety. Endless Shrimp Mondays are valid for dine-in, collection and delivery, and you can get up to four orders of the shrimp entrees if ordering to-go and delivery. Sign up for Red Lobster Rewards ASAP.
Ruby Tuesday Specials
Participating Ruby Tuesday locations offer an Endless Garden Bar Combo with a soup or baked potato for only $9.99 between 11 am and 4 pm. Mondays can also score you a mouthwatering steak sandwich for only $9.99.
Smokey Bones
Mondays at Smokey Bones means BOGO Wings! Buy 8, get 8 free or buy 16, get 16 free, valid from 8 pm until closing for dine-in only at participating locations.
Sonic Drive-In
Enjoy your Monday afternoon at Sonic Drive-In with their Happy Hour from 2 pm to 4 pm. Happy Hour means half-priced drinks including sodas, iced teas, lemonades, Slushes and Ocean Water. Get the app to enjoy these specials on the go!
Subway
What could possibly sound more delicious than a Sweet Onion Chicken Teriyaki from Subway! The chain has daily offers, and on Monday that's the Sweet Onion Chicken Teriyaki for just $3.50.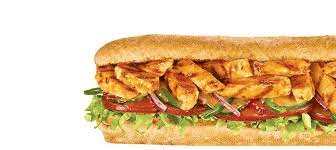 Texas de Brazil
It's Happy Hour at most Texas de Brazil locations, Mondays through Fridays from 4:30 pm to 6 pm. Alcoholic drinks start as low as only $3!
TGI Fridays
What goes better together than wings and beer? TGI Fridays has the winning combo with their Wing Mondays from 5 pm to closing, so you can enjoy $0.50 wings and discounted Miller Lite draft beers. The wings also come in an assortment of flavors to choose form; from classic Buffalo and Nashville Hot, to decadent Apple Butter BBQ and Chile-Lime Sauce.
Togo's
Few things beat a sandwich. Head to Togo's Sandwiches for daily deals that consist of a 6-inch regular sandwich and 20 oz soda for only $8.95. Monday's sandwich is a delicious Hot Pastrami.
Wingstop
They aren't called Wingstop for nothing! On Mondays, you can enjoy your favorite Boneless Wings covered in sauce for only $0.70 a piece on Mondays and Tuesdays at your local Wingstop. You can sign up for a Wingstop account here.
Wing Zone Specials
Give Manic Mondays a different meaning when you stop by Wing Zone for their Manic Mondays special (and other specials daily through Thursdays). Manic Mondays at Wing Zone mean boneless wings each for only $0.70.
World of Beer
Head to a participating World of Beer on Mondays to enjoy a Cheeseburger and choice of sides starting at only $5.95 (extras cost extra)!
Happy discounted dining!
* For participating US locations only. Information accurate at time of publishing, subject to change.
Post Index