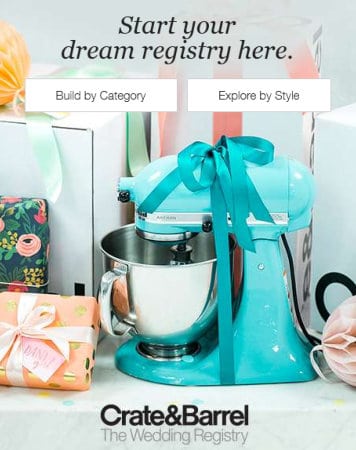 We're always looking for the freebie angle and when it comes to weddings, we've found some. It just so happens that just for making a list of gifts you'd like you can get a few gifts of your own. Yes, I'm talking about wedding registries.
But first, a little wedding registry lingo. Called incentives, bonuses or just free gifts, some stores – in conjunction with home goods manufacturers – offer these as a way to pick their brand. Can't decide on the china you want? Maybe that free serving dish from Mikasa will help sway you.
Of course, there's always catch. When you put Mikasa china on the list, your guests need to purchase a certain number of items for you to get the free serving dish. But if you're starting from scratch, most of the time, that serving dish is a slam dunk.
There's also something called a completion bonus. If you don't get everything on your list, the store will give you anywhere from 3 months to a year to purchase those un-bought items at discounts ranging from 10%-20%.
Then there is the sign up gift. Right now, only Crate and Barrel offers one (a set of glasses) but during engagement season, you may find more. When is engagement season you ask? It runs from December through February thanks to Christmas, New Years and Valentine's Day. So check the registries for sign up offers (or keep an eye on YoFreeSamples wedding freebies!).
You'll also find free mobile apps, sweepstakes to enter and, if the store has a bonus or points programs, extra opportunities to rack those up.
And now, here's our handy chart of the most popular registries and what they offer. Below the chart, you'll find links to them all. Happy wedding freebie hunting…and…congratulations!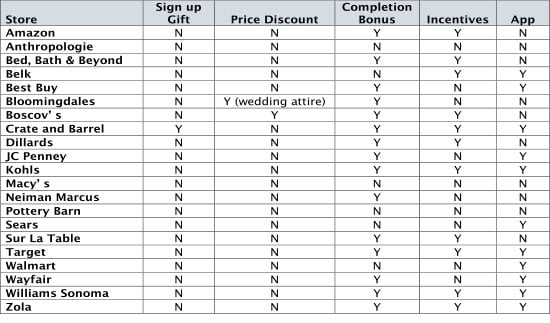 Amazon
– The world's biggest online store with everything from electronics to furniture to kitchen and dining.
Anthropologie – Quirky and unique home furnishings and accents.
Bed, Bath & Beyond – All things home including linens, china, gadgets, curtains, towels, flatware, small appliances and seasonal goodies.
Belk – Popular department store with name brand home and bath goods.
Best Buy – Electronics, major and small appliances.
Bloomingdales – Some home furnishings but lots of fashion and accessories for the bridal party.
Boscov's – A little bit of everything department store and the only one that offers a couples shopping pass and 10% rebates on YOUR purchases.
Crate and Barrel – Home and bath furnishings small and large with a modern style. Only registry that regularly offers registrants a free sign up gift.
Dillards – Popular department store in the southern US.
JC Penney – JC Penney has everything – and it's usually on sale.
Kohls – Linens, bedding, decorative home items plus small appliances…and lingerie if you're so inclined.
Macy's – Wide selection of home goods, china, flatware and small appliance brands plus luggage and wedding party clothing.
Neiman Marcus – High end home furnishings plus clothing for the wedding party.
Pottery Barn – Post-modern style furniture, china, flatware, linens, curtains and decorative home items.
Sears – Everything from major appliances to home and bath plus luggage, furniture and tools!
Sur La Table – Wide selection of china, flatware, glassware and decorative home objects.
Target – Do I have to tell you what Target has?
Walmart – Some of the lowest prices around on home and bath items, small appliances, electronics and more.
Wayfair – All things home including home remodeling (who says you can't put a new bath vanity on your list?).
Williams Sonoma
Zola – Wide selection of home items – furniture, kitchen/dining and bath. Plus, they offer trips.