What better way to start the New Year than with a plan for savings? This two part post (
part 2 is here
) reviews sites we've used to not only save money but to get something back.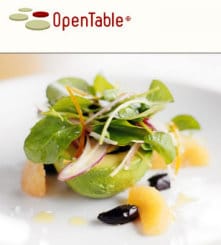 Money Side – Get Paid To Dine At Restaurants On Off Times
What is it? – You reserve tables at restaurants and earn points when you dine there. Then you can redeem points for money you can spend at those restaurants.
Why use it? – It sounds counter-intuitive, because you need to spend money going out to restaurants in order to earn money, but the point here is that if you need to do it anyways, you can get something out of it.
Family coming to visit? Your boss needs to take out a client? You don't even need to dine there yourself. As long as you make the reservation online (in your name or not) and somebody dines there, YOU get the points! I've had the account for 3 years and the points don't expire!
How do you use it? – Most reservations are worth 100 points. Some are worth 1,000 points.
2,000 points = $20, 5,000 points = $50, 10,000 points = $100…Every 1,000 points earn you $10
You do not get more money if you redeem more points at a time, so you can redeem at any point.
Tips: There are special $1,000 point table promotions, so go for those! There are also some that are worth 0 points and you don't get anything when booking them.

Money Side – Earn 10 – 40% Cash Back on Food Delivery.
What is it? – Order food for delivery and get points + money back & special deals.
Why use it? – It doesn't matter if you order in once a month or every day. We've all done it and we will all do it at some point or another. So why not get something back?
How to use it? – Food ordering and delivery can be expensive.  Make other people's money work for you. – Do you need catering delivered for work? Need pizza for a study session? With a big group of people that want to order? You can get everybody to pay you cash as you order food for everybody from your account. That can actually be both a free ATM and get you points for extra food.
Order for pick up:  I always used to order my favorite clam chowder from a close by place. I realized that if I just pay through Foodler and go pick it up, I don't need to meet a minimum for delivery or pay a delivery charge, but I still get Foodler points.
Double up services:  There are a number of other loyalty programs that you can double up with Foodler: LevelUp, Belly etc. You can also use cash back credit cards for extra savings.
Tips:  Wherever you can, get triple points, double points. There are 10% – 40% money back (get Foodler credit to use for future orders). And of course, there are specials per individual restaurants.
More websites that save/give you money tomorrow!