Whether you want to shave some of the fat from your favorite recipes or are looking to add a nutritional punch to meals, fruit or vegetable purees can help. Here's our how-to guide for making and using them.
Making Puree
You can easily make your own purees or buy pureed foods like applesauce, baby food or specialty puree products. When making your own, don't add sugar and use as little liquid as possible. You can also add a tablespoon or two of lemon juice to keep colors bright. Either cook the fruits or vegetables and mash or, place whole (if small) cut fruits/vegetables in a blender or food processor and process for about 30 seconds or until smooth.
Use freshly made purees or freeze in individual serving size bags or in ice cube trays. Keep an eye on the frozen fruit purees so the kids don't eat your stash as treats (though that wouldn't be a bad thing!).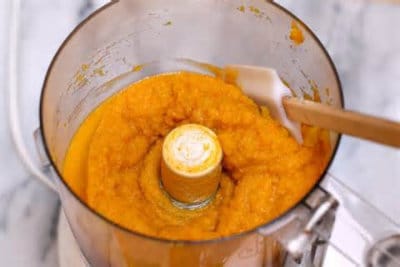 Baking with Purees
For baking, match the puree to the recipe. For example, applesauce works well in most baked recipes – cookies, muffins, quick breads and the like. Pureed squash or sweet potatoes are also good especially if the recipe requires cinnamon or nutmeg. You can even sneak spinach or other vegetable purees into fruit toppings. Skip the purees for delicate baked goods or ones where chemistry is important (like souffles).
To use a puree in a recipe, substitute ½ for fruit or ¾ of vegetable purees for the amount of oil required. So if one cup of oil is needed, use ¾ cup of vegetable puree or ½ cup of fruit puree. If the batter seems a bit dry, add a little more puree. Since fat provides tenderness and texture, try a half and half method using the same ratios above. If one cup of oil is required, use ½ cup of oil and ¼ cup of fruit puree or 3/8 cup of vegetable puree.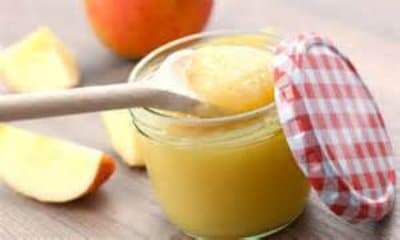 Cooking with Purees
Vegetable purees work well in sauces, chili, soups, stews and even meat dishes like meatloaf. Carrot puree is ideal for tomato based sauces or dishes and adds a tiny bit of sweetness (so you can skip any added sugar). Try spinach or kale puree in Guacamole or chili.
Bean purees are a great way to add fiber to a dish. And they're easy to make by pureeing a can of beans (rinse first) with a tablespoon of water. A white bean puree can be used as an all-purpose thickener for sauces and soups. And they'll also work in "dense" baked goods like bar cookies.