We got an email from yoFreeSampler Mary H. who loves free samples but has some trouble with the coupons.  She told us that while she has a tablet, she has no printer.  So coupon offers weren't much use to her.
That got us to thinking.  There had to be a way to take advantage of online coupons without needing a printer.  And we came up with a few ideas.  We hope they help!
Take Your Tablet
We know some stores take coupons from your cell phone and that most of those same apps will run on tablets.  Look for one that allows you to save coupons you want to use unless your tablet has its own cellular internet connection.  So Mary could bring her tablet to a store for coupons in apps at least.  But what about those ones you have to print that aren't in an app?
Coupon Screenshots
The easiest way is to take a screenshot of the coupon and save it to your tablet or phone.  On the iPad, to take a screenshot, hold down the power button (AKA "sleep/wake") button at the top of your iPad then press the "home" (round) button.  You'll hear a click.  That means the screenshot was taken and added to the iPad's camera roll folder in the iPad Photo App.
For Android tablets, the process varies.  On the Samsung, tablet, for example, look for the screenshot symbol and tap it.  The shot will be placed in your Screenshots app.  More information here (http://www.samsung.com/us/support/faq/FAQ00052510/60717/SCH-I925EAAUSC).  Check your Android device's manual for how to take a screenshot if it differs.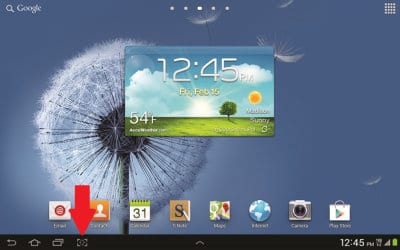 Offline Storage Apps
Using apps like Offline Browser (for Android) you can save full web pages to view in their entirety later – no internet connection needed.  Another app to try is Pocket.  Save the coupon pages into the Pocket app to access later with or without an internet connection.
Whichever method you choose, when you go shopping, take the tablet with you and show the cashier the coupon pages or photos that you've saved.  They might not be able to scan them, but they may be able to enter the discount manually or the bar code numbers so you get the discount.
Shop Online
Many manufacturers are offering the same paper coupons to online shoppers.  We wrote a post on Amazon's new coupon page but they're not the only one!  Drugstore.com lists all its coupons here.  Plus retailers like Target and Wal-mart have a wide selection online of their always low-priced products plus "virtual" manufacturer's coupons.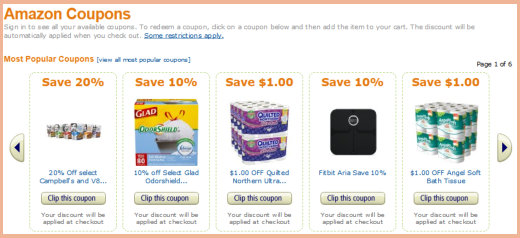 All of these sites offer a wide variety of non-perishable foods and household products.  Some of the coupons are for "bulk" purchases (a case of toilet paper!) but there are plenty of single item coupons.  Use your in-store coupon strategies when shopping online, too.  I hop around to several sites to find the best prices before I order.  Since most sites offer free shipping for a minimum purchase – anywhere from $35 to $50 – I can easily add up what I need to buy to see if it meets the minimum and which site is the best to make my purchase.
If you have other tips for readers like Mary H., we'd love to hear them.  Please post in the comment section below.