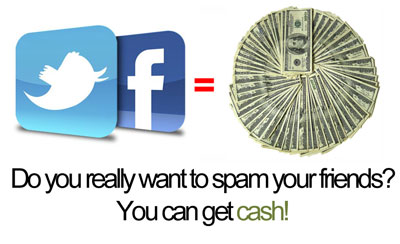 You are no stranger being a yoFreeSamples reader to finding deals and saving money. But is it okay to spam your Twitter and Facebook friends to earn cash? There is a rise in Facebook-only or Twitter-only coupons & deals out there. Often to get a deal like this you need to Like the companies page or Follow them on Twitter. Sharable deals let companies leverage social networks to get more business which works for them but is it a race to the bottom?
In the real world consumers like us tell each other about great deals but have you ever had a friend try to sell you Cutco Knifes or Avon products? Those are the types of friends that lose credibility with you. Now with companies asking you to share their coupons to get a better deal, is this the same thing?
Even worse there are new companies that give you hundreds of links to 'share' deals and content with your friends like MyLikes and VirURL. This is a great way to earn extra cash because you get paid every time one of your friends clicks on your link that you shared but doesn't it have the loss of credibility as a Avon or Cutco salesperson would get in the real world?
Do you think this deal 'sharing' is going too far or do you want more of it?