Amateur photographers used to rely on expensive software to edit their photos. After all, even the best photographers know their art simply doesn't look as good as they'd like without that special finishing touch. But now anyone who can snap a photo with a smartphone can take advantage of some great photo-editing apps at no charge. Of course, the ever-growing assortment of free apps can make it difficult to narrow down a search. Fortunately, we've done our research into the matter, and the following are the top 13 free photo-editing apps for Android, iOS or PC apps.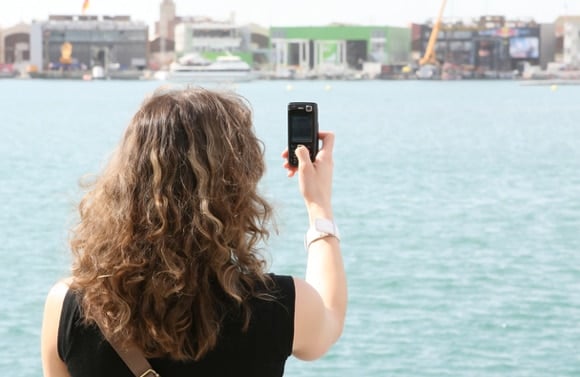 Canva Photo Editor
Basically, Canva is an easy-to-use, drag-and-drop design platform that's online and free to use. They've been around for just over 2 years and already have 6.6 million users worldwide – and they're still growing fast. Beyond just a photo editor, they also provide a full blown Photoshop style replacement and other amazing tools for making graphics on the comfort of your browser or mobile app. Really truly the market leader in photo editing tools, give them a try and it's FREE, oh yeah!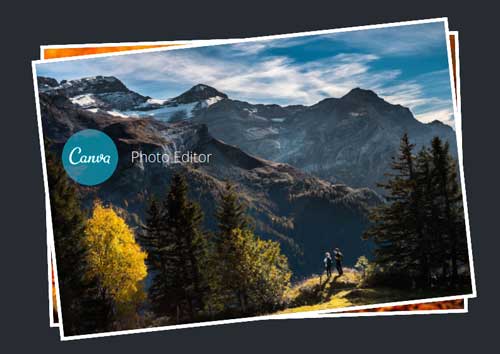 ---
GIMP (GNU Image Manipulation Program)
At first you might be wondering what does GNU mean (it means "GNU's Not Unix" according to Richard Stallman), but that doesn't matter for most folks. GIMP is a full-blown Adobe Photoshop clone in many aspects. Working with GIMP instead of resorting to piracy or paying is the best option for anyone serious about editing photos beyond their mobile phone or for basic editing purposes. GIMP is our personal favorite here at YoFreeSamples too so we had to include it. Give it a shot, it's free forever! The best part? It works on Mac OS, Windows and Linux so you can pretty much run it anywhere.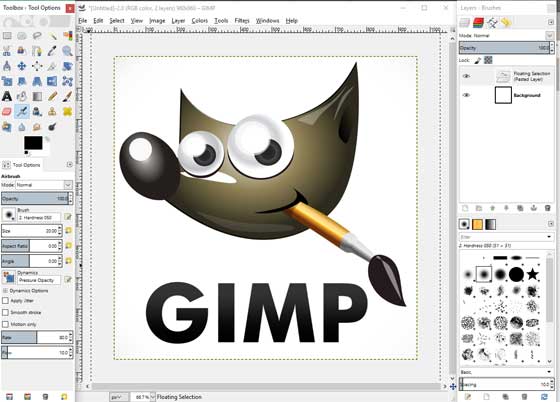 Visit To Download & Install GIMP For Mac, Windows Or Linux
---
VSCO Cam
After transforming from a paid to a free app last year, VSCO Cam has become one of the best photo-editing apps for both iOS and Android. Not only does the app offer a wide variety of free filters and advanced editing tools including brightness, contrast, saturation, tint, crop, rotate, sharpness, highlights and sharpness.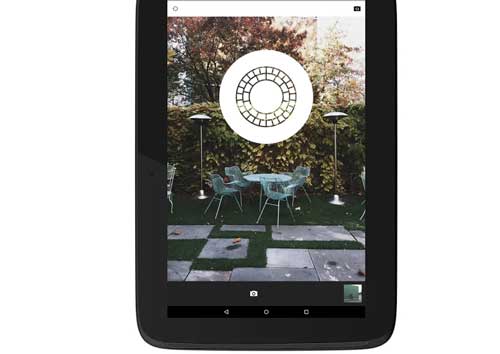 ---
Snapseed
Perfect your photos in a snap! Snapseed is published by Google so you know it's a solid photo editing app that'll help you along the way. Snapseed is available for tablets or smartphones running on iOS or Android. Its intuitive interface offers photographers a simple way to perform basic editing actions. Once photos are added to the app, users can select manual tuning before swiping up or down on a photo to see different photo variables such as contrast or saturation. Once a setting is selected, users need only to swipe right to increase the setting or left to reduce it. Users can even choose to change the setting on a part of the photo without editing the whole picture. If they don't want to manually adjust the photo, users can also use a variety of filters, including Grunge, Retrolux, Vintage, Drama, Black and White, to name a few. Not happy with the idea Snapseed but love Google? Try the Google Camera for Android for another Google option.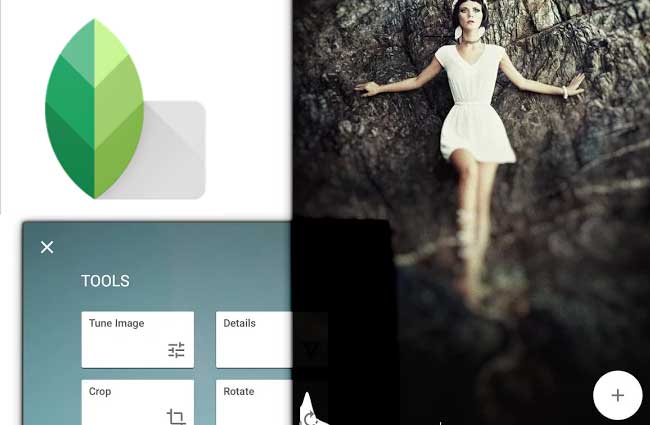 ---
Adobe Photoshop Express
Those photographers who remain loyal to Adobe, Photoshop Express offers and easy-to-use interface and a variety of editing options, although nowhere near the advanced settings included with the its namesake. The free app masters simplicity, supports multiple file formats and comprehensive sharing options.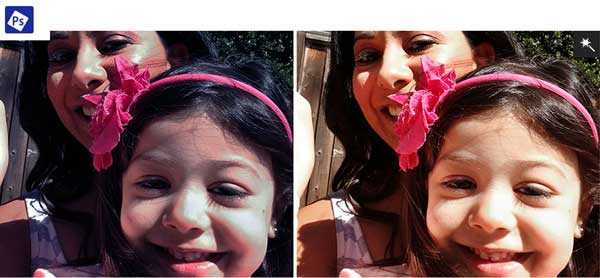 ---
Adobe Post
While it's not Adobe's mobile photo editor, and it's only on iOS at the moment it offers something different for photos, and even has a library of free photos you can use to make graphics. So let's say you Instagram page is taking off like wildfire and you need to make a cool snazzy marketing graphic? Adobe Post has your back. Again it's not a full blown photo editor but it's another way to repackage your photos for your own website, business or what have you. It's also brand new and free. Check it out.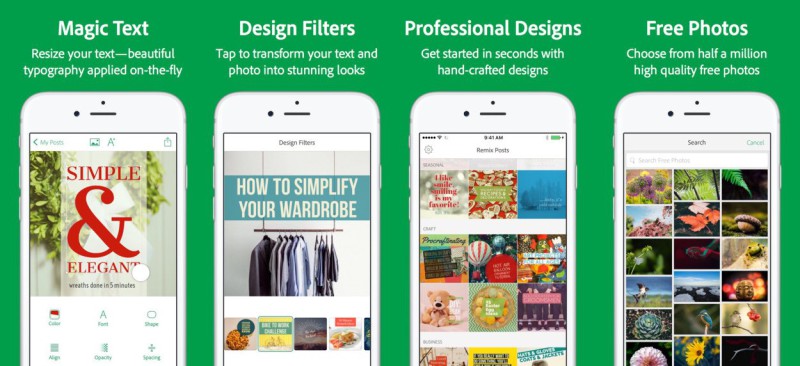 ---
Paint.NET
Paint.NET is free image and photo editing software for PCs that run Windows. It features an intuitive and innovative user interface with support for Photoshop advanced-like features including layers, unlimited undo, effects, and other potent tools. The biggest downside is that it is Windows only but it has a thriving and helpful community around it so give it a shot if you haven't found an editor you like on this list just yet.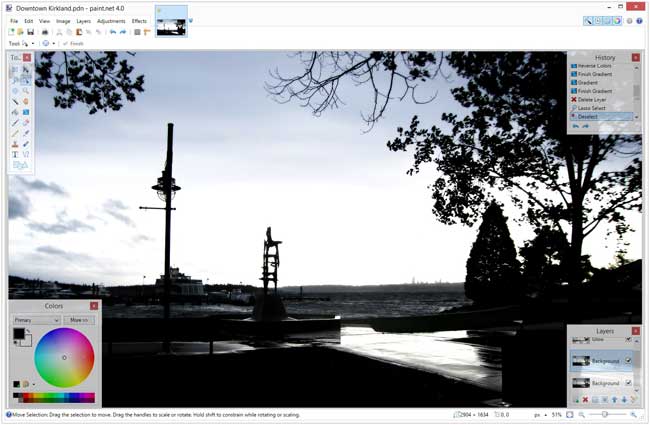 Visit To Download & Install Paint.NET for Windows
---
Instagram
Most recognize Instagram as one of the world's most popular photo communities, but the app is also a quick and hassle-free photo editor. Users can choose from various filters, although power users may find the app too simplistic for their editing needs.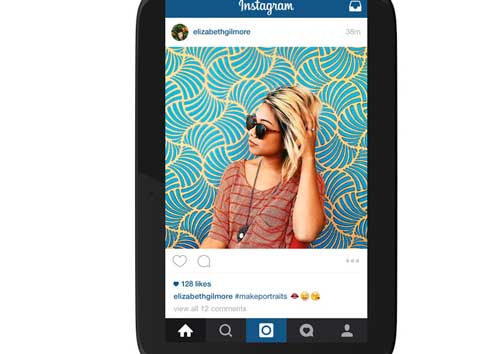 ---
Pixlr Express
If all you need is to correct your photos, Pixlr Express is a great option for both Android and iOS users. The app can not only remove unwanted spots or marks from photos, including removing spots created by dust on your camera lens and correcting areas marked by the flash. But the app offers advanced settings for power users, too, including Photoshop-like effects such as pencil, poster, sketch and halftone.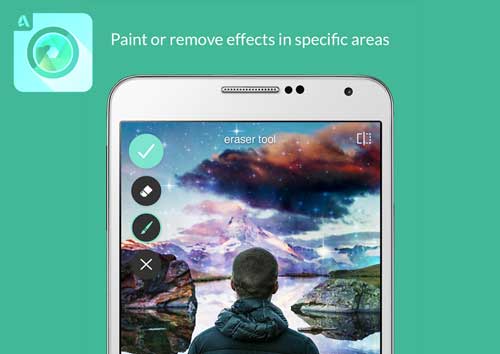 ---
Flickr
While not as popular as Instagram, Flickr is another photography community. But the app for Android, iOS and Windows Phone stands apart from Instagram, with its advanced editing tools and built-in filters.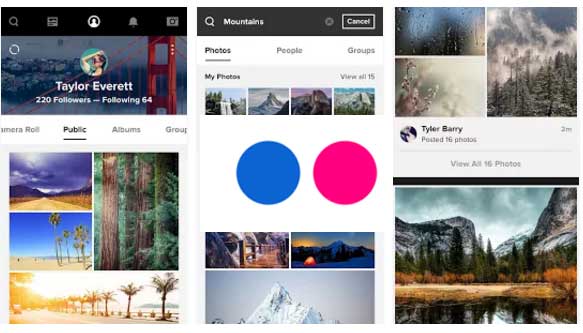 ---
PicsArt Photo Studio
Thanks to its wide array of image-editing tools and filters, PicsArt offers versatile photo-editing tools similar to those included with Photoshop. Users can import photos from Facebook, Flickr, Instagram, Google or even Dropbox, then choose form 93 included filters and advanced editing tools such as color, saturation, contrast, exposure and even a Color Splash effect that converts the captured scene into a black-and-white image, with only one user-selected color retained.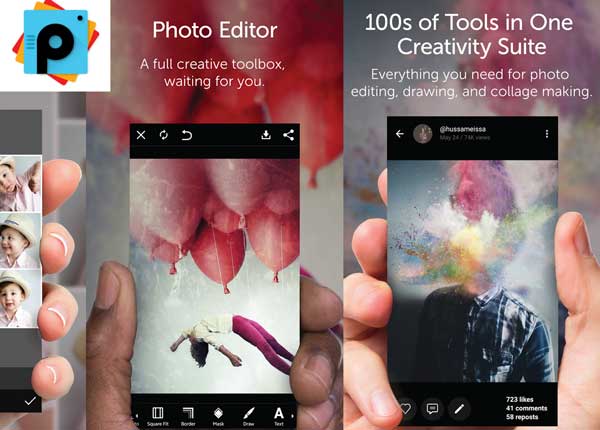 ---
Photo Studio
One of the only free photo-editing apps for BlackBerry, the free app also offers editing features for Android users. The simple image editor allows users to take a photo and apply both effects and frames. While the filters are better than those found on Instagram, Photo Studio lacks advanced editing tools. The app also allows users to make collages of their photos.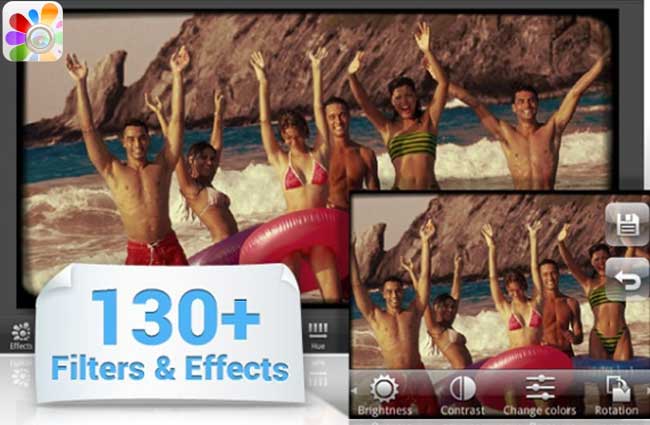 ---
Photo Editor by Aviary
The free Android and iOS app not only allows users to correct and edit photos with classic tools such as filters, effects, crop and rotate, but is also includes features that allow photographers to add text, drawings and stickers to their work. Aviary makes photos Magic to put it simply. They also joined Adobe recently they may discontinue their app which is why this one is on the bottom of the list, but it is a great editor, it just may get shut down by Adobe.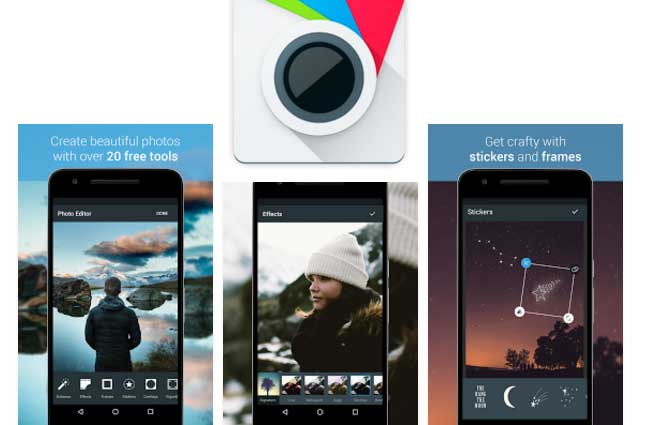 ---