Turkey Day is almost here…and Black Friday's not far behind. Even if you're not spending money this year, did you know you can shop for FREE?
Three more days till Black Friday, so here's freebie #3. (Catch up on Black Friday freebies #4, #5, #6, #7, #8, #9 and #10 if you missed them!) 
Freebie #3: Doughnuts & Coffee at Fred Meyer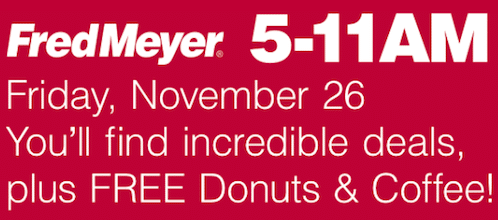 You don't have to wake up at the crack of dawn for this deal! Roll out of bed and head on over to Fred Meyer ANYTIME between 5 and 11 a.m. and you'll get a FREE breakfast on the spot. That's right, Fred Meyer customers will amble the aisles this year with FREE coffee and doughnuts in hand. So…even if you're not into shopping, how about FREE breakfast?