Six more days until Black Friday! We're counting down to the biggest shopping day of the year with the best Black Friday freebies!
Freebie #6: Petsmart's Pre-stuffed Pet Stocking (loaded with Pet Treats + $130 worth of store coupons!) 
Don't worry – your little furball won't be forgotten this Black Friday. Simply make a pit stop at Petsmart on the big shopping day. If you're one of the first 100 shoppers,  you'll receive a FREE pet stocking, each packed full of dog and cat treats + a whopping $130 worth of in-store coupons. Crazy good!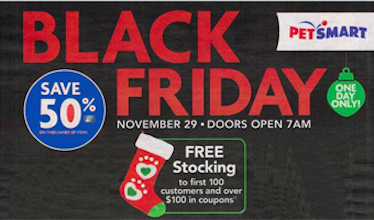 Looking for more freebie love? Check out Black Friday freebies #7, #8, #9 and #10!