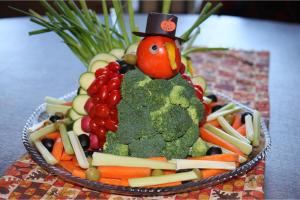 I'm an avowed meat lover but it seems like more and more people are turning away from meat – especially younger ones.  For several years, I had to prepare meals for my then vegetarian daughter and her vegetarian and vegan friends.
First, what's the difference between a vegetarian and vegan?  Neither will eat meat or poultry, but vegetarians will eat dairy products and vegans don't.  If you've just got vegetarians at the Thanksgiving table, they're usually happy eating the potatoes, vegetables and breads so make sure you've got plenty of those.
If you make your stuffing outside the turkey, use vegetable broth so the vegetarians can eat that too.  It really doesn't taste any different from regular stuffing – and we meat lovers can douse it with gravy anyway.
Vegans add a different "dynamic" to the meal.  You can't use milk or butter in anything.  You can always substitute margarine (make sure it's oil based and has no milk or cream in it) for butter and soy milk for cow's milk.  Since soy milk makes me gag, I put some potatoes aside to mash with soy milk and margarine for the vegans but make the rest the old-fashioned way.
Fruit pies make the most vegan friendly desserts.  You can use shortening in the crust and margarine or corn starch to thicken the filling.  Most canned fillings don't have dairy in them either.
My daughter went back to eating meat several years ago – as did many of her friends.  But surprisingly, cooking for the "no-meat" crowd didn't involve much extra work.  As it turns out, all of us liked some of the vegetarian/vegan dishes better and we still prepare them – right next to the turkey!
Photo by mtsofan.