It's Throwback Thursday! So today, I'm remembering my grandmother who was a wonderful cook and baker.  When she passed away, I inherited her recipe books.  These were not actual books but old journals in which she pasted all the recipes she found in the newspapers and magazines.
Faded and the more frequently used ones spattered with batter these are a constant source of enjoyment for me to browse.  It's not only because I remember eating many of these dishes but it speaks to a time when cooking was an art for the professional homemaker. Cooking wasn't just about ingredients or nutrition – presentation counted.
Just take a look at these stuffed tomato recipes from the 1940's.  I found over a dozen of them in her cook books and thought that some would be great to try during tomato season which is just a few months away.  Here are a few with scans right from her books.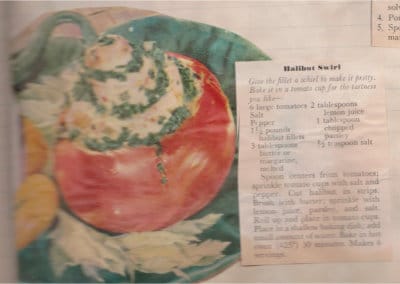 Halibut Swirl
6 large tomatoes
Salt and pepper
1 ½ pounds halibut filets
3 T butter, melted
2 T lemon juice
1T chopped parsley
Spoon centers from tomatoes and sprinkle cups with salt and pepper.  Cut halibut in strips the brush with butter.  Sprinkle strips with lemon juice, parsley and salt.  Roll up filets and place in tomato cups.  Place in shallow baking dish with a small amount of water added.  Bake at 425 degrees for 30 minutes.
---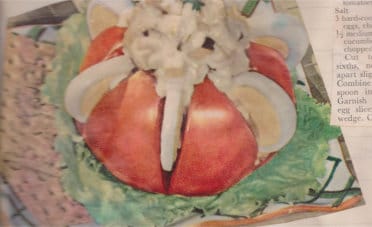 Tomato Egg Salad Star
4 medium tomatoes
3 hard cooked eggs, chopped
½ medium cucumber, chopped
¼ cup chopped green pepper
2 T chopped green onion
¼ cup salad dressing or mayonnaise
Cut tomato lengthwise in sixths, not quite through.  Pull apart slightly and sprinkle with salt.  Combine remaining ingredients and spoon into center of tomatoes.  Garnish by placing extra hard cooked egg slices between each tomato wedge. Serve chilled.
---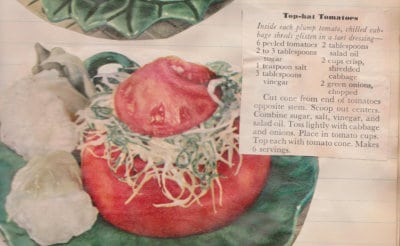 Top Hat Tomatoes
6 peeled tomatoes
2-3 T sugar
1 t salt
3 T vinegar
2 T salad oil
2 cups crisp shredded cabbage
2 green onions, chopped
Cut cone from end of tomatoes opposite stem.  Scoop out centers.  Combine next 4 ingredients for dressing.  Toss lightly with cabbage and onions.  Place in tomato cups and top each with tomato cone.