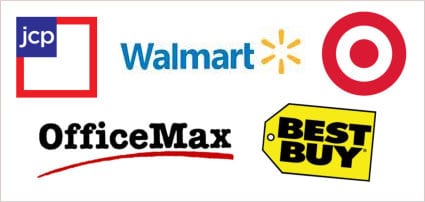 I'm not really happy about having to load up my cell phone with a whole bunch of store shopping apps. Where is the consolidation?? But if there are a few stores you shop at regularly and they have a mobile app, they're a good way to keep tabs on store specials.
Of the many I've tried, they start with asking for at least your zip code so they can "feed" you offers available in the stores near you. If there is a store credit card or shopper card, some let you log in or create an account right from the app so you can see your balance and any reward points. Most also have a store search – or what they call a store search. You're usually accessing their online inventory all of which might not be available in your area (so much for the zip code "customization"…). But if what you want isn't available in-store, you can order it right from your phone.
Practically all of them can be set to alert you to a deal (Android versions in particular) which is a blessing and a curse. No one wants to miss out but the barrage of reminders can be irritating. It's also their sneaky way to get you to buy something you might not need because it's such a "good deal." Some apps allow you to turn them off (look for the "push" or "alerts" option).
Just about every national retailer has an app but if you're looking for deals at local retailers, the pickings are slim. The Yellow Pages app has some local coupons but warns you to call the retailer first. Clipper Magazine has an app but it's not so good. Yelp is well rated but it's more about reviews than coupons. Shoppers in big cities will find the best selection in the local apps.
Keep in mind that many of these apps are accessing other apps on your phone and/or can integrate with social networks so the retailer is getting a lot of extra information about you. And while the apps typically don't reveal credit card numbers, you'll want to use a password on your phone to protect that and other personally identifying information. Saving is good – but saving safely is better.