After years of scrimping and saving just to drive to work, U.S. consumers are finally seeing some relief at the gas pump. Any savings, however, are likely to be lost at the grocery store in 2015. After sharp inclines in 2014, food prices are expected to rise even further during the next year and beyond. Is there any end in sight?
How It Started
American consumers began seeing a sharper-than-usual rise in food costs in 2011, when the prices of corn tripled the previous norm, while wheat prices doubled. Ultimately, the $40 billion in extra costs were passed on to the consumer, not only in grains to eat, but also the cost of livestock fed with them. According to Minyanville Media, about one-third of all grocery costs are affected by grain commodities.
Supply shortages didn't end in 2011, however, and grocery shoppers have seen nothing but increased costs since thanks to droughts, livestock diseases and fruit-tree blights. About half of America's fruits and vegetables are produced in California, where a long-running drought caused farmers as well as ranchers to significantly cut production. In fact, large sections of farmland were nearly barren in 2014 as California continued to cope with its ongoing water shortages. And although consumers nationwide have already seen the effects of the drought in their produce prices, the full effect is likely to be experienced yet.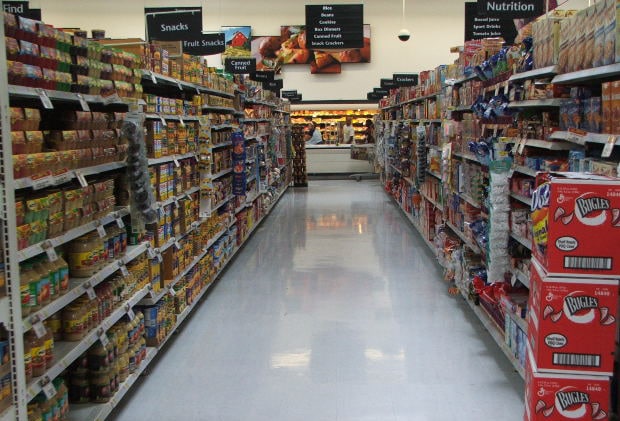 2014 Increases
Ranchers were forced to continue raising smaller cattle herds throughout 2014, thanks to continued grain shortages. Adding insult to injury, drought in Oklahoma and Texas drove up cattle prices even further. Due to the tightened supplies, cattle sold at higher prices, and meat packing companies passed those costs on to the consumer. By May of 2014, the consumer price of ground beef had risen by more than 10 percent from the same time in 2013.
Pork costs fared no better, initially rising because of higher feed costs, but later increasing even more when a deadly virus attacked millions of piglets and supplies plummeted as a result. Pork prices actually rose by almost
13 percent over 2013 rates.
"I think consumer should expect record high meat prices his year," Tyson Foods CEO Donnie Smith told CNBC in early 2014. "You should expect to see very high prices for your ground beef, your other meat cuts, all the pork cuts will be higher this year."
The United States wasn't the only nation that saw its food production squeezed thanks to Mother Nature. Brazil's coffee-growing regions suffered their own droughts, leading to significant cost increases in coffee worldwide. And opting for juice with breakfast instead of a cup of joe didn't save consumers any money, since Florida's orange crop was damaged by an insect-borne disease that cut production by about 15 percent. That drop in supply accompanied prices more than 17 percent higher from 2013.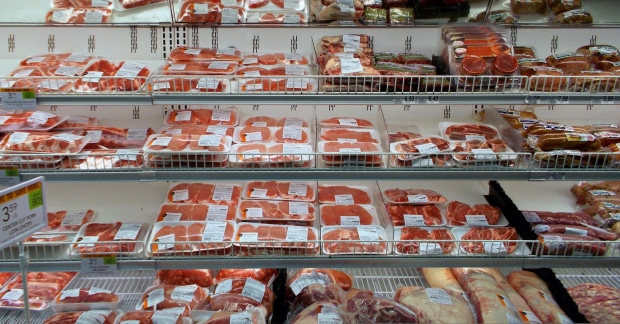 What's Next
Overall, beef prices have risen more than 35 percent since 2009, while the costs of eggs increased 33 percent and pork by 27 percent during the same period. Meanwhile, according to the Bureau of Labor Statistics, average hourly wages have increased just 10 percent. Needless to say, consumers – particularly low-income Americans, whose food costs absorb a larger portion of their income – are ready for some relief. But will they see it in 2015?
Not according to reports from WFSB, which recently predicted grocery prices to rise between 4 and 6 percent in 2015. The continued California drought will still impact produce and beef. In fact, producers and packers are expected to tighten supplies through 2019, according to reports from The City Wire.
"Beef is becoming a luxury in the U.S. market at this point," said Altin Kalo, an economist at Steiner Consulting Group, told NBC News. "The days of simply going to the grocery store and buying a few steaks… those are going to be few and far between," he said, adding that beef prices will likely be 90 percent higher in 2015 than they were in 2009.
Americans won't just see beef prices rise in 2015, however. According to NBC News, other proteins, such as eggs and pork, will also rise even further this year. Although farm conditions have seen some improvement, consumers generally don't see any relief at the checkout lane for six to 18 months, if at all.
But won't lower fuel prices ultimately reduce the price of groceries? Not according to reports from CBS News. Gas may be cheaper, but now there's a shortage of truckers to drive groceries from here to there. According to the American Trucking Association, the industry is short thousands of drivers as some retire and others choose a profession that doesn't keep them on the road all the time.
"There's a shortage of drivers who want to drive produce from California to Virginia or Maryland, so it causes the prices to stay up there for people who are doing it," Tom Leonard, owner of a Virginia farmers' market, told CBS.
Ultimately, there's no relief in sight for consumers hoping to complete their grocery lists for less money than last year. With such a plethora of reasons for increased food costs, they likely won't see any relief in the years to come, either.