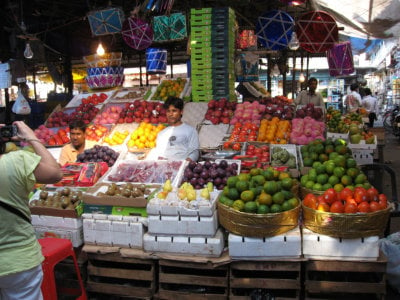 There are lots of reasons to buy produce in season.  First of all, locally grown produce tends to be minimally treated or organically grown.  Plus, when a crop is in season, barring unforeseen conditions, it's usually at its cheapest price.  So if you can or freeze, you can buy in bulk.  And ask anyone who has experienced the taste difference between fresh/local produce and the picked before its ripe/shipped long distances – local/fresh wins hands down.
Where to find locally grown produce?  Farmer's Markets are the obvious choice but if there are growers in your area, many have small shops or roadside stands.  Grocery chains also often highlight locally grown seasonal products in their stores.  And sometimes, friends and neighbors who garden are more than happy to share their bounty.
To help figure out what's in season and when, I found a great, interactive map (or click on map image below to go to site).  Select your state and the month and it shows you what's being harvested that month in your area.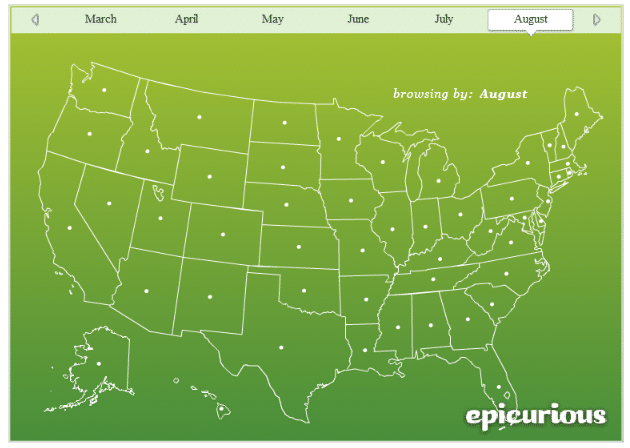 For local printable lists, search for "in season produce STATE" (put your state in place of STATE).  You'll find charts or lists from local growing associations, area universities and government agencies – like this one for the Northeast growing season from Cornell University: http://ecommons.cornell.edu/bitstream/1813/5085/2/Northeast%20Regional%20Food%20Guide.pdf
Since some areas have a short growing season or an incompatible climate for certain crops (let's face it – no local orange growers in the northeast!), it's good to know what's grown across the country.  Buying US grown crops not only helps our economy but the US has some of the highest agricultural standards in the world so you'll know your food is safe.   Here are two charts that list what's seasonally grown and available across the US.
Keep your charts handy for meal planning and when shopping.  The PDF versions can easily be saved on your phone, in a storage folder like DropBox and of course, printed to hang on the fridge!