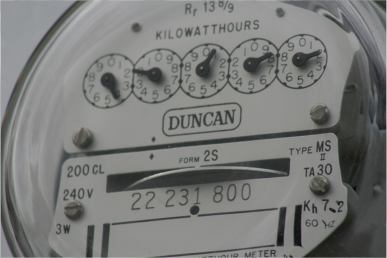 I keep getting letters from my gas and electric company telling me how I compare with my neighbors for energy use.  At first I thought it was kind of lame, but I have to admit,  I feel pretty good when I see I'm doing better than some of the neighbors – or that I'm on track to reduce my usage for the year.  Here are some of the things I've been doing to beat out the competition.
Change to fluorescent bulbs – I really don't like these new bulbs but I have replaced some.  Still avoiding putting them in the family room or bedroom, but bathrooms, basement, halls – I've switched.
Air dry clothes – I don't have space for a clothes line (it doesn't work in winter anyway) but I have been hanging things to dry first if I don't need them right away (blankets, quilts, sweaters…) and using my electric dryer (a real energy hog….) less – and on a lower heat setting.
Use small appliances – The toaster oven has always been my friend…as is the microwave, so I wasn't sure what else I could do to avoid using the stove.  But I dug out my crockpot, started using a hand masher and a manual mixer (not bad!).  Also cook on the grill a lot.
Heat appliances – Gadgets that have to warm up/stay hot use more energy, so I've been diligent about turning off the coffee pot/using a thermos. To avoid ironing so much, I get the clothes out of the dryer as soon as they're done.  If there is still some wrinkling, I hang it up, mist with water and then let the wrinkles fall out.  I let my hair air dry when I can and use regular rollers instead of heat rollers (don't come over when they're in!).
Furnace filters – an HVAC repairman told me that to keep your furnace running more efficiently, get the cheapest possible filters and change them once a month instead of getting those expensive ones that last for several months.  So now I buy a bunch when they're on sale and put a reminder in my calendar to change the filter.
Thermostat – I'm home most of the time, so I can't take advantage of the "at work" down time.  The same HVAC guy, though, told me not to adjust the heat down more than 6 degrees at night.  The work the furnace has to do to heat more than 6 degrees eats up all the savings!
What I'm not doing…
Unplug electronics – I am really bad at this even though I know a plugged in device is drawing small amounts of electricity and it can guard against damage during a power outage.  Maybe next year…
Photo by mcluhandarkfold