Thanks to changing times, baking goodies, apples and home-made popcorn can't help you pinch pennies on hand-out Halloween treats. Plus, with the expected portion size (bet you didn't even know there was one!) of 2-3 snack size treats per trick-or-treater, candy costs add up if you're in a neighborhood filled with kids. Lucky for you, we've got some candy cost saving strategies.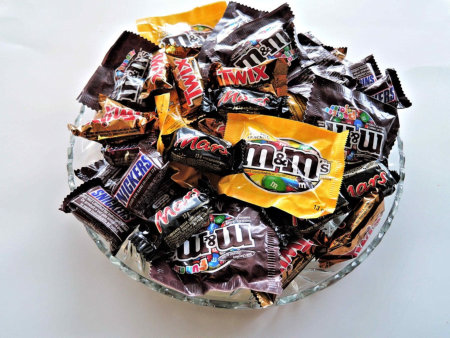 Know the Prices
Target, Walmart and other big box stores tend to have the cheapest regular pricing on candy. So check prices at these retailers first. Calculate price per piece since you're not likely to find the exact same packaging at all stores. But once you know the prices, you'll know if you're getting a good deal at the grocery store or other places you shop.
Beware the Online Retailers
Online only retailers aren't always the best place to buy – especially when you're being charged for shipping separately or it's built into the price.  But since you've already done your pricing homework, you'll know a deal when you see it.  That said, while I love Amazon, I have to say their candy prices usually stink!  Jet's candy prices are much better. You can get a mix of 160 snack size chocolate bars and Skittles/Starburst for about $15.50.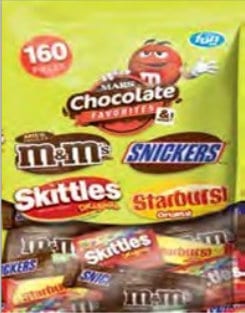 High Count Bags
Those big bags may look the same size, but the number in each bag differs. Your typically regularly priced $7.99 bag can have anywhere from 40-something to over 200 pieces. The higher counts are for usually for non-chocolate type candy – licorice, lollipops and the like. Pick the higher count bags for the most bang for your buck. Or, mix a bag of lower count chocolate bar type candy and with a high count bag of something else so you have a little bit of everything.
Full Size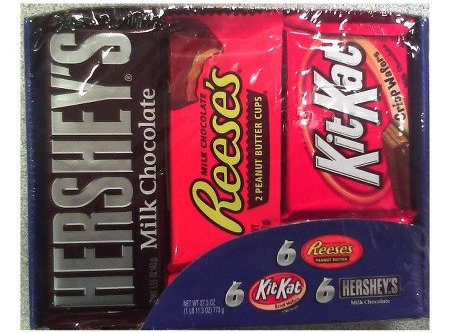 If you can find them on sale, buying full size bars and giving one per child can be cheaper than the buying snack-sized portions…especially if you're a sucker and end up handing out more than the 2-3 per child. Target, for instance, has an 18 bar assortment on sale that ends up with each bar costing about 65 cents. Plus, full sized bars guarantee your house won't get the toilet paper treatment.
Sales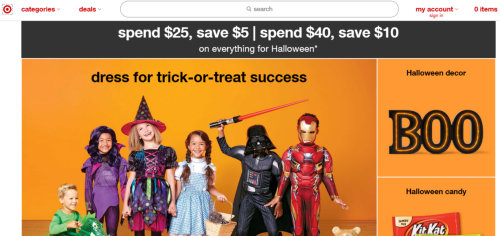 Right about now you'll find sales on Halloween goodies. If you're going to shop in store, check the Sunday circulars for deals. Or, check for online only specials. Target online, for example, has a spend $25, save $5. That means you'll get $25 worth of candy for $20. Just make sure it will get to you in time for the big day.
Planning Ahead
When Halloween candy goes on sale this year, there are actually a few types that you can buy that will last until next year.  Sadly, chocolate – with a shelf life of about a year – is not one of them.  Gummy and chewy candies don't last long either, though you can lengthen their life by making sure they're unopened and freezing them in air-tight containers (up to a year).   Hard candies, solid lollipops or mostly sugar candies (like Nerds) can last 2-3 years, so those are the ones to stock up on.