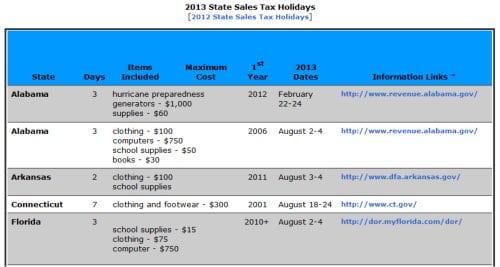 I wasn't happy when I realized that I missed my state's sale tax holiday. Since we don't have a daily paper here anymore and not much in the way of local TV news, I didn't have a heads up.
And I don't think I'm the only one who wants to skip paying sales tax whenever they can.  So I searched for and found a 2013 sales tax holiday calendar! Here's the URL (or click on the image above):
http://www.taxadmin.org/fta/rate/sales_holiday.html
This shows all the states and dates when you'll get a pass on sales tax. Some states do limit the type of items or the amount of the purchase, so go to your own state's tax department site (there's a handy link on the table!) to find out. Bookmark this page so you can check it out next year when I'm sure they'll update it with 2014 dates.
Happy Savings!! And Happy Labor Day!