I have NEVER been able to make a decent tasting mushroom gravy.  And I don't like using mixes or canned gravy because they're full of salt (and they don't taste very good either….).  So I was thrilled to find a simple way to make really yummy, not too salty mushroom gravy.
And it was all by accident.  It all started with a bag of Trader Joe's frozen Mushroom Medley ($3.49 for a 12 ounce bag).  Mushroom pieces seasoned with garlic, parsley and olive oil (and very little salt and no preservatives), they're tasty on their own!  Plus, mushrooms' health benefits have been in the news lately since they're are full of anti-oxidants, vitamins and minerals and have immune system benefits.  So these seemed like an easy way to add more mushrooms to my diet.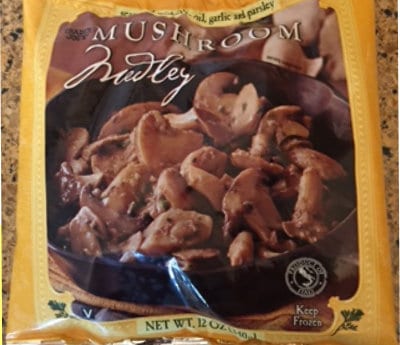 So…I was making a cube steak and trying to figure out how to spice it up. Rummaging through the  kitchen, I found a bag of said mushrooms in my freezer and decided to sprinkle a few on the cube steak as it cooked.  Things were getting a little dry, so I added some water and all of a sudden, it turned into a thick gravy!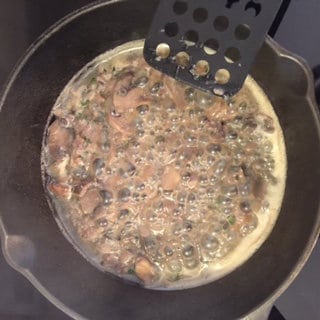 Just for reference, this is about half a cup of mushrooms which made plenty of gravy for 2.  You can also "beef" things up by adding some more water with low sodium beef bullion granules or use (lower sodium) beef broth instead of water (yeah…I have a thing about too much salt).   And, cook the meat first, remove it from the skillet then add the mushrooms and water to blend with the meat flavors in the pan.  Let it cook down to the consistency you like.
The whole bag would make a really big batch of gravy but you can take out enough mushrooms for your meal then return the rest to the freezer.  To get an idea of how much gravy I got from my half cup check out the photo below. I poured it all over a 6 ounce steak – a "reduced for quick sale" bargain I found at Target.  It was delicious!