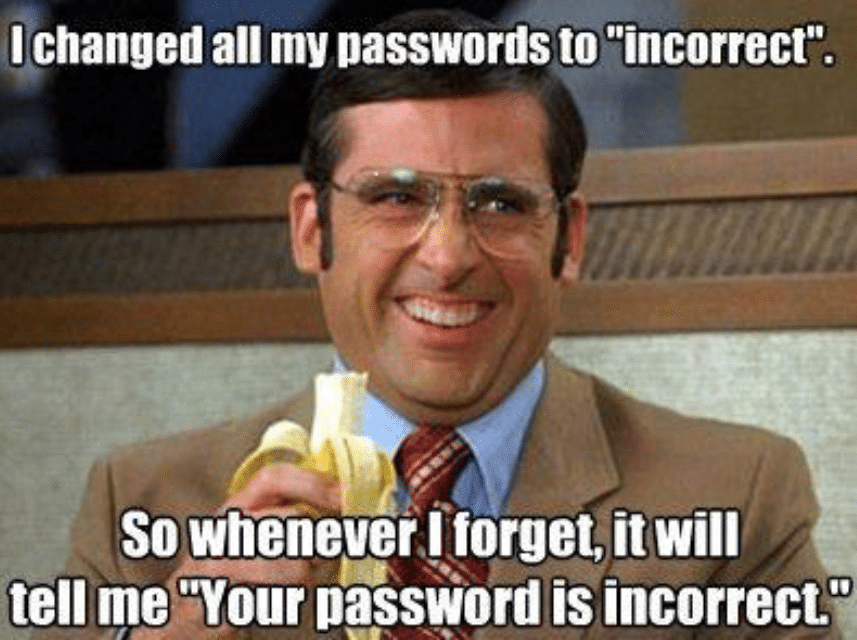 You know it's time to get serious about your online passwords, but it's such a chore creating, changing and keeping up. We've got some tips and a simple plan that takes away some of the pain. No more excuses!
General Info
Passwords should be at least 8 characters and a mix of upper and lower case letters plus numbers and special characters.
Do not use personally identifying information like children/spouse/pet names, birthdates, zip codes or phone numbers.
Don't use the same password for everything!!
Creating a Password
Choose some random words to use in password then string them together with numbers and special characters. Let's say you choose my and friends (for social accounts) and personal and checking (for a bank account). Then create the passwords MY9friends!, and 9Personal$checking.
Use favorite quotes or phrases and create an acronym (thiw,TLIG for "the harder I worked, the luckier I got"). Add a number or two to fill it out.
Substitute the number zero for the letter O, the @ symbol for an A or numbers to stand in for letters, words or letter combos (like 8 in gr8t).
Make up a few "base" passwords and customize them for each site. For example, a base password could be XR@y722!, to which you add the site's initials. So for amazon.com, it would be XR@y722!a
Security Questions
Don't choose questions with answers that could be commonly found – like your spouse's middle name, mother's maiden name, your high school or a pet name. Pick more complex questions (that you'll remember the answers to) or make up an answer – like "spinach" – for the questions.
Don't give your actual birthdate or provide your current city or zip code. A lot of people I know use January 1 and a nearby city/zip instead.
Keeping Track
Pick two dates each year to change passwords for banking/financial sites, email, social networks and any site where you have stored credit card or bank information. Select one of those dates for sites you're not too worried about – like a Disqus login. Set up reminders so you don't forget!
Store passwords in a password protected document that is searchable. Store it on your computer and backup to another location that you can access from other location or your cell phone.
You can purchase or download password keepers but make sure that you choose one from a reputable company. Check out these two articles at PC Magazine for some suggestions:
http://www.pcmag.com/article2/0,2817,2407168,00.asp
http://www.pcmag.com/article2/0,2817,2381432,00.asp