I have to admit – I rarely go to the store anymore for anything other than groceries.  Shopping online is just too convenient plus it's so easy to do price comparisons.  And that includes local price checking, though nine times out of ten, the better bargain is online (or it's a wash).  Here are some tricks I've picked up along the way
Coupon Codes
It seems like there's always a sale going on online.  Sometimes, though, it's hard to find coupon code on the retailer website.  Stay on the home page for a bit as banners (usually in smaller print at the top) and image sliders change to find any offers.  For smaller retailers, do a search for "STORE NAME coupon code."  I've found the most up to date codes are on Ultimate Coupons or Retail Me Not.

Check Mobile/Local
Just in case, I usually check my mobile Shopular or Coupon Sherpa app for local store deals or coupons that might not appear on the retailer website.  Once in a while the offers are better in-store, in which case I'll get myself out the door to snag the deal.

Email Signup
Lots of sites will give you a discount on your first order if you sign up for their mailing list. And don't think just because you have an account with the site that you're on the mailing list. The trick is NOT to sign up until you think you want to buy because the offer they send you expires.  To get the offer again, you may have to sign up with a different email address BUT you'll also have to create another store account with that email address.  Messy…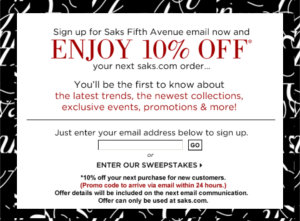 Abandon Your Cart
I found out by accident that if you add stuff to you shopping cart then abandon it, I might get a coupon offering an additional discount.  Not all sites do this – some just send you a "reminder."  And you don't always have to be logged in if you've got cookies on your computer from a previous visit.  Creepy that they track you like that, but sometimes it pays off.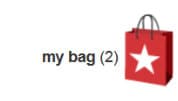 Clear Cookies
Speaking of cookies, retailers use them to identify you when you return to their site.  They can actually see your shopping history or where you live – and quote a higher price if they think they can get it.  It can be inconvenient to clear your cookies all the time (no more automatically logged in) but if you do, you're more likely to get a fair price.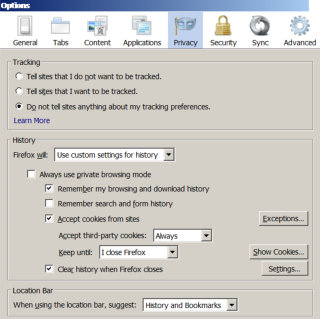 Don't Log In
Never log in until you're ready to check out for the same reasons as above.  It's really rotten that they'd play around with pricing for returning customers, but two can play that game!

Free Shipping…Maybe
Many sites offer free shipping if you buy a certain amount.  Sometimes there's a code you need to enter – but if the site doesn't let you use multiple codes or doesn't deduct the shipping cost automatically, you'll need to see which code saves you more.

Google It
Before you buy something, do a search for the same item to see if being offered somewhere else at a better price.  Don't forget to take shipping (and even sales tax) into consideration.  And I don't always trust the shopping comparison sites – go to the store's site instead. (BTW – that's a screenshot from DuckDuckGo – a search engine that doesn't track your every move like Google does!)
Returns
Always check out the return policy.  If a price is a little higher at one store but the returns are free (or you have a local store nearby), it might make sense to pay a little more especially for things that are tricky to fit (shoes, new brands of clothing…) or when you're looking for a color or size match.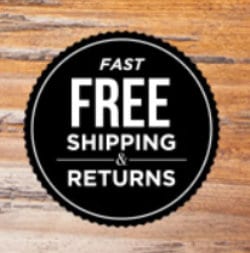 Bottom Up
When you get your search results at a website, scroll to the bottom/go to the last page and start browsing from there.   That's where the clearance or sale items are.  Plus, this is really useful on sites that offer limited stock or "timed" sales and everyone else is starting from the top.