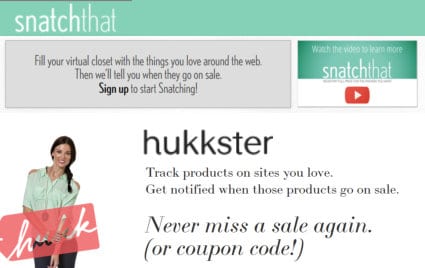 Don't you hate it when you buy something and see it on sale two days later?  Put an end to that with sites like Hukkster and SnatchThat.  They let you easily store and organize items during your online shopping trips.  While this is great for comparison shopping or to keep wish lists, the best part is getting alerts if an item goes on sale.
Both sites basically work the same – both very Pinterest like but the items you "pin" are updated with any price changes.  After creating an account, set up your alerts, then install the web browser bookmarklet and you're ready to go.
As you shop online, "hukk" or snatch items you like at participating sites and they're stored in your account.  You can organize your items in lists or "drawers" (like Pinterest boards) to keep things tidy.  You can share your lists with others and "re-pin" items you see on other lists, too.
Most of the features for each site are also the same, though they seem to be playing "catch-up" with the other.  Hukkster didn't have user sharing or offer coupon code alerts like SnatchThat but now it does.  And SnatchThat doesn't have an app like Hukkster (for now…) instead offering a mobile web browser bookmarklet.  You can use both or pick the one that has the stores you like or that seems easier to use (though both are pretty easy…).
One interesting side effect of these sites is that they can cut down on impulse buying.  Hukking or snatching gives you some time to think before you buy.  Plus the promise of sale alerts lets you confidently wait for a better price.  And, it turns out there are a lot more opportunities for better prices.  The developers, savvy shoppers themselves, were surprised at how often storewide sales or temporary price drops occurred without them knowing.  These sites can definitely be great time and money savers.
So what's in it for the participating stores?  They get an idea of how items are trending – what's popular and what's not.  Plus they're able to see the price point at which customers are willing to buy.  Hopefully that means more of what we want at better prices.