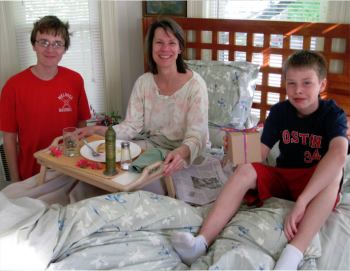 Next Sunday, May 14, is Mother's Day.  And if you're wondering what to get Mom, the good news is that you don't need a lot of money to show your Mom you care.  In fact, some of my favorite Mother's Day gifts cost only time.  Here are some of my favorites…and I'll bet your Mom would like them, too.
Make a Meal – Yes! Breakfast, lunch, dinner – any one of them that we don't have to cook is a great gift.  Even though we'll eat anything you cook (well…almost anything…), making something we like is even better.  But cook dishes that you're comfortable with.  Cleaning up after yourself is a plus.
Chores – Speaking of cleaning up, offer to do some household chores.  Those coupons are nice, but I never turned them in.  So do something that day – clean the bathrooms, do some gardening, laundry – anything that needs to be done.
Flowers – I don't know any Mom that doesn't like flowers.  You don't have to buy a fancy (expensive!) arrangement.  Grocery stores have lots of nice flowers at reasonable prices.  House plants are good, too, but only if your mother has plants in the house already.  If there are none, it's a dead giveaway that she looks at them as a chore (watering!).
For gardening Mom's, something for the garden is nice too. A pack of annuals, a herb plant or seed packets – or garden gloves, pruners or a big bag of potting soil!  If you have your own garden, divide plants or cut a bouquet of your home grown flowers.
Teach/Repair/Organize – Maybe your Mom has always wanted to figure out her cell phone, needs a leaky faucet fixed or has piles of unorganized photos.  If you're good at computers/tech, the handyman or organizer type, plan a how to/fix it up/organize session.  If you can't do it on Mother's Day, make a date and stick to it!
Gift Cards for Restaurants – this will cost you, but you don't have to get an expensive one (or use your credit card points to get them).  I love getting a gift card for Panera or McDonalds and use it to treat myself to lunch.  Kind of goes with the "make a meal" theme.  Any way I can get out of cooking is a good thing.
Photo by Paul-W