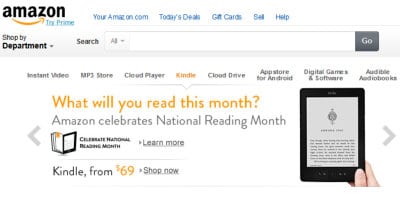 Check your inbox! You may have received an email from Amazon letting you know that money has been credited to your Amazon account.  It's the result of a battle against certain publishers for fixing the price they charged Amazon to sell their books electronically.
These publishers, Hachette, HarperCollins, Simon & Schuster, Penguin and Macmillan, have given Amazon money to disperse to anyone who purchased (and did not return) a Kindle book published by these companies between 4/1/2010 and 5/21/2012.
If you purchased a lot of E- books from these publishers, you might be getting a pretty hefty credit.  Minnesota residents will receive even more since their claims were not handled by their state.  Instead, a different party handled the claim and negotiated different settlement terms.
The settlement funds will be credited to your Amazon account automatically this month so if you missed the email, check your Amazon Kindle account to see if the credit has been applied.  You can use it to purchase Kindle books through March 31, 2015.
If you no longer have an Amazon account but purchased E-book during that period from one of those publishers you may be able to get a check for the amount due.  If you were not contacted – perhaps your email address changed – but believe you are due funds you may also be able to get a credit.  Either way you'll need to use the Contact Us button on Amazon's E-Books Settlement Page (https://www.amazon.com/gp/help/customer/display.html?nodeId=201046060)
There may be more money coming as Apple had a part in the price fixing scheme.  A separate lawsuit against them is still pending.  So keep an eye out for an email from that settlement.