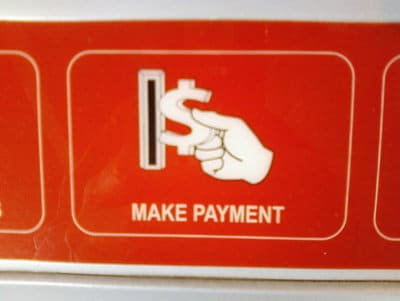 Mobile payments are heating up with Google announcing that you can pay by email a few weeks ago.  Square, a mobile credit card merchant, jumped on board right after.  But companies like Dwolla and even some banks have offered pay by email for a while.
The beauty of these payment systems is that you don't have to carry cash.  And they're not credit cards which can get out of control pretty fast.  They're more like a debit card withdrawing money from your account and sending it somewhere else.
Unlike a debit card, though, the service isn't directly "attached" to your bank account.  You transfer money to the service to use for payments.  That extra step may be a pain, but it adds a layer of security your debit card doesn't have.
You could use these payment services for larger transactions where you're ready to buy but you don't want to carry cash – or carry large balances in your bank account tied to a debit card.  But you could keep your money in a savings account and transfer it to a checking/debit card account as needed.
What they're really meant for are smaller transactions   But since most charge a small transaction fee to send money from your bank account to someone else, those fees can add up.  So far, the fees are topping out at around 30 cents.  If you're limited to the number of debit card transactions per month, these could be an alternative.
You'll also get clipped with higher fees if you use your credit card to pay someone.  Of course, you'd only do that if they didn't take a credit card as payment.
The financial industry is drooling over the opportunity (as in $$$) mobile payments create.  And everyone is looking forward to the day you don't have to deal with wallets or pockets full of bills and coins.  But just as with credit cards, there is always a price to the consumer for all this convenience.  Essentially, you'll have to pay for using your own money to pay for things.  Maybe carrying cash doesn't seem so bad…
Photo by keeeeegan under Creative Commons License.