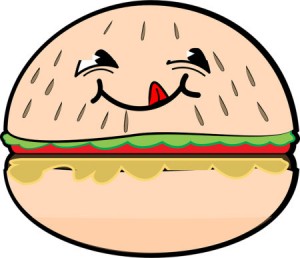 Hamburger or hot dog buns coming out of you ears after a big party?  Or are you yearning for a burger or dog but don't want to buy a package of 8 or 10 for your current craving?  Of course, you could freeze the leftover buns, but why not use them for some of these ingenious – and frugal – recipes?
Pizza Pups
Start by warming some cheese in the microwave for a minute or so.  Pour the melted cheese on a hot dog bun you've covered with spaghetti, pizza or  tomato sauce, top with a few pepperoni slices or crumbled sausage and you've got a pizza sandwich. If you've got a little more time, broil lightly in the oven  – or, toast the buns before hand for a little extra crisp.
Grilled Cheese
Butter the outsides of a hamburger bun and grill or pan "toast" for a fluffy grilled cheese sandwich.  Or toast a bun half, then place the cheese slices on the bun and toast or broil for an open face version.  You can also top the cheese with chopped cooked ham or veggies for variety.
Pizza Burgers
Cook some ground beef with a little spaghetti sauce then place the mixture on the top of one half of a bun.  Sprinkle with mozzarella cheese then broil or toast until melted.  You'll need a fork for this one!
Panini
Buns are great for thin-style panini sandwiches as the fluffy bread will be easy to press.  Spread each side of the bun with your choice of flavoring or condiment – mustard, mayo, pesto (you get the idea), then top one side with a slice of cheese.  On the other size, pile leftover meats, cold cuts and/or sliced, cooked veggies  or lettuce/greens.  Put the two sides together then "fry" in a lightly oiled skillet, pressing the sandwich with another pan or spatula to flatten it.  When lightly browned, flip and continue to cook until cheese is melted and buns are nicely toasted.
Salad Topper
Cut the buns into cubes then toss with some oil and spices (garlic powder, onion salt, pepper, oregano – give whatever you've got on hand a try) then toast in a toaster over or broil for a few minutes in a conventional oven.  Turn the cubes a few times so they're evenly browned.
Breakfast
Buns are a great substitute for English muffins or bagels to make breakfast sandwiches.  Toast the buns first (spread a little butter on them first if you want), then stuff with eggs, ham, bacon, cheese or whatever you like.  Place in a toaster oven, conventional oven or microwave to melt the cheese if you want.
Bread Pudding – and More Sweet Stuff
We've been listing mostly meals but buns can easily be used in dessert recipes that call for bread. Try this caramel bread pudding or any of these bread pudding recipes. They're also good for french toast or a sweet bruschetta. For the latter, spread feta, ricotta whipped or cream cheese on a toasted bun then top with sliced fruit or berries.
Critter or Bird Feast
If none of these recipes appeal to you – or you're just bunned out, crumble the bread to feed the backyard birds or other critters (and believe me, they'll find it!). Or, bring to a nearby park or pond to feed the ducks there.