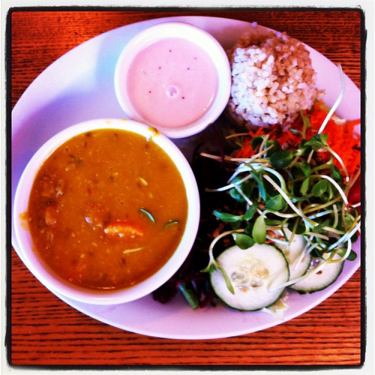 One of my favorite restaurant tactics is to eat half of the normally huge portions you get at restaurants and take the rest home.  It's like getting a second meal!
But huge portions may be a thing of the past.  Restaurants are creating "light and healthy" menus and replacing some high fat or calorie laden selections they normally offer.  While some of the calorie/fat savings comes from the food selections (chicken, fish, veggies…) and lightened up sauces/cooking methods, it's also due to smaller portion size. They can't get away with skimpy, though, so you won't go away hungry – just maybe empty handed.
Note that while the calories and fat may be lower, most restaurant meals pack a lot of salt.  In some cases, you can ask not to have extra salt/seasoning added when cooking.  But since most meals, especially at chain restaurants, are pre-prepared or use bulk supplied ingredients, there's only so much they can do.
Still, it's good news to have these options.  Just stay away from the bread!
Photo by Max Kiesler