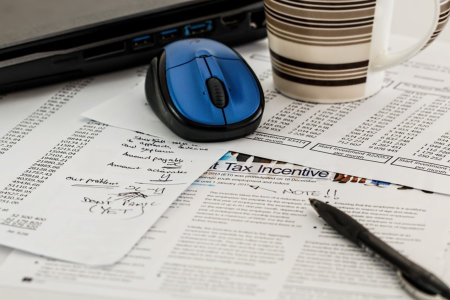 If you're like millions of American, you're waiting until the last minute to do your income taxes.  Yes, you could always file for an extension.  But if you want to get it out of the way now, read on!
First step, gather all your tax related documents then determine the basic tax form you'll need to fill out (long or short form).  Some of these include:
w-2 (wage statement)
1099 (other types of income like bank interest, sub-contracted services payments, etc…)
Deductible items (if you're using the long form/not taking the standard deduction – good advice on which form to choose here – http://taxes.about.com/od/preparingyourtaxes/qt/which_tax_form.htm) like home mortgage interest or charitable deductions.
Proof of your health insurance plan (Form 1095B – it should have come from your employer or insurance provider).
If you have your own business, sold stocks/bonds/mutual funds or property or are claiming any of the various tax adjustments that are offered, you'll need to use the long form.  So have all your documentation for those and be prepared to fill out other forms for each type of activity.
Now decide if you want to file a paper form or use an online service.  If you're going online, watch out for scams! You can generally trust government sites (the URL ends with .gov) or well known tax preparation sites like TurboTax, H&R Block.  But take a look at this list created by the IRS of the "Dirty Dozen" Tax Fraud Schemes so you know what to watch out for.
For tax prep sites, most offer a free filing option for simple returns.  But if your taxes are complicated and you need to file forms beyond federal forms1040EZ or 1040A (and the state equivalents), there will be a fee.  Free or for a fee, the retail tax sites guarantee their calculations.  Plus, they make things as painless as possible offering guidance along the way.
For federal taxes, you can use free software if your gross adjusted income is $64K or less.  If your income is over that amount, they have fillable forms that you can complete online, electronically-file (e-file) or print.   Here's the URL for the IRS site:  http://www.irs.gov/uac/Free-File:-Do-Your-Federal-Taxes-for-Free.
Other Online Filing Tips:
Many states have online fillable forms (to mail in) with guides and/or free online filing software or e-filing (electronic filing) services. Search using something like "yourstate income tax file online."  Again, make sure the site ends with .gov.  But if your state doesn't offer free filing services and you want to file online, you'll need to use a national company website or go to a tax preparer.
These sites may be busy – so save copies to your computer or do a "print screen" to keep track of what you have done in case you get cut off.
When setting up e-file, make sure you double check your bank routing and bank account number (both are on the checks from the account you'll be using).  If you have no checks or don't know your account number, go to your online bank account (or call the bank) to get your account and routing number.

Tips For Paper and Online Filing:
If you're using fillable forms or downloading them from the web, make sure you're using the form for the correct year (2016).
Double check your social security numbers – and your math.
When entering your name or family member names, use their legal name only.  No nicknames or shortened versions.
If you're filing paper forms, you must sign and date the form accurately and in the correct place or it's invalid.
Mailing Your Form
If you are mailing your form, you need to get to the post office so that the envelop is stamped before midnight (Monday, 4/18/2017 11:59pm is this year's deadline).  Dropping off doesn't count!  You must bring it to the counter/have it stamped.  Buy your postage there since it will have the date and time on the printed stamp.  Check with local post offices – many are staying open late but call first to check.
Good luck – and hope there's a refund in your future!