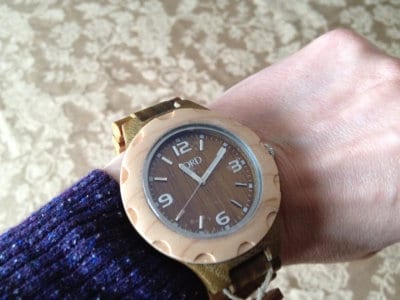 Wrist watches are more of a fashion statement than a necessary accessory for telling time in these days of cell phones and constant computer use. And have we found a statement watch for you. Classically and modern style watches made of naturally sustainable wood. Jord, the company that hand crafts these watches, wanted to not only get away from the standard metal or plastic watch but to create something truly unique for each individual. Since no two pieces of wood are alike, it seemed like a natural fit.
While the watch movement, face and clasp are made of metal or glass, the bezel, casing and band (except for the pin connectors) are all made from beautifully finished wood. This makes them exceptionally light and much easier – not to mention easier to keep clean. A small amount of a mix of oil and lemon juice is all you need. You can also treat your watch with wax or oil (see their FAQ – http://www.woodwatches.com/frequently-asked-questions#n__faq13) to help preserve the wood's appearance.
Movements are battery operated or automatic wind where normal wrist movements do the winding for you. They're also splash proof but if you accidentally get soaked, just refrain from wearing it for a few days to let it dry out!
We tried out the Sully model with a pale wood notched bezel and darker wood face and band. The time markers were silver metal with white accents. Second markers and a second sweep hand on the large face makes it convenient to use as a casual stop watch. Ours didn't have a calendar but the time was easy to set.
It's a great looking watch but I was a little befuddled on how to put the watch on. Both metal sections of the clasp fold inside the watch and each snaps into the open/close mechanism. To release, you push in two metal tabs. Once I got the hang of it, I found it much easier to take on and off than other watches with "folding" clasps.
Even at its large size, the Sully really does feel light on the wrist with absolutely no pinching thanks to the smoothly sanded wood and flat metal closing mechanism design. This will be my first choice to wear in the summer when I usually ditch my watch – and not just for style reasons. Metal, leather and plastic band watches are heat traps for me and if there's one thing I don't like, it's being too hot. It will be great to have a cool looking and feeling option.
Jord watches come in 6 styles each with several wood, movement and/or face features and options. Prices start at $120 with most styles in the $129 – $149 range. That's a great value for these unique, hand-crafted watches. They come with a one year warranty plus 15 day, no questions asked return policy.
And…we're excited to be giving away the Jord watch pictured above. Enter before May 31, 2014.  Winner will be randomly selected and contacted for mailing info.  Good luck!