I'm always looking for bargains, so after getting a postcard in the mail (yes, snail mail still works!), I thought I'd check out Jet.com, a new competitor to Amazon.com. Jet claims to offer the cheapest prices on the web. Plus, the postcard promo was for an additional 15% savings on my first three orders. How could I resist?
Jet has a rather spare site.  Not a lot of pictures, scant descriptions and no reviews.  But you can quickly jump to the category you want to shop. I was looking for paper products and groceries which, unless you use Prime Pantry or Subscribe and Save, can be pricey at Amazon. Here's what I found out.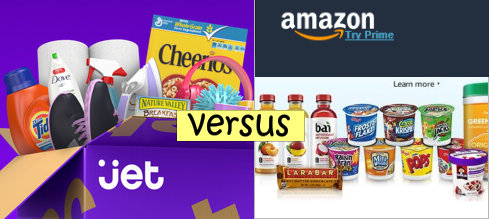 Lowest Price
The prices are definitely competitive with Amazon, warehouse stores and places like Walmart for a lot of paper and food products – but not for everything. Hoping to find a deal on my favorite chocolate , I found it on Jet to be almost a dollar more per bar than even the most expensive I've seen it in other places.  But most of the paper and grocery items were well priced and there was "volume" pricing if you bought more than one of each. I also appreciated the great single item pricing. At Amazon, I could only find cases and if there was a single available, it was way too expensive.
Even Lower Pricing
Jet has, let's say, a flexible pricing model. Put something in your cart and lower prices become "unlocked" for other products. Plus, the more you put in your cart, the lower the final price becomes on everything. There's also an option for some items (mostly non-food) to waive the free return. I knew I wasn't going to be returning the paper cups, so I saved an extra 70 cents by unchecking the free return box.
Other Departments
I didn't check out all the categories (toys, electronics, automotive…) but I did make a stop in women's lingerie (it was time for a re-stock!) and specialty store skin care to see if I could score some big discounts. The lingerie was disappointing. There wasn't a lot of variety and while there were a few bargains, many of the items seemed like they were priced at full retail. As for the skin care products, discounts ran from decent to zero. Even though, in the end, I knew I could have saved a few dollars more, most everything I looked at was cheaper on Amazon.
Free Shipping
You'll get free 2-day shipping on Jet.com delivered orders over $35. That speed is only available on Amazon if you're a Prime member. Non-Prime shoppers get 4-5 day free shipping on orders of $49 or more ($25 or more for book only orders). For items coming from partners, as with Amazon, the shipping time varies. But unlike Amazon, I didn't see partners adding on extra shipping fees.
Overall, I was impressed with how Jet, whenever they could, gave you a price break. Whether due to order size, number of items, return fee waiver and doing the extra work to avoid charging sales tax when they could, those dollars and cents added up to quite a good discount. And there's plenty more to explore – a Jet cash program for shopping at partner sites and a shopping list savings program.
So who won my shopping contest? At Jet.com, I got 600 bathroom cups, 3 boxes of herbal teas, a 3 ounce spray bottle of Similasan Arnica, a case (24) of low sodium Sunkist tuna and a Bali bra for $68 including tax. At Amazon, it would have cost $96 plus tax mainly because single packages of the tea are expensive. The other items were all less expensive at Jet after all the discounts by $1.50 – $5. Jet is now officially on my comparison online shopping list.