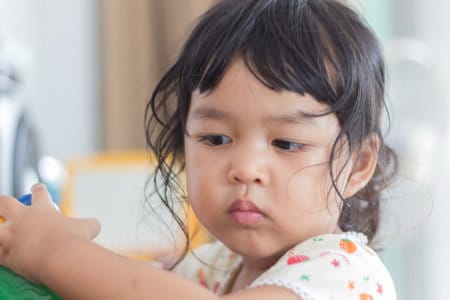 Eating is an essential part of living, but it doesn't just provide nutrition, it's bonding time for the family. However, this could turn into an issue if your child is a picky eater. Here are some ways to satisfy your child and enjoy a relaxing meal with your entire family.
Attempt to make meals a little healthier. If your child is only eating pasta, buy whole wheat pasta. Almost every brand of pasta is now available as whole wheat.  Subtly try adding vegetables to the pasta.  A fun way to introduce a picky eater to vegetables is to make a trip to the grocery store a field trip!  Have your child pick a vegetable of choice during the trip and prepare the meal together at home.  The Everything Kids' Cookbook has some economical and picky eater friendly recipes.
Wind down before dinner.  Everyone needs a chance to disengage in one activity and prepare for the next one.  You can help your child get in the mindset for dinner with a reminder that dinnertime is nearing.  Maybe have a hand washing ritual or even have your child create a menu using crayons paper.
Avoid incentives to eat dinner.  Most experts say that this technique becomes problematic routine.
Allow your child to make the menu once a week. Not only will this keep them involved but it will also have them make decisions, which is a necessary life skill.  Writing the menu will help with spelling and handwriting too!
Make sure that your own eating habits are on track and on a regular schedule. As children grow, they learn by mimicking their parents. Try to eat healthy and consistently to avoid poor habits in your children.  It's easier said then done but with some effort you might end up without a picky eater.
What other tips do you have for picky eaters?