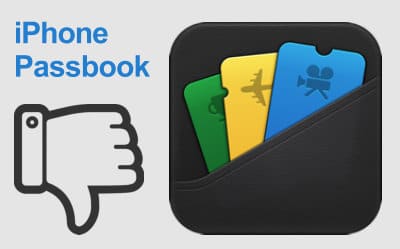 Having all your coupons and rewards cards in one place sounds like a great idea, right?  And that's just what iPhone's Passbook was supposed to do.  Only thing is – it's a dud!
Hardly any retailers have signed up to work with Passbook.  And Apple doesn't make it easy.  Retailers have to change their own apps or add some programming to their websites to "send" the coupon to Passbook.  How stupid is that?  If a retailer app already has that functionality, why would they want you to ignore their app and do everything through Passbook instead?
Even worse, with few exceptions, you have to have the retailer app already on their phone to "send" anything to Passbook.  If you've already got the app on your phone why would you want to send something to another place on your phone?  About the only thing it could be useful for is to use send only the coupons you want to use from other apps to Passbook.  But that's only if the coupon app doesn't have a "save" or "favorites" option.
One thing Passbook does seem good for is saving airline boarding passes on your phone.  But that's only because most airlines don't already have apps.  You won't find a lot of airlines on board either (pardon the pun…).  For people who don't travel much this is a big nothing.
Coupon clippers and money savers everywhere are still waiting for someone to come up with a REAL consolidated app to store all our coupons, rewards and shoppers cards on their phones.  Passbook just isn't it.