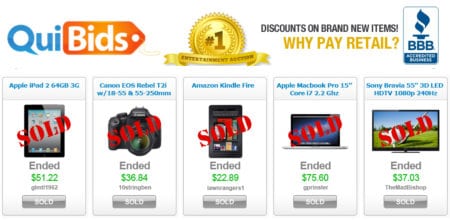 There's a new way to play the auction game online and QuiBids is one of the most popular of these new sites.  Boasting savings of up to 95% on new/unused merchandise, it may be worth a look.  Many of the items that the site holds auctions for are items that are overstocked in warehouses, so you could end up getting that HD flat-screen TV or that brand new digital camera for a super low price.
How it Works
Instead of bidding on what price to pay for an item, you pay to bid.  Bids are sold in packs of 24 up to 800 with each bid costing 60 cents each.  But if you're registering for the first time on QuiBids, you're required to purchase a pack of 100 for $60 to get you going.
Each person's bid increases the auction item price by anywhere from one to 20 cents.  So you'll see very low item prices for the most part.  If you win, your total price is the price the item went for – usually a fraction of its original cost – plus what you paid to bid plus any shipping costs.  If you don't win, you're out the cost of your bids.
Getting Started
Begin by participating in smaller auctions (but skip the "beginner" auctions the site "invites" you to).  When you play in the big auctions and you'll be playing against bidding pros. Playing in a smaller will help you get a feel for how it works and gain confidence and strategies for bidding against other participants.  There's also usually less competition so your chance of winning is higher.
Once you do move on to the bigger auctions, commit to only one at a time.  The fast past can be confusing and costly if you're not paying attention.  And don't expect to get a great deal all the time.  Most "experts" suggest that you don't bid on anything you wouldn't pay full price for anyway.
You'll realize from your smaller auctions that it's probably best to wait until the timer is at 20 seconds.  But be prepared to wait much longer than that for the auction to end since the auction lasts as long as there is bidding.  And everyone is bidding then!  That 20 second timer will keep re-setting until the bidding slows down.  A 10 second timer means it's getting close to the end.  But the site can tweak things depending on overall activity.
Consider the Bid-o-Matic option only for items you're really interested in.   Once set, it automatically places bids just above any of your competitors' bids until it reaches the limit amount you set.   Just remember that if the bidding continues after you've reached you bid limit, you're out the money for the bids.  So set your limit to an amount you are comfortable with losing.
If you don't end up winning an auction for the item you had your eye on, you may choose to "buy now." This feature allows you to use the amount of bids you have placed during the auction and money you spent bidding toward the value (not the winning bid price) of the product. If you bid 30 times, at 60 cents per bid, for example, that would amount to $18 toward the cost.   At least that way, your bid money is put to good use.