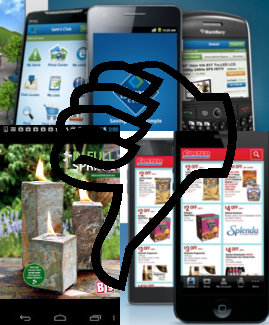 I was so excited to see that the warehouse stores were offering Android and iPhone coupon apps.  Finally, I thought.  I could stop lugging around the circulars and coupon books – or search frantically around the store for them.  Because no one wants to throw money away!
Costco's has some promise.  They just need to tell their people in-store how they work!  Some of the reviewers showed the mobile coupons to the cashiers but they had no idea what to do with them.  Way to go, Costco.
And you'd think you'd be able to ditch your Costco card.  Nope.  Doesn't make sense that they'll give you access to your prescriptions but still need the plastic card.  Oh…wait…it seems they ditched the prescription access.  You can bet that means the app was really insecure….  Hopefully, they'll get that fixed.
Sam's mobile app is geared more towards shopping rather than membership management.  You can refill prescriptions, order items and have them delivered to the store for pickup and even scan items in store to add to your "cart" at checkout.  But according to the reviewers, many of these features are buggy resulting in lost carts.
And there's really no coupon feature.  You get the "instant savings" by using your card in store or they are applied to orders you make through the app.  Big deal.
BJ's app isn't worth the install at all.  All you can do is search BJ's inventory or read copies of their circulars.  No coupons, membership info – not even store locations!  They send you to the website for that.  Might as well just stick with using the website.
So, overall, a big disappointment.  I guess just because you're big doesn't mean you're smart when it comes to making mobile coupon apps…