It only takes 6 easy steps to make your own soy candles from old jars, tins or flower pots.  You should have most of the items around the house and will only need to buy a bag of soy wax flakes and pre-tabbed wicks – available at most craft stores for around $10.  A 5 lb bag of soy wax will make over a dozen 6 ounce candles (1lb of soy = about 18 oz liquid).
The Recipe:
Bag of soy wax flakes
Glass, ceramic or metal container (non-flammable materials only!)
Color Dye (optional)
Fragrance oil (optional)
Pre-tabbed wicks (wicks with small metal "weight")
Hot glue gun or other non-flammable adhesive
Pencils, Popsicle sticks, clothes pins or other item to hold up wick
Thermometer (candy one is best)
Double boiler (If you do not have one then find a bowl that will sit down in your pan)
Step 1:
The first thing you are going to do is put water in the bottom of your double boiler (or pan). Let that get nice and hot.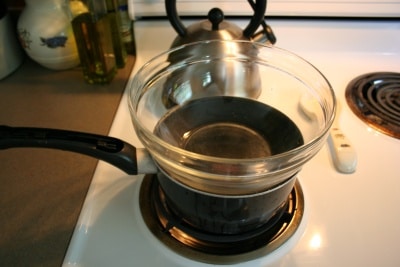 Step 2:
Prepare the containers while waiting for the water to boil.  Place a bit of hot glue/adhesive in the bottom center of the container. Thread the wick through a straw and place the wick tab on the glue.   Use the straw to wick tab in place.  Then gently lift the wick and wrap it around the pencil or Popsicle stick to keep it straight, as shown.  Tip:  Avoid very tall containers as soy tends not to hold it's shape well in that format.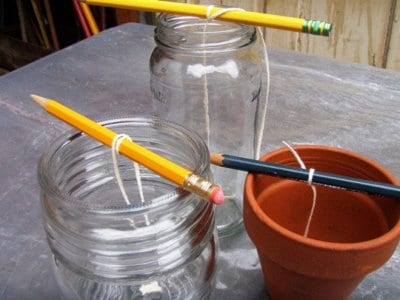 Step 3:
Add the wax flakes to the top portion of your double boiler (or the bowl) and let it melt. Let the wax melt until it reaches 160 degrees.  Remove from heat and let it cool to 125 degrees.  Add your color dye and fragrance oil (a few drops of color depending on how bright or dark you want your candle to be and about 20-40 drops of your fragrance) and stir thoroughly. Tip: Be careful not to add too much fragrance oil or your candle will burn improperly.
Step 4:
Pour your melted, colored wax into your container. Hold onto old the pencil or stick holding the wick to keep it straight.  Do not fill all the way to the top – leave some clearance for the wick.  But the wax will also settle a bit, so don't underfill either.
Let that sit for at least 3 hours so the wax has time to harden up. To test your wax, insert a toothpick near the center of the candle. If it comes out clean and not wet, then your candle is ready.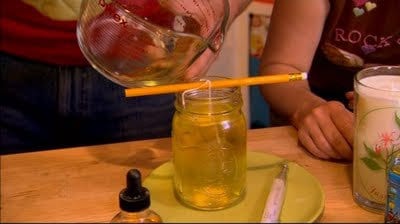 Step 5:
Trim any excess wick that is sticking out above your candle. (The picture shows a different type of candle, but thought it showed the trimming best.)  The wick should be 1/4 inch above the top of your candle. If the wick is too long, the candle will not burn properly.  Tip:  Always trim your wick to a quarter inch after burning.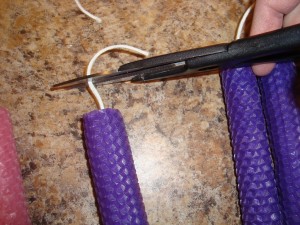 Step 6:
Light your candle and enjoy!