Whether you're in a hurry, want to shed some pounds or just like the taste, smoothies are a great choice. But you'd be surprised at the calories and sugar in your average store bought smoothie with some clocking in at over 1000 calories and more than a full day's worth of carbs!
Ideally, you'll want to make your own so you can control what's in them. And all you need is a blender or food processor plus ingredients that you're likely to have on hand.
First, our tips for making smoothies at home:
1 – Use Unsweetened Fruit
Freeze your own sliced fruit or berries or if you're buying frozen fruit, choose those without sugar or syrup.
2 – Include Protein
If you're using yogurt or almond milk as a base, you'll be getting some protein. But you can bump up the volume with a tablespoon of flax seed or whey powder without altering the taste.
3 – Avoid Added Sugar
Try recipes first before adding any sweeteners. Or use vanilla flavored yogurt or milk or a few drops of extract. If that's not enough, though I'm not a fan of artificial sugars, you can use those or Agave (just a few drops) to add the sweetness without the sugar spike.
4 – Fat
Adding seeds (including flax mentioned above), avocados or using yogurt or milk with some fat (1%) is a good idea since it help slow down the sugar bump from all the carbs.
5 – Portion Control
Measure your ingredients! A typical smoothie is around 16 – 20 oz. Anything larger and you'll be drinking more calories than you want.
And now for some of our favorite recipes (click on the link below the photo for the recipe):
Peanut Butter & Banana Smoothie
Peanut butter adds some healthy fat and fiber…and flavor!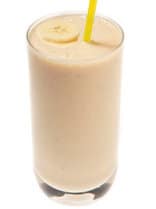 Strawberry Banana & Flax Smoothie
A classic banana and fruit smoothie, the flax adds protein.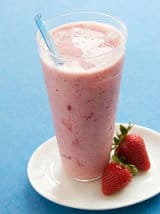 Watermelon Smoothie
Low calorie and tasty, this watermelon smoothie is especially good in the summer.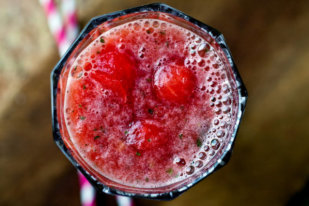 Green Goddess Smoothie
Kiwi, orange and mint cut the taste of the spinach, avocado and cucumber.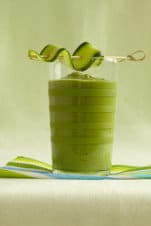 Dark Chocolate Smoothie
Sometimes you've got to have chocolate.  This recipe won't break the calorie bank…