You don't need to turn your home into a haunted house to get into the Halloween spirit.  Some crafty door decorations will do the trick. From the simple to spooky, we've got 8 easy do it yourself ideas.
Spooky Silhouette
The door is always open and the light is always on Halloween evening.  So just go with it and create a silhouette for the storm door.   Use black construction paper, poster board or a soap marker to affix or draw on the door.  If you're lucky enough to have a wall nearby, you'll also get a spooky shadow.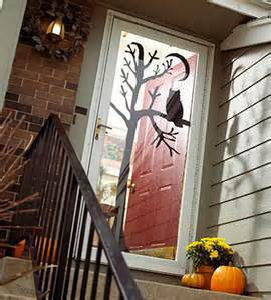 Bat Happy
Hang homemade or purchased bats from the ceiling of a porch.  These are kind of high, but place one or two "kid" height so they'll be face to face with the creepy creatures.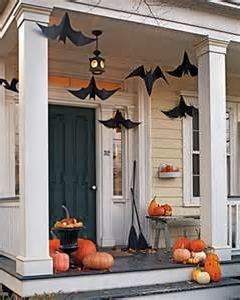 Witches Parking Spot
A few brooms, pointy black shoes or boots… Caution…witches inside!  Maybe you can get the urchins to actually use the brooms, too.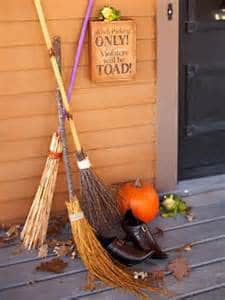 Door Knocker
Create faces or creatures from cardboard, construction paper or paper bags.  Attach to a ribbon (black, naturally…) and you've got a delightful door decoration that won't scare the little ones.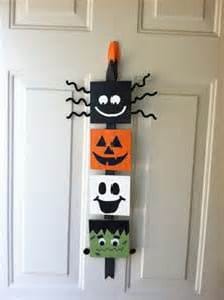 Pumpkin Towers
Fill those empty planters with a stack of pumpkins.  Lighted, painted or plain, they'll look classy, seasonal – and you can put off storing the summer stuff a little longer.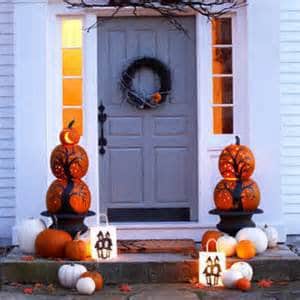 Creepy Construction Paper
Lots of 8 1/2 x 11 sheets of paper add up!  Cover a glass or solid door with a spooky face as shown, jack-o-lanterns, bats, skeletons – whatever creepy thing you can come up with – to greet the trick or treaters.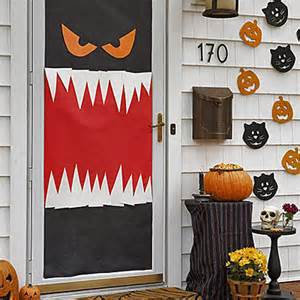 Give Your Door A Hand (or Two…)
I've got to get me some of these!  Crafty types can fashion them from paper mache or find "parts" at the craft store and attach to plaques painted like a sleeve.  Use removable adhesive strips to stick them (and easily remove them) from your door.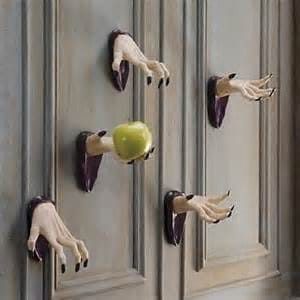 Black Light
Everything looks spookier with black light.  Swap out porch lights or buy a black light lamp.  Add a spot light (plain or colored) to amp things up.