Lettuce is lettuce, right?  If you've ever had fresh lettuce – either home-grown or from the farmer's market – you know that's not true.  And since lettuce is on the "dirty dozen" produce list, you save yourself from unnecessary chemical exposure.
Lettuce is also easy to grow indoors all year since it's a cool weather crop and doesn't need the long hot summers most crops do.  Plus indoor growing will keep at least one crop from being devoured by outdoor critters before you get to harvest.
First some tips:
Thoroughly clean or even sterilize, any container you're going to use.  That way, there will be no bacteria causing your plants trouble.
If you don't have a south facing window to place the containers, put the plants under a lamp that you can keep on during the day.  A fluorescent bulb or grow light is best.
Small leaf varieties – like those "designer" field greens – are ideal if you don't have a lot of space.  You can also stagger plant, adding new seed as you harvest leaves from fuller grown plants.
Ready to do some indoor farming?  Click on the image for instructions.
Plastic Take Out Containers
Those clear take out containers make a perfect greenhouse for your small leaf lettuce plants.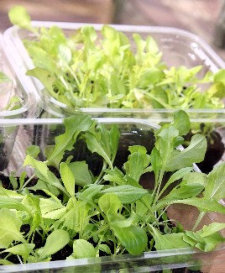 Pots
Flower pots – and they don't have to be fancy – are great for larger leaf lettuces.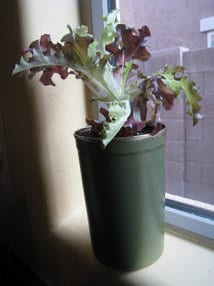 Soda Bottles
This soda bottle garden is space saving, frugal and self watering!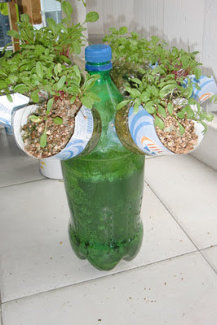 Hanging Basket
A hanging basket holds a lot of small or larger lettuces and looks great.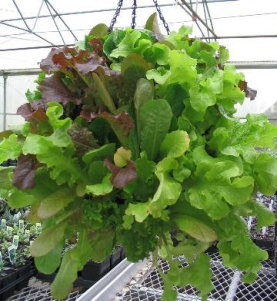 Regrow!
You don't even need seed for this how to that uses the base of a store-bought head of romaine.