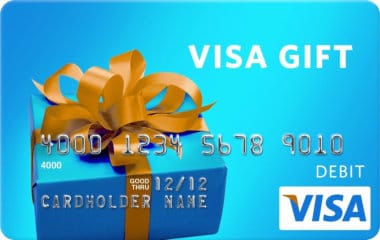 You've seen them at the store checkout.  Gift cards from major credit card companies like Visa or MasterCard.  Maybe you've even bought or received on as a gift.  Before you buy one – or when you get one – there are a few things you need to know.
First off, make sure you're purchasing a gift card and not a pre-paid card.  There are BIG differences in the amount of fees and how they can be used. (More about that in another post…).  Read the fine print on the back of the package carefully.  It may say "gift card" on the front, but if there is a re-load option, it's a pre-paid card.  Another clue is that the recipient has to "register" the card.  In either case, don't buy it.
There's always a fee to buy the card.  It's usually about $5 but some companies charge even more.  Whether paying a few extra bucks up front is a good idea depends on the other types of fees the company charges.  Maybe the higher priced card doesn't start charging fees until later or there's no fee to check your balance.  You can find out by reading the fine print on the back.  But more often than not, picking the cheapest one is fine.
By federal law, gift cards must be good for at least 5 years from the purchase date.  But after one year, companies can start charging monthly "maintenance" and/or "inactivity" fees.  These can range anywhere from a dollar to several dollars a month.  So use the card in the first year since your card could be worthless if you hold on to it too long.
If you get a pre-paid card instead of a gift card, register and cash it out/use within the first month.  That way you'll get most of the face value of the card and avoid paying monthly fees (usually around $5 per month).  I say most since there may be fees for just using the card including making an ATM withdrawal.
Some Other Considerations
If you lose the card, some companies offer replacement cards for free if you have the card number, but more likely, there's a fee to get a new card.  Depending on the value of the card, it may not be worth it.
Don't buy a gift card online unless they offer free shipping.  Yes, they'll try to scare you into paying for insured delivery – and that's an important consideration.  If you can, skip buying these cards online and get them at a local store instead.
Consider giving old-fashioned cash or a check to avoid all the headaches.  Plus, you'll be one less person feeding the cash cow that these cards are for credit card companies.  They bank on people not using them properly, losing them or holding on to them for too long.