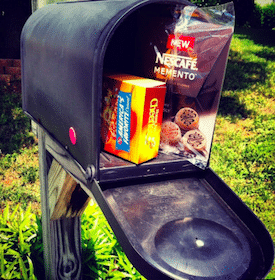 Freebies are easy to get. Want more FREE stuff? Here's the secret…
…there isn't one!
Freebies are everywhere. The trick is knowing where to find reliable deals.
Go ahead and mark "Make good decisions" off your weekend to-do list. Done. Because there's nothing more comforting than your favorite indulgence…when it didn't cost a thing!
1. Coffee
The power behind coffee…it's magical. A good old-fashioned cup of Joe can get you places. Whether you're a full-blown coffee lover or just plain addicted to the stuff, you'll appreciate getting your next cup…or two…free.
Starbucks– Join My Starbucks Rewards and get a little extra birthday love with a free drink or food reward on your big day. Paying with your registered Starbucks Card will also earn you free brewed and iced coffee refills!
Caribou Coffee – Sign up for email alerts and you'll receive a coupon for a free drink of your choice.
Dunkin Donuts – Sign up for DunkinDDate and score a coupon for a free medium beverage (plus another on your birthday!)
2. Chocolate
It's everyone's favorite. Your mouth is watering now! So enjoy your free chocolate…or share it. Or not. We won't tell.
Godiva Rewards – Join the Rewards Club and stop by the Godiva store once a month for a gratis piece of chocolate! You'll also receive special rewards throughout the year, such as a $10 off any purchase coupon!
3. Ice Cream
Smiles and ice cream go hand in hand. Say "ice cream" to a group of friends and wait for it…the smiles inevitably appear. Happiness in a cup – or on a cone- is yours for the taking!
Join the Birthday Clubs at these Ice Cream specialty shops and you'll receive a free sweet treat on your big day:
Friendly's  (Free 3-scoop sundae just for enrolling, plus free birthday treats for the entire family!)
4. Movie Night
Don't ever pay for a movie night again! There are lots of ways to get FREE movie rentals through Redbox. These FREE rental codes can be used once per account:
REDBOX (new customers only)
DVDONME
BREAKROOM
DVDATWAG (valid only at Walgreen's Redbox locations)
GAMEKIDS (free game rental code)
Here are more ways to get free Redbox codes on a regular basis:
5. Makeup
Happy girls are the prettiest! If free makeup makes you happy, go sign up for Sephora's Beauty Insider Club! Stop in on your birthday for a Special pampering present and watch your email for other freebies throughout the year.
What freebies do YOU crave most? Leave us a comment and your freebie craving may be featured in our next post!