Getting married is expensive, but thanks to a lot of nice people on the internet, there are plenty of ways to cut costs. One is the wealth of free wedding invitation templates. Best of all, most are fairly foolproof. You make your changes then you're ready to print.
Foolproof you say? But what do you print on? How do you cut them? And what about envelopes? We've got the answers for all that!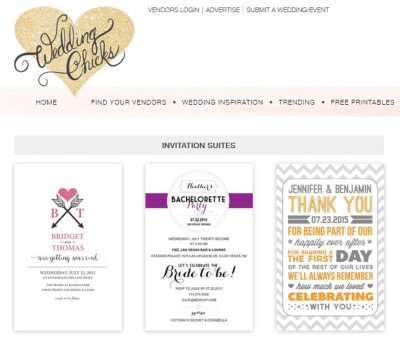 The Template
The good thing about templates is that most are ready to print on letter size paper. After you make your changes, do a few test runs and you're on your way.
You'll find templates in various software formats like Word, Adobe Acrobat, Adobe Photoshop or Adobe Illustrator. After downloading the templates, you edit the text, colors – and whatever else you want – to suit your needs. Save the edited templates with a new name – just in case you want to start from scratch again.
Some sites let you edit your templates online and let you download them as images or Acrobat (PDF) files. If it's a PDF file, you're ready to print – and cut since most include cutting guides. If they're images, you'll be able to place them on a blank page to print. Try not to tweak the downloaded image size as it could affect print quality.
Design from Scratch
If you can't find any templates, you like – or just like the challenge – you can design your invitations in any software you feel comfortable with. When laying out your invitation, don't forget to allow for margins and space for cutting. Do a few tests on plain paper before you use the good stuff.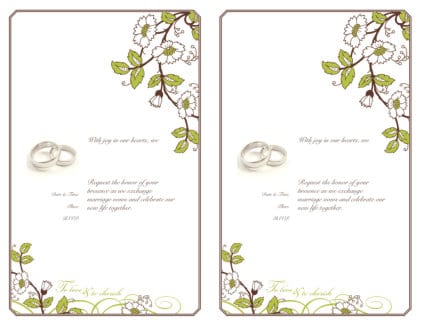 Card Stock
Get at least 67lb card stock which will give your invitations a nice weight and feel. You'll find it at craft, art or office supply stores. You can probably find it online, too.
Invitation Paper
You may find plain or decorative invitation papers but these tend to be lighter in weight. They also have perforations – good if you don't like cutting. Just look for micro-perforated styles to avoid ragged edges.
Depending on what software you're using to create your invitations, you may find printer set ups for this type of paper. Look for the paper form number (something like Avery 1234) to see if your software has a set up for it. Or, go to the manufacturer website to see if you can download it. Otherwise, you'll have to do some testing (get plain paper and mark the scores on it) to make sure everything is aligned.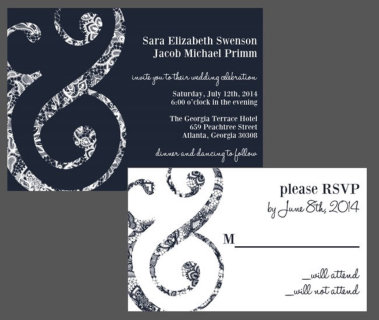 Paper Color
Light paper colors are easiest to print on but once you go darker, you'll notice something funny going on. Colored papers can muddy your ink colors making those color photos or multi-colored graphics look kind of blah. One way around it is to design your invitations in your software on a background of the same color (or as close as you can get) as your paper.   Definitely test first.  Just be prepared to use (a lot) more ink since the printer is printing that background. You'll also need to let the paper dry longer before handling to avoid smudging.
For very dark papers like black or navy, maybe you don't want to tempt fate. A simple design and a single color for text and graphics will print best.  Design your invitations with a white background and swap out a white or yellow cartridge for the black one in your printer.
Envelopes
Look for coordinating envelopes that will accommodate the largest item (usually the invitation). These should be heavyweight though not as heavy as your card stock. They don't have to be a perfect match. Craft paper envelopes, for example, can hold your rustic design invites or metallic envelopes can add an elegant touch. If you're so inclined (and have a small guest list) you can make your own envelopes. Use stickers to secure. Or skip them altogether by choosing a fold over invitation style.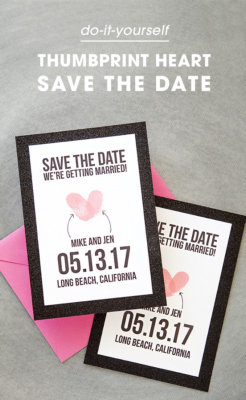 Printing
If you've got a good color printer at home, you can use that. Try a test run first to check the results. If you like what you see, make sure you've got lots of ink refills on hand. Or, have them printed at a local office supply or UPS type store. And yes, you can provide your own paper.
Cutting
Unless you've got a steady hand, scissors won't do the job especially if you have a lot of invitations to cut. You'll need a cutting board that has measurements and a sharp blade. It should be large enough to handle letter size paper. If you're printing your invitations at a store, they often have cutting boards you can use. Some also provide cutting services.
And now that we've got the details out of the way, here's our list of best sites for free wedding invitation templates. Many include invitation sets with response, reception and even thank-you cards. You'll also find bridal shower invitations, save the date and paper items you can use at the reception like place cards. Most of these sites will let you create/download without signing up for an account. A few also offer print services if you want to go that route.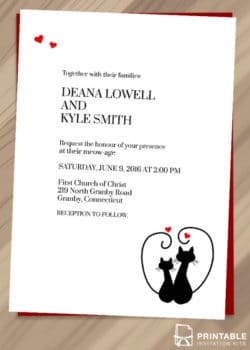 Nice selection of save the date, wedding invitation sets and more but you need an account to print/download. Templates are edited online with lots of options. Download images (png format) to arrange to fit on our paper.
Seven attractive templates – each for a specific software – to download. Most include step by step instructions.
Some of these are pretty cheesy and several are meant to be filled in by hand, but if you're clever, you can use some of these downloadable images as a frame or accent.
Loads of wedding printables all with instructions and tips. Some are quite intricate and require special equipment like paper punchers.
Lots of invitation on this site all in editable PDF format so no printing futzing necessary. You just can't change colors or add extras to the template.
Many styles to choose from, some with online editing and color choices. Most are downloaded as a ready to print Adobe PDF file.