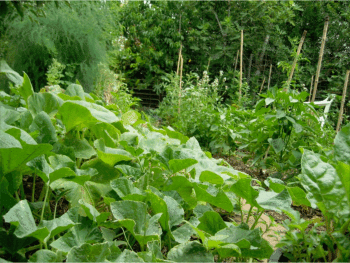 Yes, it's winter and outdoor gardening in most parts of the country is impossible.  But that doesn't mean you can't start planning now!  And growing your own vegetables is a great way to save money on expensive produce.   If you've got a sunny spot around your home or on the deck, you can do it!  Start small – and with easy to grow vegetables like lettuces, radishes, beets, or carrots.  Most herbs are also easy to grow.
If you've got some more room, beans and peppers are easy to grow, too.  Tomatoes need room too and they're supposed to be easy, but I have a TERRIBLE time with them.
If you're new to gardening, try a planner to get started – and I found some great online planners.  All of them, at the very least, let you create your garden size and add your crops (pre-sized for how much space they'll take up).  Other features might include frost dates, crop rotation, yields and so on.  You should be able to print or email the design to yourself and many let you save your plans.
Some of the more "advanced" planners might crash an older web browser, but there are simpler ones that shouldn't cause any problems.  I've also included some links to download planners or pre-designed gardens.  And most of these sites provide all sorts of gardening tips.  Here are a few to check out:
Mother Earth News – http://www.motherearthnews.com/garden-planner/vegetable-garden-planner.aspx – Free to use for 30 days.  Yearly use subscription for $25.  Lots of extra features.  I was able to launch the planner without signing up – but you probably should if you want to save your plans.
Gardner's Supply –  http://www.gardeners.com/on/demandware.store/Sites-Gardeners-Site/default/Page-KitchenGardenDesigner – Simple features, simple to use.  The retailer also offers pre-designed gardens.
Better Homes and Gardens – http://www.bhg.com/gardening/design/nature-lovers/welcome-to-plan-a-garden/ – You have to sign up to be a BH&G member before you can use it.  There are also preplanned gardens to download http://www.bhg.com/gardening/plans/.
Organic Gardening – http://www.organicgardening.com/spring-planner – This isn't an online planner – it's one you can download (paper!).  Naturally, you have to provide your email first…  Great gardening tips on this site!
Photo by Helen K