Whether you need some coverage, prefer a polished look or just want to give it a try, there's a foundation out there that's right for you. In fact, there are so many, it can make your head spin. Narrow down the choices first by deciding on the coverage and formula you'd like. Then you can move to the next step – finding the right color match. And we've included some preparation tips to get the most out of your foundation.
Coverage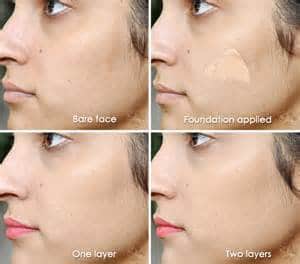 Light – Good for those with minor imperfections or for those who want to enhance their skin with a bit of glow or oil control. Often with light reflectors to create an illusion of perfection, these sheer formulas may be all you need if you don't have much discoloration or many spots to cover.
Medium – You'll probably find the most selection in this category. A good general purpose choice, you can blend an extra layer over areas that need more coverage.
Full – More heavily pigmented and often thicker, full coverage is ideal for those with uneven skin tones or redness. The good news is that modern formulations don't have the heavy feeling of those of the past. And if it's a good color match, you need only apply it where you need cover and feather out to blend with your bare skin.
Spot – For minimalists or the time crunched, spot covering areas may be all you need. Select a concealer that matches your skin tone – something you may have a bit of trouble with since the color range for concealers are limited and vary between brands. You'll need to find one that is a perfect match for your skin tone for this to work. Pick a creamy formulation for easier blending. If you need to cover dark circles, choose a shade lighter for the under eye area and possibly even a different brand as the skin here can be drier and more delicate.
Formulation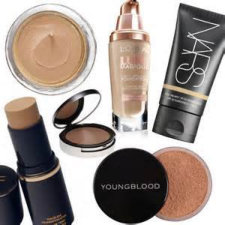 One choosing a formulation, look at the base ingredient. Water is the most popular and suitable for all but the most dry complexions. Oil based foundations will provide more moisture but can also block pores so they're not a good choice if you're acne prone.
Cream/Cream to Powder
– In a tub, as a mousse or in compact form, cream or cream to powder foundations can be applied with your fingers, a sponge or makeup brush. Cream versions often contain oils to give a dewy finish and are ideal for dry skin. Cream to Powder versions will give you a more matte finish. Coverage will vary, but cream compact foundations are often some of the most full coverage you'll find.
Stick – Basically cream makeup in stick form, you'll find products in every coverage range. The swipe and blend ease is great for those in a hurry or who just need to cover a few areas.
Liquid – You'll find water and oil based liquid foundation for every type of skin and coverage level. Many also contain skin enhancing ingredients to impart a glow or stop shine, suncreen, anti-aging and skin clearing ingredients. Those with acne or rosacea should look for mineral liquid makeups which typically have less troublesome ingredients.
Powder – Whether mineral, corn startch or talc based, powder foundations come in loose or pressed versions. Applied with a brush or puff, coverage can be adjusted by the initial amount you use or adding layers though application can be a challenge if your skin is not well-prepped (streaks or caking). These work best for oily or normal complexions, with mineral powders being a terrific choice for acne prone skin.
BB or CC Creams – Usually thicker than liquid foundation these creams are essentially facial creams or lotions with color pigments that impart light to medium coverage. They'll almost always include sunscreen, moisturizing ingredients and other good for the skin ingredients. BB (beauty or blemish balm) creams tend to be a bit drier and are the choice for those with oily skin. CC creams include color "correcting" ingredients to hide redness, enhance tone or hide lines.
Tinted Moisturizer – Before BB and CC creams, there was tinted moisturizer. These usually contain sunscreen and other skin-enhancing ingredients as well. About the only difference is that tinted moisturizer is always only light coverage. It can be used alone or as a base for your regular foundation.
Just a note on shelf-life. Powder foundations will last the longest (2 years or more) and water based have the shortest shelf life (about year). Oil foundations can last up to 18 months but if it separates or smells "off", toss it.
Shade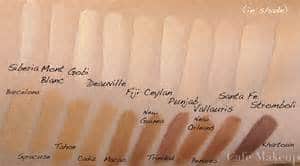 With simpler color matching charts, self-adjusting shades and tools like Sephora's Color IQ it's easier than ever to find a great color match. After selecting a few that have potential, dot a bit of foundation on your forehead, right above the jawline and on your neck. These areas are typically the ones with the least amount of discoloration and thus represent your true skin tone. You also want to avoid the "two tone" look – the obvious difference in the color of your face and neck.
Blend lightly – you'll want it to disappear into your skin and enhance it at the same time. Give it a minute to see if you like the feel and sheen (shiny, matte or something in between). If all goes well, dot and blend on areas where you have redness, spots or other concerns that you want to camouflage.
Ideally, you'll want to view it in various lighting conditions including outdoors. But since that's not always possible, ask for a sample before buying the full size. Or ask about the store's return policy. Many understand the "risks" involved and will accommodate exchanges.
Preparation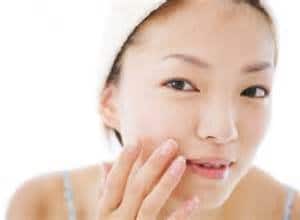 Foundation will look its best and stay put longer if you keep your skin in good shape. That means regular cleansing and mild exfoliation to remove dead skin cells. Follow cleanser with moisturizer/sunscreen and let it sink in at least 5 minutes before applying foundation. Tamp down any shine first by pressing a tissue on affected areas.
I'm not a fan of primers, but if your skin isn't in its best shape, a primer can help. Basically a layer of silicone, they'll smooth the surface and provide some "grip" for the foundation. Those with oily skin should only use primers made for their skin type – or use a mattifiyng lotion before applying foundation instead. These contain oil absorbing ingredients. But don't expect miracles. You'll still need blotting papers, mists or powder touch-ups during the day to remain shine free.